Youth.Net.Works! Empowering Youth Organisations as Change Makers in the Agribusiness Sector
A handbook to support the organisational development of youth groups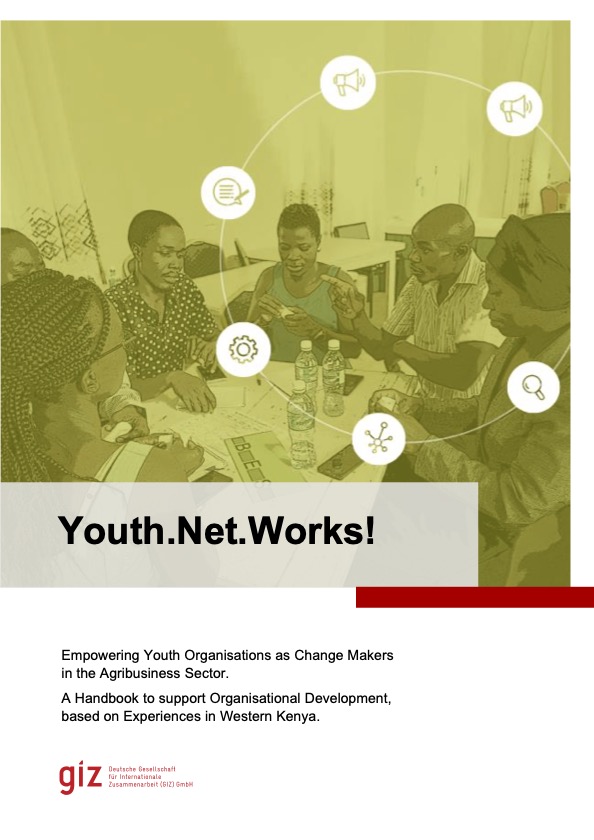 Cover of the handbook to support organisational development,
based on Experiences in Western Kenya. © GIZ
This handbook is based on the support process of youth organisations in Western Kenya. It aims to strengthen youth groups and networks and their organisational development in other projects and countries with similar challenges.
It compiles different templates, tools and workshop formats used in Kenya and structures them into a pragmatic step-by-step guide for local facilitators and project staff, even if they're not senior organisational development experts.
The handbook contains a range of practical tips and insights from the experiences in Kenya and provides an annex with tools and templates. It may also serve as a useful reference document for youth organisations themselves — though it's not designed as a do-it-yourself guide.
Why this handbook
Strengthening the self-organisation of rural youth seeking employment in the agri-food sector presents an unprecedented opportunity for rural development.
A strong youth organisation can provide services by and for youths and can empower young entrepreneurs to overcome institutional voids by building structures and opportunities for knowledge sharing, collaboration and peer networking. Youths organised in larger-scale or representative business organisations have better bargaining positions for inputs, services and in trade. Youths, especially young women, can benefit by reaching out more efficiently to other rural youths and to development partner organisations. Depending on their objectives and mandate, they are more likely to be heard in shaping the political agenda for rural youth development.
Contact
The handbook is a result of the collaboration between the bilateral project "Youth Employment in the Agri-food Sector in Western Kenya" (YEA) and the Global Project "Rural employment with a focus on youth" (GV BLR).
If you are planning to work with youth organisations and you consider applying the Organisation Development Cycle described in the handbook, please get in touch with Sophie Mechsner (GV BLR).
For questions on the specific experiences in Kenya, please contact Prisca Watko (YEA).