Financing Value Chains
Overall report from the first annual meeting of the Agribusiness and Inclusive Value Chains Development working group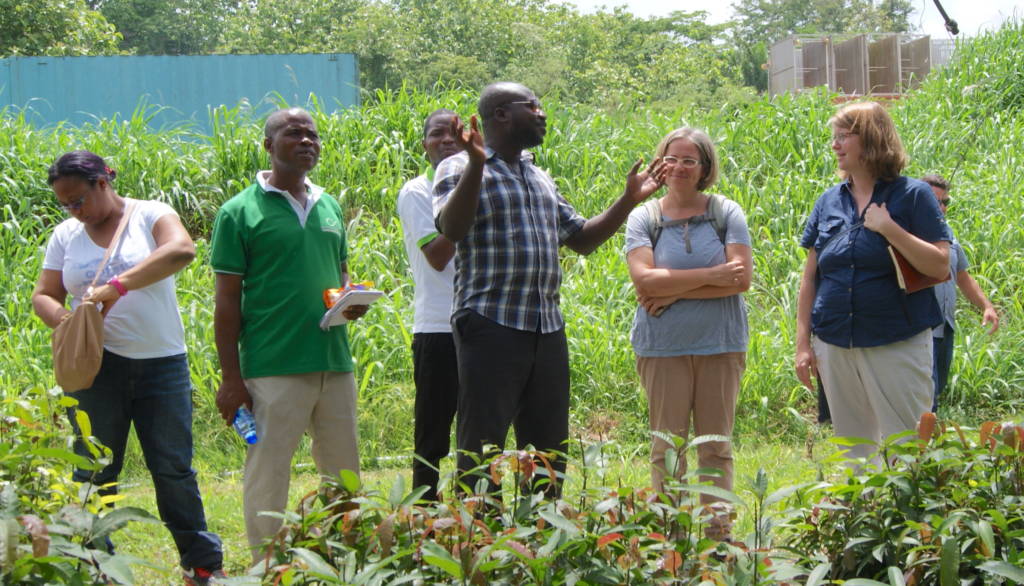 Lead topic
Underlining the necessity of holistic approaches to financing producers for inclusive and sustainable value chain development
Focused on the aspect of financing value chains, the main outcome of the discussions was that financing solutions for smallholder farmers need to be embedded in holistic approaches in order to advance inclusive value chain development.
Lessons learned from the projects and a field trip demonstrated that the financing of producers only stands a chance for success if activities are well integrated, linking farmers to suppliers of quality inputs. In addition, off-takers have to be willing and in a financial position to purchase at conditions that allow farmers to pay back loans and reinvest during the next growing season. This implies that the financing of producers has to be linked to funding their upstream and downstream business partners. And — to reduce risks for lenders as a precondition for financial institutions to engage in agribusiness lending — financing solutions have to integrate advisory services that cover pre-lending and post-lending periods. Only this ensures successful use and, hence, repayment of loans. With this in mind, the ABIVCD working group meeting looked at topics in both areas: value chain financing and related upstream and downstream activities.
About the presentations
Presentations ranged from overviews on sources and models of how to finance value chains to how practical, inclusive relations can be designed. Regarding relations, contract farming was the main theme covered by two presentations and a one-day field trip.
In terms of financing models, there were presentations on the KfW Outgrower Fund (introduced in the keynote speech), the Matching Fund scheme and the Chitumba Model, which is being implemented in Malawi. The models showed possibilities to link financing aspects with opportunities for improved market access and training. Similar to these examples, a challenge of various financing models is that they are selective in their target groups and that it is difficult for them to reach the poorest farmers.
Cooperatives
One way to tackle this challenge and to better include smallholder farmers in financing schemes is to support the formation of cooperatives according to the experience of the Cooperative Business Schools and other projects. Being a member of a well-trained cooperative can improve a farmer's bargaining position and his or her capacity to repay loans. Cooperatives can even serve as an alternative financing model on the basis of self-generated funds. Overall, alternative financing models are high in demand, especially as alternatives to dealing with conventional banks.
Contract farming
One practical approach to reaching a more stable financing situation for farmers and inclusive value chains is contract farming. As the study of two working group member projects showed, contract farming is on the rise. Yet, there is a great need for individualized training for projects concerning contract farming business models, contract farming management systems and contract farming financing plans. A practical example from the Green Innovation Centers in Nigeria demonstrates that the capacity of trainers, both regional and international, still requires enhancement. The need to understand the business case and to identify financial streams within a specific contract farming relation has been highlighted at the field visit to a pineapple block farm and its partner company. The combination of the contract farming scheme with the block farm system illustrated how extension services can be effectively integrated into financing schemes and how collaborating with cooperatives can lead to success stories.
Nevertheless, depending on the objectives, context and target group of a project, other partnership models such as development partnerships with the private sector or strategic alliances should be chosen. Common to all related approaches was the emphasis on taking individual and context-specific conditions into account as well as making the partnerships beneficial to all parties involved without losing sight of the overall goal.
Topics that accompanied discussions were ATVET and ICT as well as employment and scaling-up approaches.
About the meeting
Objectives of the meeting and way forward
Besides technical deliberations and sharing of practical know-how, the first annual meeting of the working group addressed organizational objectives. Having been one year into its implementation, it was necessary to check on the achievements of the subgroups and to consider how processes and work streams could be refined.
The division of the ABIVCD working group into three subgroups was found to be effective for targeting the overall objectives effectively. However, the group decided to rename the subgroups, narrowing down their focus areas. In order to avoid duplication of efforts, the ABIVCD working group prefers advocating for strategic linkages with other working groups and networks. Hence, interested parties are encouraged to approach the speaker of the ABIVCD working group.
Renaming of the subgroups and election of speakers
Tandem partnerships between the subgroups and sector projects were newly introduced. This should secure strong links with the GIZ head office. The three subgroups with respective speakers and new titles are listed below. Ideally, speakers work in thematically linked projects on the implementing side.
1. Viable Business Models
Speaker: Anna Karolina Lamik
Co-Speaker: Paul Cronjaeger
SV Partner: Sara Lena Jensen (SV Agricultural Trade and Value Chains)
2. AGRI Finance
Speaker: Julia Kirya
Co-Speaker: Moutalabi Baba Boukari
SV Partner: Jens Windel (GV Promotion of agricultural finance for agri-based enterprises in rural areas (GV AgFin))
3. ICT, Training and FBO
Speaker: Berthe Minnie Balep
Co-speaker: Kossi Dodji Apedo
SV Partner: Katharina Schlemper (Strengthening Farmer Based Organisations for Sustainable Agricultural Development)
ATVET and youth employment are conceived as cross-cutting topics and are incorporated where appropriate or addressed individually.
Participation details and information on the ABIVCD working group
The ABIVCD meeting was held 10–13 April 2018 in Accra, Ghana. A total of 39 participants from 13 countries and 14 member projects attended. This is remarkable since the working group had just been divided the year before. However, more participation from national staff and West African countries is encouraged at meetings and for group work in general as it is considered beneficial for gaining more expertise.
Currently, the working group has 107 registered members (GIZ and individual members; as of 8 March 2018). 82 members operate in 21 African countries. For more information on the working group, please view the working group's section on this website.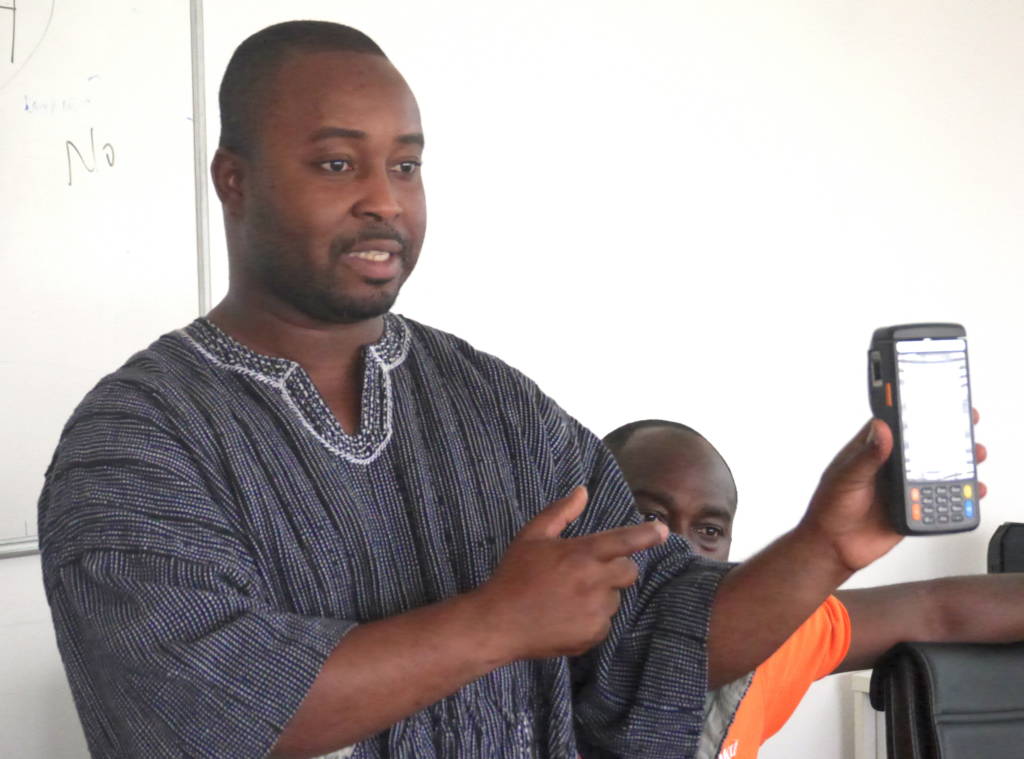 Photo credits
Both images by GIZ/Working Group ABIVCD