Youth Changemaker Fair — Call for Applications
A great opportunity for youths to show their innovative ideas for sustainable products and services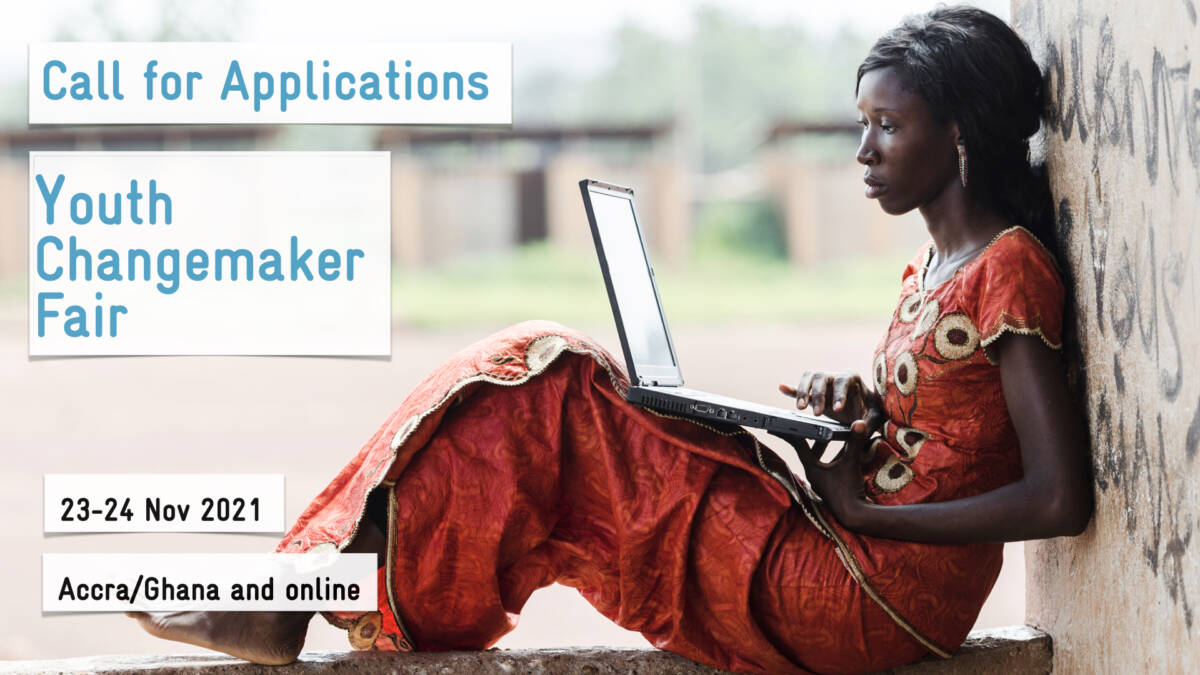 Join the adapt and change generation
Are you a young changemaker or champion of a sustainable development solution?

Do you have a product or initiative that is in line with environmental protection practices?

Are you interested in showcasing your product to a large audience of decision-makers and professionals?
If your answer is Yes to all of the above, GIZ's Sector Network for Rural Development in Africa, SNRD Africa, is looking forward to sponsoring your participation in the two-days Youth Changemaker Fair.
The fair forms part of our bi-annual international conference which will take place in Accra in November and will deal with the topic of climate change. It'll showcase and promote products and services designed by young people without discrimination on 23 and 24 November.
Participating young changemakers get a great opportunity to network and exchange with decision-makers from private and public spheres since the conference will be attended by high-level government officials, diplomatic representatives as well as professionals from the German Development Cooperation.
Deliberations will revolve around rural development issues — ranging from agriculture, agricultural value chains, climate change, gender and rural development, food systems to digitalization.
This year's SNRD conference will be held in a hybrid format, meaning in a combination of in-person and online participation. As such, part of the exhibition will be in-person for Ghanaian local participants and submissions from outside Ghana will be fed into a virtual fair. 
What are the requirements for your participation?
Interested contributors from all around the world are invited to submit a presentation of their innovations in a digital format such as video or PowerPoint, or other formats to showcase their products or services. Participants of the youth changemaker fair must meet these requirements:
Any young person not older than 35 can apply no matter their geographical position
Applicants must have initiated or conceptualized an innovative solution (product, service, ideas), in mainly the field of climate change, green solutions, sustainability, rural development
Must be willing to participate in person and showcase their products (if located in Ghana) and accept the publication of their application (if located outside Ghana)
Show good communication skills to explain how their products or services work
Be available 23-24 November
Be willing to abide by the measures put in place for the protection of the environment.
Be willing to share their solution also digitally via a conference app and the website
About SNRD Africa and its bi-annual conferences
Since 1995, SNRD Africa enhances GIZ experts' work knowledge, it supports the development of collaborations and sharing their experiences. Constantly looking for innovative practices and generating knowledge, SNRD Africa initiates events, training and exchange as well as other empowerment opportunities.
In this regard, the bi-annual conference is organized as a unique moment that brings together members of the Sector Network. It is strongly sustainability-driven in all its aspects including logistics.
The conference is not only an event to discuss and share ideas. It's a fantastic learning opportunity as SNRD Africa members come together with internal and external experts, as well as high-level officials, to discuss hot topics around rural development. As a networking opportunity, the conference deliberately highlights best practices, innovative approaches, initiatives and successes for scaling up and replication among the over 110 SNRD Africa member projects, the working groups and the African political leaders.
Benefits
For local participants in Ghana: SNRD Africa will provide a contract that will cover the costs of their participation.
To virtual participants globally: They will meet technical experts on rural development and agriculture from all over Africa and Germany, with a possibility to expand their network and present themselves in an international environment.
How to Apply
Interested applicants are invited to submit the following documentation (in English or French) to snrd@giz.de by 8 October latest:
A short presentation of his/her/their innovation in a digital format such as video, photos, PPT etc.
(In the presentation briefly introduce yourself (name and position), show either how your product or service solves a climate change or development-related problem, or show how it is in line with the principles of sustainability and could be replicated at a larger scale. All presentations should be short. (You should be able to present it orally in three minutes.)
The CV of the innovator or lead innovator in the case of a company or joint initiative as well as the person who will present if different.
A cover letter explaining how the innovation might solve a climate, sustainability or development-related problem.
The subject line of the email should read: Application to the Youth Changemaker Fair
Contact
For more information about the Youth Changemaker Fair, please contact Elvaria Asamoah at 0 59 69 10 83 9 or send us an email at snrd@giz.de