One-Stop-Shop for Supplies and Advice in Ethiopia
The new Farm Sercive Center in Iteya is a starting point for 25,000 small farmers
"The opening of the Farm Service Center is an immense help for us farmers. Now we can buy all the necessary equipment, get advice and participate in workshops. This saves us making the long and strenuous journeys into the surrounding cities – and ensures that we will achieve better harvests in the future," says Tesfay, a farmer from the Iteya region.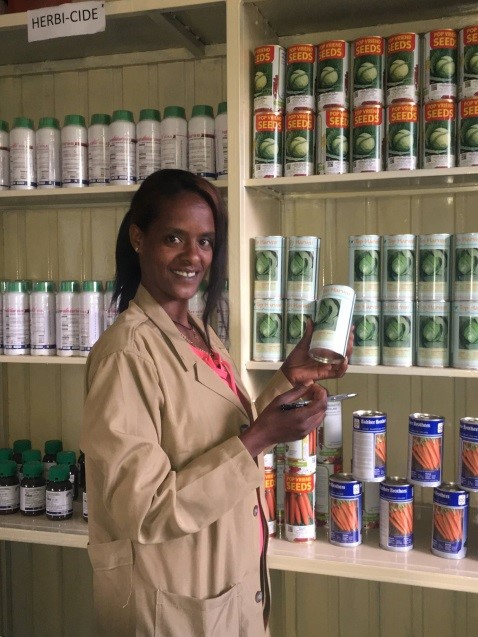 The right seedlings for every field: The FSC shop in Iteya.
Photo: © GIZ / Rim Melake
He came to the ceremonial opening of the Farm Service Center in Iteya together with around 500 other guests, including local and national government officials, government advisory service employees, members of cooperatives and many smallholders.
"From my experience, I know that the farmers here in the region have enormous potential to increase their production," says Alemu Kebede, Head of the Farm Service Center." "This improves their lives! I am proud to be able to contribute to this with the Center." This is why he places particular value on expert advice: "Advice is ensured by our trained staff," says Kebede.
The NGO Cultivating New Frontiers in Agriculture has already opened three such farm service centers in Ethiopia with the support of the Green Innovation Centre – and two more will follow during the course of the year. This means that more than 25,000 smallholders' farms can be supplied with quality resources such as seedlings and fertilisers in the future. The centers consist of an administrative section, a veterinary station, a store for equipment and training rooms in which farmers learn about agricultural innovations. The farmer service centers also create employment. There are 30 new jobs in the facilities, seven of them in Iteya alone.