Youth Development and Employment in Namibia's Natural Resource Sector
Have a look at the activities of youth in the conservation sector in Namibia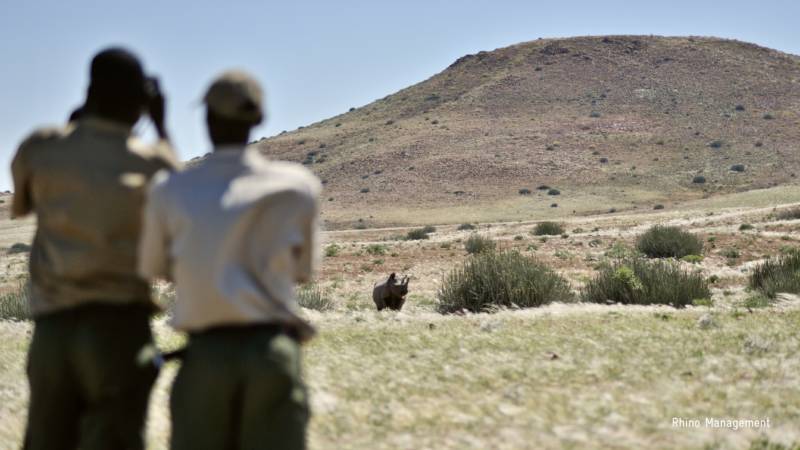 Desert Rhino Camp Track ⎪ Source: nacso.org.na
Being one of the driest countries in sub-Saharan Africa makes Namibia's nature extremely susceptible to climate change. The economy is vulnerable to climate change since it largely dependents on climate-sensitive sectors such as agriculture, fishing and, quite crucially, community-based natural resource management. Hence, climate change is likely to have a catastrophic impact on the livelihoods of many Namibians, especially on those with low income in rural areas.
Already Namibia is challenged with a staggering youth unemployment rate of currently 45.5%, for those in the 15 to 34-year-old age bracket. The situation has been caused by an economic downturn with subsequent layoffs in national projects but is also attributed to structural factors such as insufficient guidance and training for the young to acquire the critical skills required by the labour market.
The interventions used
GIZ and other organisations support the Namibian government in their efforts to strengthen the development of young people in rural communities. The Community Based Natural Resource Management (CBNRM) programme works on natural and social development from which rural communities draw equitable social and economic benefits. CBNRM creates an environment where people living in communal areas improve their livelihoods by getting economic, social and employment opportunities from actively managing their natural resources.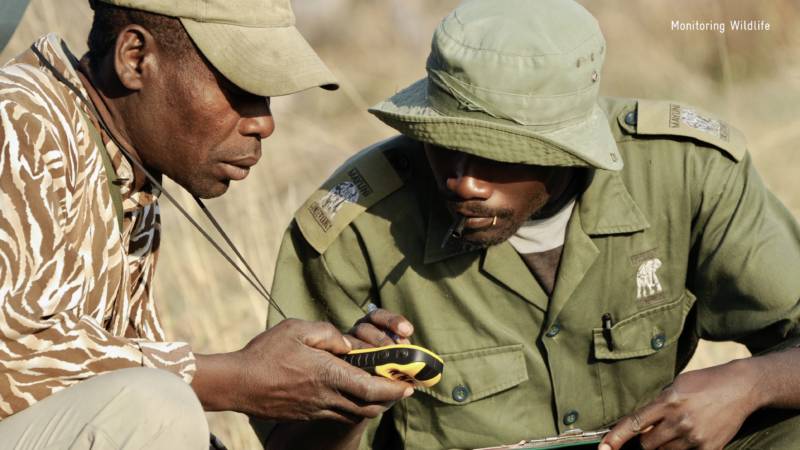 Annual Game Counts ⎪ Source: nacso.org.na
Community conservation in Namibia covers over 163,396km², which equates to 53.4% of all communal land and around 19,4% of Namibia's land surface. Namibia's community conservation strategy is internationally recognized as an effective and sustainable way to protect natural resources.
In 1998, first conservancies were gazetted as self-governed, democratic entities run by their members within fixed boundaries. They are managed by elected committees and full-time staff. Conservancies (86 registered) and community forests (32 registered) cover some 20% of the land area representing a considerable share of the 45% of Namibia's land area that is under some form of conservation management.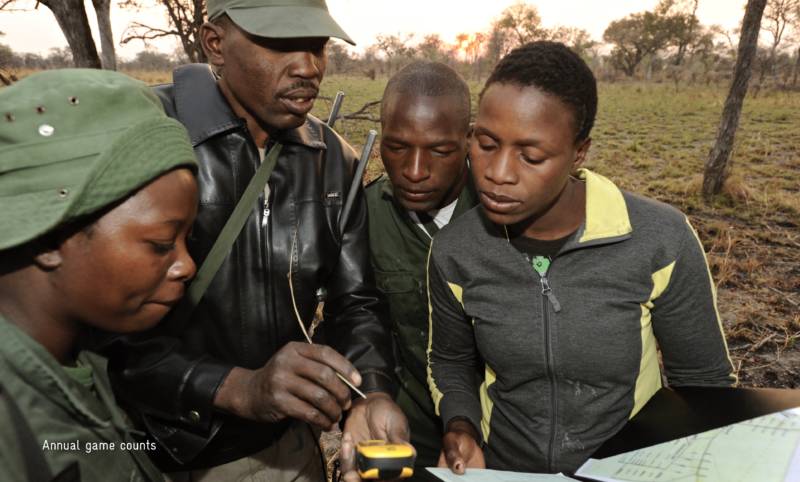 Biodiversity Action Day 2016 ⎪ © GIZ-BMCC 1 Project
Within the boundaries of formally registered conservancies, local residents are allowed to generate revenue through tourism, the sustainable use of wildlife and from harvesting natural products. About 212,092 residents (NACSO) are living and working in registered conservancies. Over the years, tourism and trophy hunting in the CBNRM programme has become a main source of income for the local communities. From 1991 to 2017 community conservation contributed N$7,11 billion to Namibia's net national income. Community conservation generated N$132 million return for local communities and facilitated 5,264 jobs (NACSO).
To improve livelihoods CBNRM has created several employment opportunities especially for young people in rural areas. Many positions in the tourism and hunting sector specifically attract young people, such as wildlife guides, tour guides, camp manager and game guards.
Moreover, Namibian youths have been involved in all the CBNRM programme activities and MET. Partnering non-governmental organisations continue to ensure youth involvement through several education and knowledge enhancing programmes. In many conservancies, youths have become representatives in management committees and some youth programmes in agriculture exist.
Examples
Monika Shikongo is a good example of youth leadership in natural resources. She is a warden for Environmental Education at the Ministry of Environment and Tourism in Namibia. Having graduated from the rank of ranger, she became the first woman to run a national park in Namibia, Bwabwata.
The Donald Hamer Conservation Leadership Programme also shows how youth employment in natural resources works. The programme was implemented in 2012 through the Namibian Association of CBNRM Organisations (NACSO). It trains young enthusiastic Namibian graduates through a two-year internship programme to become future leaders in the CBNRM sector.
Since the beginning of the programme in 2012, thirteen young people have been mentored and trained. They found jobs in NGOs, the private sector and the MET, while others pursued further studies.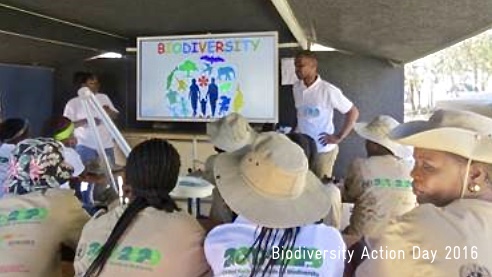 Youth in the Donald Hamer Conservation Leadership Programme
Here are the stories of the trainees in the programme: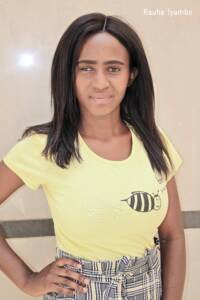 Rauha Iyambo joined the internship programme in September 2018 and holds an honours degree in geo-information studies from the University of Namibia. She is currently working on mapping and GIS-related projects at NACSO. Rauha enjoys working for NACSO because it is a multidisciplinary working environment and she gets to learn a lot within the conservation field. She is strongly encouraging the youth to take up conservation-related courses because she believes that there are many gaps within the sector that requires specialized expertise. Rauha wishes to continue working within the conservation field and gain invaluable skills towards her career development.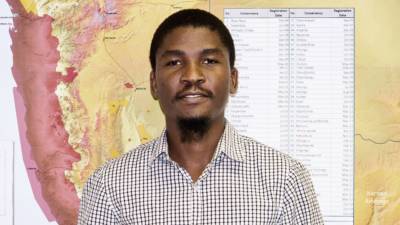 Herman Aindongo has an honors degree in natural resources management and nature conservation from NUST and also joined the programme in February 2017. Ever since childhood, Herman has been genuinely passionate about nature, especially the vast and untouched Namibian landscapes. Joining the programme was a great stepping stone for his early career development. For Herman, working with NACSO, is a great way to network with many organisations and people within the conservation field. Being a part of the programme enhanced his knowledge, leadership and skill capacity in the CBNRM realm.
Herman mainly works on annual conservancy audits, adaptive management and game counts. Being passionate about conservation and the people living with natural resources is one of the key principals for someone who wishes to take up a career in the conservation field. He observed that conservation employment opportunities are currently limited in Namibia and that the youth should however look at other opportunities such as internships and furthering their studies. Furthermore, Herman aspires to become one of the humble leaders in the success of conservation of Namibian natural resources and upliftment of the rural Namibian people.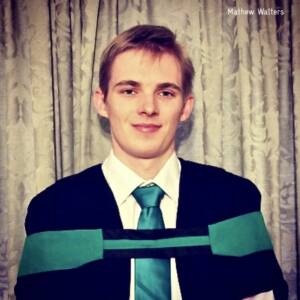 Matthew Walters joined the programme in February 2017 with an honour's degree in natural resources management (nature conservation) from the Namibia University of Science and Technology (NUST). He is currently pursuing a master's degree in the same field with a focus on the spatio-temporal analysis of trophy hunting in North-Eastern Namibia. Mathew has a great passion for the natural environment especially with the vast wilderness and the diversity of wildlife that characterizes Namibia. Matthew always wanted to contribute to conservation in Namibia on a national scale and therefore accepted an offer to join NACSO as a Conservation Leadership Programme intern. He is actively involved in coordinating income data from conservancies, conservancy audits and game counts. He also works closely with the Business, Enterprise and Livelihood Working Group.
Furthermore, Matthew says that there are several conservation fields that are important but quite overlooked by youths. He is urging youths to take up careers in these fields. After completing the internship programme, Matthew wishes to continue working with the WWF or NACSO.
The author
The article has been submitted by Priscilla Mundilo, Junior Technical Advisor at the GIZ Support to Community Based Natural Resource Management Project in Windhoek.
"Environmental education has to start early to form a strong future generation"