Welcome Note by the New SNRD Speaker Rita Weidinger
It is with great pleasure to address you in my new function as SNRD Africa Speaker!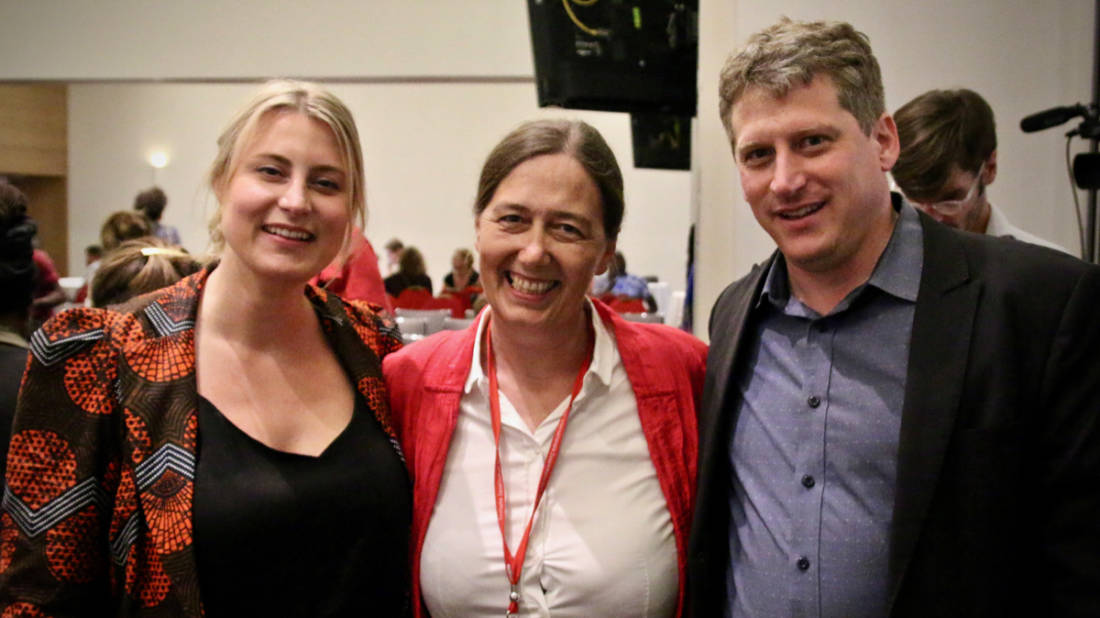 Photo:  © Corbecoms
Dear SNRD Africa Community,
I would like to express my sincere gratitude for entrusting me with this position. I am looking forward to our collaboration.
The future was at the heart of our discussions a couple of weeks ago when most of us development practitioners met at the SNRD Africa Conference Abidjan with the theme "Innovations towards a better future".
I believe I speak for all of us when I say that this conference was a great success. Its new, inclusive and innovative format provided ample space for fruitful discussions. Megatrends gave us a good strategic orientation and the use of innovative technologies and communication channels allowed to expand our discussions beyond the usual conference format. The Abidjan conference was characterized by a much more inclusive approach, with a diverse set of speakers. I was pleased to hear so many new, young and African voices! The conference team really managed to introduce a new format, making it less "top down" and headquarters oriented. It became a much more unique forum, filled with inputs, exchanges and discussions emanating from the community and reflecting the rich variety of projects, schools of thoughts and finally the diversity of individuals in the network.
Thanks for the great work done
All this was made possible thanks to the excellent work and vision of the conference organizers, Nadine Guenther, Sophie Koch, Juliane Bing and Julia Mueller, supported by Irene Prieto (consultant) and the organizing support team in Abidjan, the SNRD Africa Steering Team and every one of you who contributed to the conference. I would also like to particularly thank my predecessor, Michaela Braun, whose visionary leadership and commitment made this success possible and whose footsteps I will try to fill. Also a big thank you to her right hand, the outgoing community manager Sophie Koch, the outgoing SNRD co-speakers Nadine Guenther and Andreas Schleenbaecker and to all tandem partners, as well as to the working group and CoP speakers. A big thank you also to the outgoing working group speakers, Ricarda Schwarz and Florian Winckler.
You were and still are the heart of SNRD Africa and I am looking forward to continuing the work with you and with a new team: my co-speakers, Lucie Pluschke and Thomas Breuer, the new working group speakers Anna-Vanessa Kullanek and Laura de Guevara, the remaining working group speakers Desire Tchigankong and Thomas Breuer, and as interim community manager Maria Schmidt.
Challenges and opportunities ahead
I am excited to take up the work with all of you as rural development issues in Africa remain challenging but also offer big opportunities on different levels. Africa has the youngest population with 360 million people between 15 to 35 years of age, out of which every year 10 to12 million newly enter in the job market. At the same time, the food markets are expected to more than triple to about Euro 1 billion by 2030. Thus, the agri-food sector will remain the growth and job motor on the young continent.
Governments and development partners impatiently seek the best mix of measures to leverage these opportunities. Our daily work is the best prove of this. Inclusive business models, value addition in transparent and sustainable agricultural value chains, territorial development approaches and combating and mitigating climate change are on top of a long list of successful models. SNRD Africa serves us as a network for knowledge exchange and mutual learning, to sustain these successful models.
At the same time, digital solutions are permeating more and more corners of the vast continent, with an annually increasing internet penetration of up to 50% in West Africa to date. The uncountable amount of businesses and digital startups exploiting the mentioned opportunities both surprises and encourages us to listen more carefully to young African entrepreneurs.
Germany is committed to rural development
In these fast changes, Germany's commitment to rural development remains highest with Euro 1,5 billion in bilateral and more than Euro 1 billion for the special initiative ONE WORLD – No Hunger (SEWOH). It is the task of managers and development practitioners to make sustainable, responsible and impactful use of these funds, to adjust to the current trends and seek out the opportunities.
It is against this backdrop that the Sector Network for Rural Development Africa capacitates and links up its management and advisory personnel to maximize synergies and learning. It is my wish — together with the whole SNRD Africa team — to continuously work on making this sector network a forum for such learning and to promote an inclusive approach, where we try to provides space to new topics, new voices and new ways of communicating, in order to reflect the rich diversity of our work and of those involved in making it a success every day.
I am therefore looking forward to continuing to team up with you and your partners across the continent, to learn from our innovative and optimistic youth in Africa and to make SNRD Africa a platform on which innovation, inclusiveness and diversity thrive as drivers for a better future!
Yours sincerely,
Rita Weidinger