The 2021 SNRD Conference — Behind the Scenes
10 takeaways from SNRD's first ever hybrid conference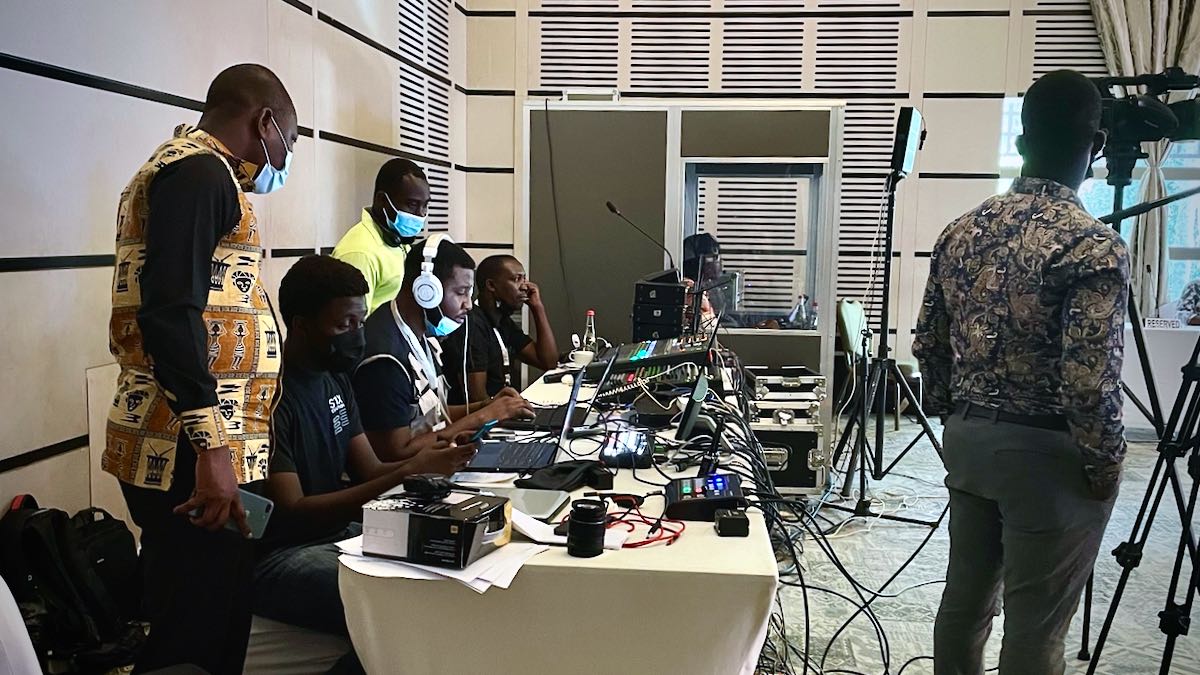 The tech set-up: many men for one cause — for sound, camera, online integration, interpretation. Still, we experienced some shortcomings with the seamless programme. We're all learning. ⎮ Photo:  © GIZ/Joy Heitlinger
Two years into the Covid-19 pandemic SNRD Africa hosted its first hybrid conference using a number of different online formats.
While the post-event evaluation came up with favourable results in terms of impact, learnings and the organisational aspects of the conference, we want to reflect upon what happened on stage and behind the scenes.
Hybrid meetings are a valuable meeting format for the future
Hybrid meetings allow for broad participation including members from different continents, which has obvious advantages.
However, hybrids still bear considerable risks that can interrupt the flow of an event. We experienced some technical glitches due to unstable internet connectivity and issues with the handling of cameras and sound.
In terms of moderation and facilitation, lively integration of online participants remains a challenge at this stage. In short, a hybrid is not simply a conference live-streamed to a largely passive online audience, who can be treated as secondary. The audience has to be integrated, facilitators need to change their style, for example, to work with camerapeople to speak into the camera as well.
So humour, patience and flexibility were key to making the best of a situation. We thank all the remote participants who bared with us!
We foresee using a mix of different formats
Still, in future, a possible set-up for SNRD conferences could be a combination of onsite-only, online-only and hybrid formats. For example, a hybrid morning event followed by exchanges onsite in the afternoon to meet the different needs of participants.
Brace yourself, there's more prep work to be done
A hybrid conference requires comparatively more preparation and support upfront and during the sessions – apart from the conference setting, also the participants and presenters must be well prepared. All in all, we saw that more team members are required.
MCs for each session who also facilitate dry-runs ahead of time
Someone who oversees and responds to inquiries and comments in the chat
One or two moderators (tandem)
Staff who scrolls the presentations and handles IT equipment (sound, microphone, camera), the translations
And if possible runners and back-up people
Think on your feet
We've learnt: Have a plan A, a plan C and a plan Z!  With hybrid formats, there is always something that can go very different from what you expected.
Connectivity issues, damaged cables, interferences, faulty invitation links – for such a situation, have an alternative ready: Who can jump in from another location to present slides? Who provides an extra set of LAN cables, types instant messages into the conference app to keep participants informed, or has a good idea as to how to bridge suddenly arising waiting periods.
Spoiled for choice
The conference's content was holistic and inclusive since there was a great variety of topics presented by member projects and working groups.  However, the participants had to decide between one out of four sessions running in parallel. A possible amendment for the future is to consider thinning out the schedule to allow for more time for exchange.
What did I take away from this session?
We've made it a rule to preserve key messages & elaborate recommendations for action in small working groups throughout the week (such as via a conference diary) in order to capture the essence of each session.
Allow for space to reflect
What is my personal takeaway as well as my professional takeaway to utilize it in my project? Did the conference meet my expectations? Was I able to clarify my initial questions during the conference? Was I able to create synergies and draw on lessons learnt?
The team has learned new skills
For upcoming conferences, our team will benefit from having expanded their knowledge and skillset towards navigating and participating in virtual conferences. The question remains, however, how could interaction during sessions be intensified (stimulated) while keeping the online participants on board and active, and the other way around.
So possible future scenarios involve online and offline netiquette, physical workshops and virtual breakout rooms. Maybe an offline marketplace of innovation & digital exhibitions?
For the working groups, the possibility to meet again after two years has been received as quite fruitful and was considered a highlight. It gave participants room for exchange, networking, and planning activities.
Adapt and change
This was not only the motto of the conference but also our guiding principle when organising a large event in light of the pandemic. For us, it meant dealing with travel restrictions, changing visa situations, last-minute cancellations of participants, changed hotel locations, questions of responsible decisions of how many people can be safe in one room, clear SOPs and a strict hygiene concept.
The organisers are thankful that all the participants adhered strictly to the guidelines and that in the regular antigen rapid tests everyone tested negative – though keeping a very positive mindset indeed.
Learning and seeing more in Ghana
The host country of the conference with its projects' highlights was one which the field trips served to the participants. Five different trips tailored around climate resilience, agriculture and rural development opened another possibility for participants to get to know GIZ projects, partners, interventions and to intensify their networking. The originally planned virtual field trips were taken off the programme due to limited interest – yet, an entirely virtual conference programme was organised for the day where Accra participants were in the field.
Conclusions of the behind the scenes
The first-ever hybrid conference was a full success in many parts. Yet, it highlighted learning paths in online and offline integration of participants and hybrid setup. The great interest in the conference online and offline confirmed that we should continue with our community engagement and drive for active membership, learning and exchange.
The app, the team (some of them), the tests ⎮ Photos:  © GIZ/Joy Heitlinger