Putting Women Front and Centre in Farm Entrepreneurship
A promising beginning from the Green Innovation Centre in Ethiopia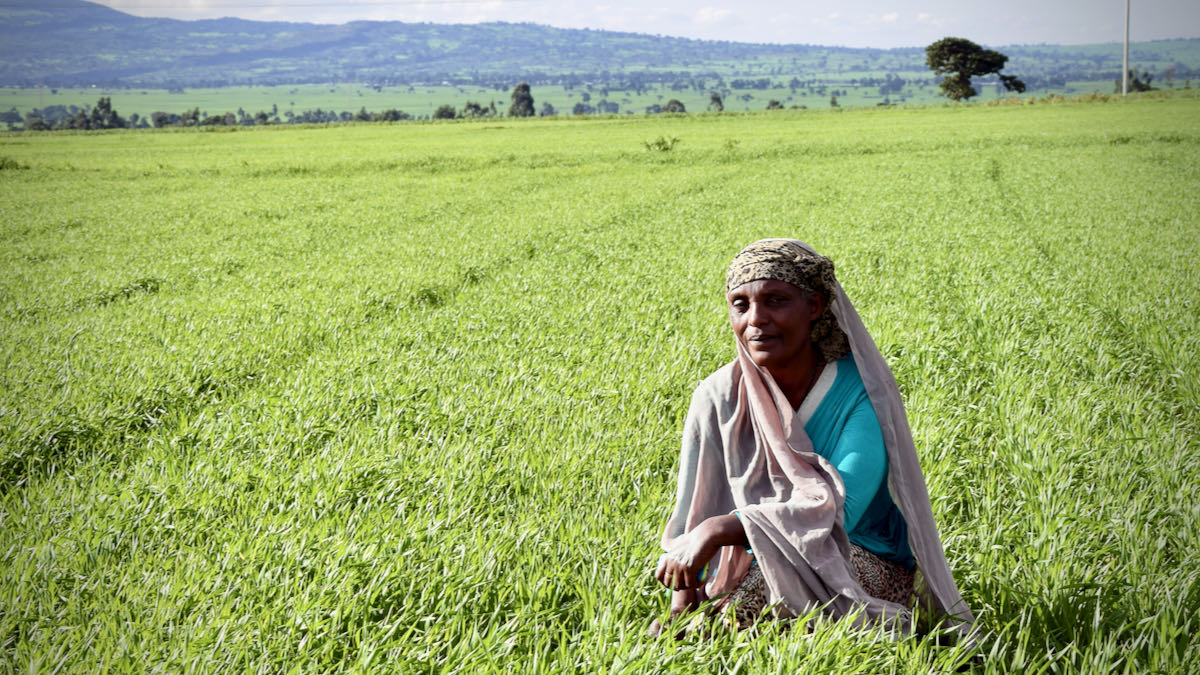 Farmer Bafena Shiferaw in her all-green wheat field ⎮Photo: ©GIZ/Hermela Lakew
The [b|u|s] training helped us lead and plan not just in our cooperative but also in our households.
Like Bafena, 114 female members of 16 Seed Producing Cooperatives in Ethiopia are couched through the b|u|s entrepreneurship training so they can conduct farming as a business.
Initially introduced to men and women members of these cooperatives in the Arsi Zone of the Oromia National Regional State, the b|u|s training helps to develop personal and entrepreneurial capacities and skills of farmers needed to succeed with their farming business.
As the German abbreviation of the international training approach indicates, b|u|s training enables farmers to "think and act like an entrepreneur". It uses participatory training approaches and adult learning methods that lead to sustainable growth of farming businesses or small and medium enterprises.
By using b|u|s training, the Green Innovation Centre Ethiopia project, together with the Andreas Hermes Akademie, supports the farmers of the Seed Producing Cooperatives in their personal development, leadership, planning and marketing roles in their farmers' organisations. The training is also a means to address gender issues, especially, to encourage and raise more women members to leadership roles in the management structures of their farmers' cooperatives.
In 2019, another b|u|s training was delivered to the 16 cooperatives. This time, the focus was only on women members. The targeted training aimed to equip the women farmers with the knowledge and skill they need to become visionary and goal-oriented. It sharpened their basic business practice and planning so they can start or improve income-generating from using their farmland and backyard. This training had specific goals of improving the capacity, productivity and performance of women farmers. Consequently, these women can attain economic empowerment by building their entrepreneurial capabilities and enhancing the performances of their businesses.
Because of the entrepreneurship training, I have developed self-confidence. I actively participate in our seed-producing cooperative now.
The assessment showed that the participation of women farmers in leadership, board service and other committee memberships in the seed-producing cooperatives almost tripled from just 7% in 2019 to 19% in 2020 mainly because of the b|u|s training.
The training has also enabled the women to improve the income they get from their farmland. Now, they are also motivated to produce different crops in a modern method which helps them to start treating farming as a business.
Through the b|u|s training the Green Innovation Centre Ethiopia project supports seed-producing cooperatives to improve their business planning process by monitoring success and identifying areas of improvement. The training also encourages farmers to enhance bookkeeping and saving habits.
The number of women who are used to saving their income has also increased from just 69% to a staggering 97%. The positive shift in saving habits has led 99% of the women to own a saving account in either banks, micro-finance institutions or one of the similar local establishments. Before the training only half of these women owned a saving account.
Farmer Desi Gonfa speaking during a farmers' event⎮Photo: ©GIZ/Tamiru Beyene
I have started to speak confidently in SPC meetings and other community meetings very comfortably. We are lucky to get the chance and be able to manage our farm with the knowledge it requires, develop our confidence and also we get better production this year.
Desi, like her fellow farmers, believes women should get additional training that can catalyse their transformation to agricultural entrepreneurs, enhance their farm business and promote their active participation in cooperatives. "The b|u|s training is a way for women to improve their benefit and participation in cooperatives," she says.
However, Desi is adamant that it should be continuously supported by awareness creation for leaders and all committee members of the seed-producing cooperatives to attain sustainable women's participation and true empowerment.
In the beginning of 2020, in an effort to ensure equal participation of women in project activities, the Green Innovation Centre Ethiopia also organised 58 women in four groups in the Arsi Zone. Each group of women works on five hectares of clustered land to produce wheat and faba bean. They access inputs such as seed and fertiliser, good agricultural practices, technical advice and experience sharing made available by the project to increase their productivity and income.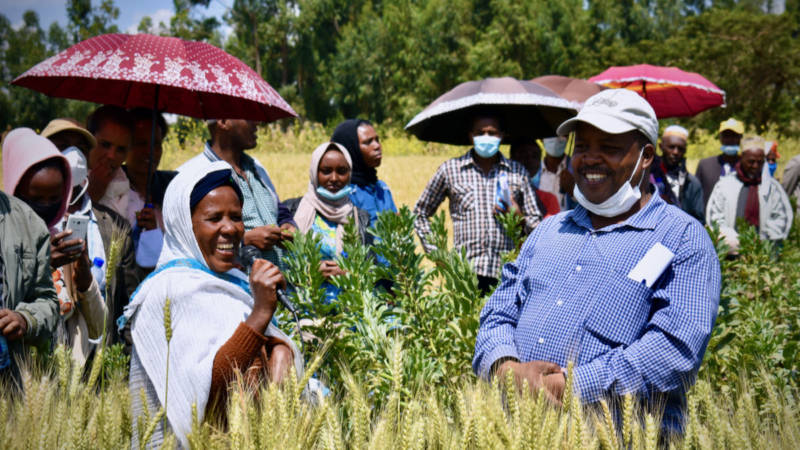 A woman farmer, part of the all-women farm clusters, basks in her ripe wheat field as she explains her good agricultural practices and its promising harvest during a field day ⎮Photo: ©GIZ/Tamiru Beyene
The women in clusters have demonstrated an exceptional adoption of good agricultural practices by properly applying inputs and using crop rotation and row-seeding. The effort has paid off in the harvest season when the women reaped an average 58 quintals of wheat and 24 quintals of faba bean per hectare. This is an increase of production from the previous year by at least 10% for wheat & 12% for faba bean, resulting in a subsequent increase in the income of the women.
This beginning is yet another step to empower women farmers by showing that they, like men farmers, can do good agriculture and, eventually, share their best experience with neighbouring farmers. In 2021 the project plans to organise more women groups in all its intervention districts, at least ten in Oromia Region, to benefit more women farmers and give them access to the resources they need to be the productive farmers they can be.
In addition to the b|u|s training, the Green Innovation Centre Ethiopia project also uses the Farm Business School approach, introduced by GIZ to secure better incomes from smallholders' investments in good agricultural practice and recommended inputs, the emergence of producer organizations and better access to financial services. The project aspires to specifically implement Farm Business Schools to support women in honey production, processing and marketing.
About the training
So far over 260 farmers in cooperatives have gone through the b|u|s entrepreneurship training and nearly 50% are women. Female experts from local cooperative promotion and agriculture bureaus are included in the training sessions so they can encourage and support the seed-producing cooperatives to continue involving women in the long run consistently, effectively and sustainably.
Contact
Magnus Schmid, Programme Manager, magnus.schmid@giz.de (responsible)
Wibishet Fessha, PR and Communications Advisor, wibishet.fessha@giz.de (author)
Etalemahu Muleta, Gender Advisor, etalemahu.muleta@giz.de (contributor)