Producer Organizations Witness Positive Impacts Of Farmer Business School on Members' Livelihoods
Public and private implementers of Farmer Business School confirm that combined with other services, the concept has triggered smallholders' investments in better production techniques, a forming of new organisations and their evolution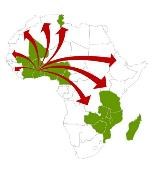 Farmer Business School has been adapted to export commodities other than cocoa and food crops in 16 African countries, implemented for over 900,000 smallholders by 20 programmes. More than 40 curricula have been developed for 22 different agricultural production systems and value chains. This translated into stronger business relations, better product quality and turnover of companies and furthermore it contributed to achieving the goals of sector strategies.

The first African conference on Farmer Business School
Eight years after the first introduction of the Farmer Business School approach, the first African conference took place from 10-12 October 2017 in Abidjan, Côte d'Ivoire. The new Farmer Business School Advisory Facility of the Sustainable Smallholder Agri-Business Programme organized the conference. To newcomers, it gave an overview of the support services and introduction processes in Malawi, Ghana, Cameroon, Côte d'Ivoire (achieved) and in Ethiopia, Uganda, Madagascar, Philippines, Congo and Zambia (work in progress).
The conference brought together 160 FBS practitioners and stakeholders from 19 African and 3 European countries. Experts of development programmes, policymakers, delegates of public and private partner institutions, producer organizations, development partners and investors exchanged on
Achievements and successes
How to foster sustainability of FBS
How to scale-up the approach while building on achievements and aligning interventions for inclusive agribusiness models in Africa.
Conference highlights
The Head of Cabinet of the Ministry of Agriculture and Rural Development Côte d'Ivoire, Siaka Minayaha Coulibaly, confirmed the relevance of the Farmer Business School approach and encouraged participants to further integrate smallholders into value chains by strengthening their entrepreneurial skills.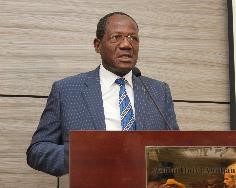 During her keynote address, the Vice-President of African Development Bank, Jennifer Blanke, emphasized the important roles of smallholders and of their entrepreneurial empowerment to achieve SDGs and agricultural transformation in Africa.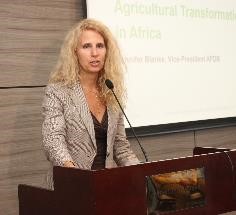 Workshops were conducted on
Information for Farmer Business Schoolnewcomers on requirements for conducive introduction and adaptation of FBS to new value chains and countries.
Creation of an international Farmer Business School association: Triggered by strong adherence to the idea, an anglophone and a francophone inception committee has been constituted during the last plenary session of the conference. The committees have started their consultations on the way forward.
Cooperative Business School as a new approach that strengthens the provision of business services to members of producer organizations and consequently the position of organized smallholders in the framework of value chains.
Fostering institutional anchorage and sustainable financing of Farmer Business School: Key results comprise the mainstreaming of Farmer Business School in national extension and financial inclusion strategies, National Agricultural Investment programmes but also financing of Farmer Business School trainings based on fees paid by producers and their organizations.
Summary of the conference
The Abidjan Declaration Entrepreneurship powers Agricultural Development and Transformation summarizes key outcomes of the conference and the commitments of participants.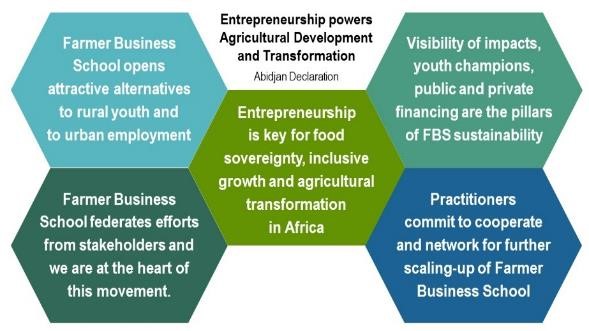 The new Farmer Business School Guidelines
This was also the opportunity to launch the new Farmer Business School Guidelines that shall enhance successful introduction and management of Farmer Business School.
About the concept Farmer Business School
With the support of the Bill & Melinda Gates Foundation and member companies of the World Cocoa Foundation, GIZ designed Farmer Business School for large-scale outreach in 2010. The training strengthens business skills of smallholder farmers in order to increase and to diversify incomes of their businesses. To this effect, Farmer Business School targets knowledge, skills and attitudes. The curricula cover one lead crop and two other food products with promising markets and sound technologies.