Opportunities and Risks Induced by Corona
The case of the international ICT beekeeping project SAMS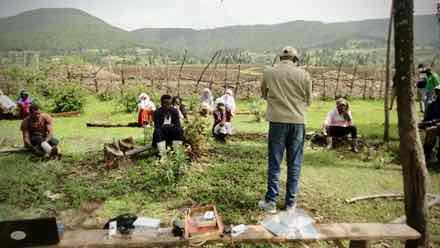 Even in an international ICT project, where regular meetings via video conferencing and digital work are the order of the day, the effects of the corona-related circumstances are strongly influencing the operative work.
The beekeeping project SAMS – Smart Apiculture Management Services – uses a monitoring system to provide research data on bee health and productivity and is intended to help to strengthen the honey industry in Ethiopia and Indonesia. Partners from Latvia, Austria, Germany, Ethiopia and Indonesia have been working closely together since January 2018.
After beehives in the Indonesian and Ethiopian project regions have been equipped with monitoring systems in 2019, the generation and transfer of data were causing problems, which had been exacerbated by the Corona pandemic. An even more limited infrastructure – including curfews and internet networks – hampered regular visits of the hives and the automatic data transfer. The latter problem has now been solved by local data storages. With this strategy, however, the project is dependent on more frequent visits to the test areas for data collection and hive monitoring – which might be difficult, if curfew will be established again.
The training measures in bee management, bee health and business design in the honey value chain, which are running parallel to the technical development, had to be suspended during the Corona lockdown. However, after a while, the capacity building was transferred into the digital room, or took place outdoor with participants adhering to social distancing protocols.
While on the side of hardware and knowledge transfer, logistical problems were intensified by the Corona measures, the development of the SAMS software continued. The project benefits from international digital cooperation in the development of the Decision Support System (DSS), which provides beekeepers with information on the current health of their bee colonies and, if necessary, gives suggestions for optimizing bee management. Based on the first data sets of monitored bee colonies, a data processing model was developed that provides beekeepers with the relevant information on their hives. A first version of the Decision Support System is now available online to the participating beekeepers. According to the digital principle "Design with the user", the trial version was tested by Ethiopian and Indonesian beekeepers.
Currently, the SAMS project is organizing a network conference on ICT in apiculture on 25 and 26 November 2020. Of course, this event must also take place completely virtual. However, this digital conference format enables professionals from the apiculture sector, interested individuals and beekeepers to discuss and exchange knowledge on ICT in apiculture internationally. We invite all interested stakeholders to our conference!
Free registration for the SAMS Final Conference is open at: https://sams-project.eu/take-part-in-the-offical-final-conference-of-sams/
More information
Project-Website: https://sams-project.eu/
GIZ-Regionalbüro Süd: https://www.giz.de/de/weltweit/60156.html
OE 3920 RB Süd – EU H2020 Projekt SAMS – Smart Apiculture Management Services als Teil des IZR–Vorhabens Innovationswerkstatt
https://sams-project.eu/take-part-in-the-offical-final-conference-of-sams/
Contact
Stefanie Schädlich stefanie.schaedlich@giz.de