Note of the Speaker Team
In times of a seriously threatening pandemic, what can be SNRD's value-added?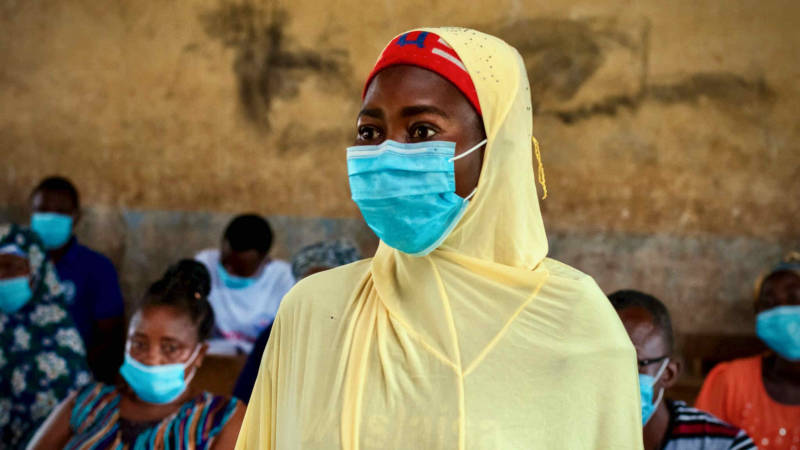 © GIZ/Gyamfi Ansa-Asare
All of a sudden 2020 took a gigantic turn. Many things that we took for granted or that we literally considered being natural changed overnight — well, not quite but at least it really felt this sudden. Even maintaining basic regular project procedures has become very challenging to our projects.
On the other hand, there are opportunities within the changes that any crisis triggers. Adaptive processes can grow beyond defensive mode, this negative perspective that makes us biased to being only reactive towards political pressures or hampering practical impact on our operations.
BMZ for example, which had already been in the closing phase of an internal reform process — BMZ2030 Agenda — is now reassessing and therefore refocusing the process. Unsurprisingly, health which had just been off the agenda is back on.
What does this mean for us working in rural development?
Both the conceptual and operational levels of development cooperation are still characterised by some degree of silo thinking. We need to make sure that a focus on health does not result in a deflection away from our work.
How can we achieve this?
We need to stress the fundamental resilience enhancement our work brings to communities. We have great arguments. The international journalist Michael Pollan, renowned for poignantly connecting the dots between agriculture, nutrition and health — has just recently spoken about Covid showing us how intrinsically interconnected the issues actually are. The number of deaths due to COVID in the US indicated that obesity and diabetes must be related factors to the causes of death during the pandemic. In other words, our work with farmers, agri-value-chains is related to nutrition and health. We know this, we need to show it and we can do it.[1] 
Bringing these issues that are connected in reality also together in the perception of our clients and beneficiaries is a great value-added our network can provide. We are uniquely positioned to practically overcome problems of silo thinking.
Action fields and core areas
SNRD Africa with its 115 member projects from Globe and Africa departments addresses many action fields in the five core areas, meaning all three action fields under "One World-No Hunger" – "Food and nutrition security", "Rural Development", "Agriculture" -; or the Action Field "Private sector and financial sector development" under the core area "Training and sustainable growth for decent jobs". Surely "Climate change" and "biodiversity" remain central action fields of many SNRD projects, "Forests" and "Water" equally play a role in some.
Within the 10 initiative areas of BMZ2030 – "value chain development/sustainable supply linkage", "digital solutions" and "alliances (development, climate)" must be stressed. The strong commitment of BMZ for SNRD topics especially food security and climate mitigation continues, but whether the financial attributions follow the golden times of SEWOH (so far € 1,43 billion for 29 projects) remains open.
All these changed framework conditions make us rethink development concepts, modes of delivery and frames of collaboration and reporting. There is no excuse — moreover for a future-proof  "oldtimer" such as SNRD Africa — to forego adaptation and change.
This is the moment to highlight the experiences and lessons of our projects and to position our lead topics in the German and European development context. We can demonstrate the impactful mix of demand-oriented, sustainable approaches on various levels: local, national, regional, global.
Thus, whilst presence meetings could not be held: all four working groups held webinars, virtual field trips and the ABIVCD even an exciting conference using digital participative tools. The climate change working group (CCLNRM) plans joint activities together with the SNRD Asia.
PPARD prepared this newsletter, and Angelika Friedrich set the political scene.
Future questions
At this point of reorientation, we also ask ourselves as 115 member projects of SNRD:
Are our four Working Groups and Communities of Practice of SNRD still matching the BMZ2030 priorities?
How do these working groups position themselves with BMZ2030?
How do we keep up with high-quality standards in our operations, addressing poverty and inclusion, measuring impact also on the environment and climate?
How can we adapt our modes of delivery in the projects, but also within SNRD?
Upcoming steering meeting on 9 December
We will discuss and practice some of these questions above.
New working group
Within this newsletter, we wish to trigger your interest and adherence to our newest working group on Gender-Transformative Approaches in Rural Development. We can't wait to finally address gender as a game-changer with an appropriate engagement. Thank you, Miriam Heidtmann and Sabine Müller for setting the tone.
New leaders
We are particularly welcoming new leaders in the core areas for SNRD, without being able to name all: technical department (FMB) – Kirsten Hegener ( "Forests, Biodiversity, Agriculture (4D20)"), Petra Jacobi ("Rural Development, Food Security (4D30)"), Alexandra Müller und Henriette Hanf (Sector manager, and Internal Customer Service), Maria-Verena Spohler-Kouoh, Country manager Central Africa (OE1400) as well as the coordinators for green clusters: Bettina de Campos (Benin), and the Global Programmes — Helmut Albert (SP Agricultural policy Advice and Innovation, and i4Ag Fund)
All the best,
Your Speaker- and Community Management Team Rita Weidinger, Thomas Breuer, Lucie Pluschke, Joy Heitlinger, Koffi Souka
[1] Niman Ranch online Live Panel, Resilience vs. Efficiency, 8 September 2020,  YouTube