Jobs in Cashew Processing ⏤ A Gold Mine Waiting to Be Exploited
Africa only processes 10% of its cashews, a highly nutritious fruit and nut of an extremely climate-adaptable plant whose entire economic benefits can very well be reaped in Africa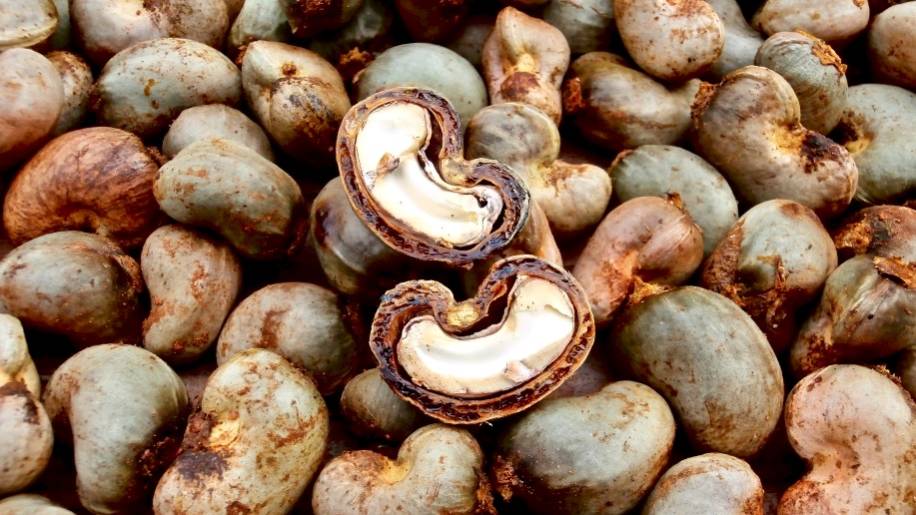 Photo: GIZ/ComCashew
Agriculture plays a very special role in Africa. Two-thirds of Africans are working in the sector, making it the continent's largest employer. Today most African countries are facing the double challenge of having to make agriculture sustainable and fit for the future and at the same time open up perspectives to rural populations, above all to young people who make up more than 60% of the people.
The production and processing of cashew nuts in Africa are creating such perspectives. Nicknamed grey gold, cashew is becoming more popular; policymakers of many countries increasingly view it as a "miracle weapon" because of its diverse potentials. Since ongoing climate change is forcing many farmers to break new ground ⏤ especially in the Sahel region ⏤ the cashew tree is an ideal plant to manage climate change adaptation.
One of two cashews on the market is grown in Africa, with Cote d'Ivoire being the leading producer currently. The crop is mainly cultivated by 1.5 million small-scale farmers. Originally introduced to combat desertification on the continent, the tree has proven to have great economic benefits for African countries within the last ten years. The market share of African cashews already exceeds half of the global production and this trend keeps rising while production in Southeast Asia and in Brazil continues to dwindle. Nevertheless, the increase is still far from meeting the demand for cashew nuts on the world market, which is going up by around six to seven percent annually.
Africa has the best conditions for cashew cultivation and due to advancing climate change cashew trees are becoming a significant alternative for many small-scale farmers, especially in the Sahel. The cashew value chain offers many different jobs, creating the necessary new perspectives for young people. This year's SIETTA-ACA Conference will highlight how young people can seize these opportunities.
Cashew creates opportunities for young women in Africa
The cashew value chain as a whole provides a platform for the economic empowerment of women. It opens up multiple job opportunities and thereby generates much-needed income, especially in rural areas. 
According to estimates of the Competitive Cashew initiative ⏤ a regional public-private partnership project in the framework of German development cooperation that has been promoting the cashew value chain in Africa since 2009 ⏤ nearly 400,000 jobs have been created in cashew production in the past nine years, of which 40% were taken up by women. These women are mostly working during harvest season in support of small-holder family farming systems.
Beyond traditional subsistence farming, the segment of processing and value addition is a vibrant opportunity for a new generation of women entrepreneurs in the processing of cashew nuts and byproducts. Cashew processing units employ mainly women who constitute up to 80% of the workforce. Increasing investments and the setting-up of processing units in Africa are posing opportunities for many young African women to gain access to formal, continuous and gainful employment. This certainly contributes substantially to their sustainable financial and social empowerment and provides young women, especially in rural areas, with the much-needed economic security.
Cashew production ⏤ more than farming
The job creation potential of the agricultural sector in general and that of the cashew value chain in particular is more and more important to young Africans.  In recent years the cashew sector has gained a strategic significance for the diversification efforts of producer country governments. In 2018 cashew production reached record production of close to 3.5 million tons globally, of which 57% were of African origin. In Africa, the crop is largely produced by 1.5 million small-scale farmers.
The production sector provides not only on-farm agricultural jobs but also para-agricultural jobs linked to the farm. Indeed, cashew production involves operations requiring the development of delivery services, which today constitute employment opportunities that young people could pick up. The growing number of producers are desperately looking for labourers. Young people can take up service provider activities such as maintenance, weeding, thinning, pruning in cashew nut orchards with modern small agricultural machinery such as brush cutters, chainsaws and two-handed pruners.
In addition, producers are in dire need of qualified service providers when it comes to managing diseases and pests in their orchards. Young people can set up as professionals in this field to offer their service to producers by using motorized sprayers.
Furthermore, with the increasing development of the cashew market, the sector is registering more and more new farmers and cashew tree areas are constantly expanding, resulting in a strong demand for improved quality planting material. With this demand, young people can not only start producing improved grafted plants but also specialize in installing new plantations according to the relevant technical standards and norms.
Activities related to the supply of inputs such as chemical, organic and biological fertilizers, herbicides and plant protection products are areas of employment where young people can develop business opportunities. Specialization in the manufacture and repair of machines and small tools used in cashew nut orchards is no less of an opportunity. Similarly, there is a growing demand for quality analysis services (kernel outturn ratio), management studies and consulting services, as well as the application of information technology.
These opportunities present an avenue for technical and vocational training. By developing training curricula specially adapted to the cashew sector, job opportunities can be sustainably transformed into formal professions to attract many young 'agripreneurs'.
Last but not least, with close to 2 million tons of cashew nuts produced in Africa in 2018 and hundreds of thousands of hectares covered by cashew trees, a wealth of economic activities revolve around cashew production and young people must seize these employment opportunities to undertake and ensure their integration into the professional, economic and social development of cashew producing countries.
Value addition means job creation
Cashews are made up of three main parts: the nuts, apples and shells. The nuts and apples are excellent sources of nutrients.
Considering that cashew production creates great economic perspectives also for local processors, the number of cashew nuts that are processed nearby is still far too low. Of ten cashew nuts grown in Africa only one is cracked there.
Most of the produce is exported raw, to countries such as India and Vietnam where further processing into cashew kernels takes place. Cashew processing is an activity that mainly employs women and provides urgently needed income for many families. There are a lot of benefits to be derived for producing countries if more emphasis is placed on increasing local processing or value addition.  Recent estimates by ComCashew indicate that more than 38,000 direct jobs in cashew processing have been created in five of its project intervention countries since 2009. This figure could be higher if the installed capacities would be fully utilized and the potential of cashew by-products completely realised.
Africa produced 57% of the world's cashew in 2018. This translates to over 15 million MT of cashew apples and 1.2 million of cashew shell, both mainly not utilized. Nevertheless, these by-products are of high value in other parts of the world, for example in India and Brazil where they are fully transformed into final products. The cashew apple, which is of high nutritional value, can be processed into products such as juices, plums, cajuina, jams, jellies etc.
Besides the culinary use of cashew apples, the shell of the cashew nut can be used industrially. The cashew shell contains the cashew nut shell liquid (CNSL), an acidic and corrosive liquid, rich in phenolic compounds useful in the chemical industry, particularly in the manufacture of friction elements (brakes, clutches) or insulators.
Given the variety of products, there is a huge potential for investment in the processing of cashew apple and cashew nut shell. It is estimated that if the total volume of apples and shells would be processed, this cashew by-product industry could generate thousands of new direct jobs for young people.
Therefore, investments into processing in Africa are urgently needed. Vocational training opportunities can offer much-needed expertise and thereby sustain formal employment, for the growing number of African youth and make the African cashew sector more competitive.
All these and more are reasons why Cashew production and processing is representing a gold mine of opportunities waiting to be exploited. It has great potential to become one of Africa's biggest employers.
Source
GIZ/ComCashew: Maria Schmidt, Mary Adzanyo, Viviane Alima M'boutiki, Mohamed Salifou and Julius Abagi.