Implementing a Moodle Learning Management System in Agricultural Training Institutions
Lessons learned from the digital journey of the Agri-Jobs 4 Youth Initiative in Western Kenya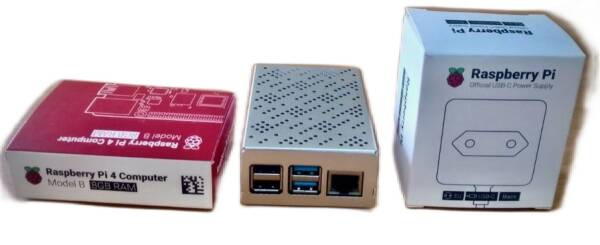 The Added Value of This Article
Hover over to have a look!
Value add for readers
Learn about the effectiveness of strategies for assessing readiness and building capacity to implement Moodle-based learning systems in agricultural training, ensuring a seamless transition to digital education.
See the potential of Raspberry Pi computers as affordable and accessible tools to host training materials, empowering institutions in remote areas with limited internet connectivity.
Understand the significance of working with TVET regulatory institutions in gaining national acceptance and scaling up digital education, opening doors of opportunity for youth in the agricultural sector.
Raspberry Pi – Technology to host a local learning management system ⎮

©

Greg Umaya
Step into the realm of innovation as we share the story of Agri-Jobs 4 Youth, a pioneering initiative that is transforming rural youth training and employment opportunities in Western Kenya's agri-food sector. Our quest to enhance needs-based qualifications and empower young individuals is set to leave a lasting impact.
Today, we shed light on our experiences and lessons learned in implementing the Moodle Learning Management System within agricultural training institutions, with a focus on the journey of our AgriSkillup platform. Moodle is an open-source online system used to create, manage and deliver courses to learners.
AgriSkillup and its Role in Digitalizing Agricultural Training
Embracing the power of e-learning and blended learning, we see a future where training opportunities become more enticing for the youth. Enter AgriSkillup, our Moodle-based Learning Management System, designed to revolutionize training centers in rural areas. What makes this solution remarkable is its accessibility and cost-effectiveness. Utilizing Raspberry Pi computers, we've created a local network that can store training materials and function as a server, even without internet connectivity.
Implementing AgriSkillup in Western Kenya
Our journey commenced with a thorough assessment of Agricultural Technical and Vocational Education and Training (ATVET) partner institutions in Western Kenya. Determining their readiness and capacity to adopt a Moodle learning management system was crucial. We examined various aspects, including the institution's management support, digital readiness of staff, available ICT infrastructure, and the preparedness of the youth and women for digital learning.
Capacity Development and Collaboration
To ensure a successful transition, we crafted a comprehensive capacity development plan. This involved training and coaching the institution's staff, enabling them to navigate the setup and utilization of the Moodle Learning Management System for training purposes. Basic and advanced courses were conducted for trainers and ICT personnel, equipping them with the necessary skills to manage and administer the Moodle Learning Management System. Additionally, local experts provided continuous support until the institution achieved self-sufficiency in rolling out the learning management system.
Institutional Support
Securing the support and buy-in of partner institutions was vital for the project's success. We facilitated collaborative meetings using the RACI tool (Responsible, Accountable, Consulted, and Informed), ensuring that time and resources are allocated for staff-assigned responsibilities in implementing and scaling up the Moodle Learning Management System. Furthermore, collaboration with TVET regulatory institutions in the host country played a pivotal role in achieving national acceptance and scalability, benefiting a greater number of youth.
Building Independent Capacity
The ultimate goal of initiatives like ours is to empower partner institutions to independently create, implement, and introduce new digital education and training methods. To achieve this, effective coaching and training become imperative. By providing comprehensive support and equipping the partner organization's personnel with the necessary skills, we pave the way for sustainable capacity building and a lasting impact.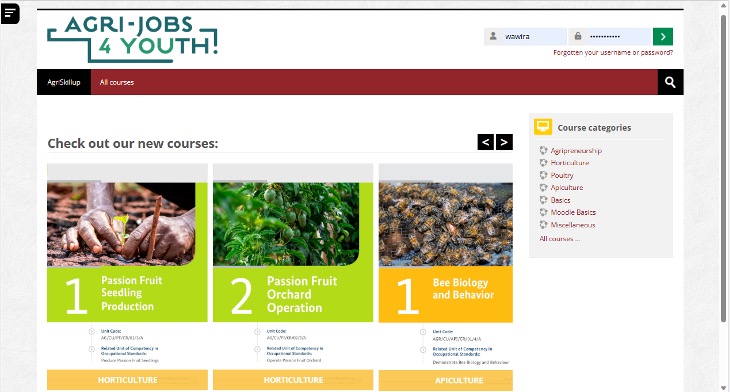 AgriSkillUp Landing Page ⎮ Photo: © Greg Umaya, GFA
Lessons Learned and Future Prospects
Throughout the development process, several valuable lessons were learned.
The inherent complexity of IT systems necessitates careful planning and simplicity in design. Despite efforts to address system security and data protection, challenges persist.
The expansion of functionalities brings additional complexities, such as hosting, maintenance, and upgrades.
Training played a crucial role, fostering mutual learning between IT developers and access and benefit-sharing system regulators to streamline processes effectively.
Sustaining the system beyond the project's funding is a key concern, prompting the exploration of resource allocation from access and benefit-sharing system processes for maintenance.
Leveraging local IT capacities and fostering south-south IT private sector cooperation proved beneficial in addressing institutional challenges and ensuring long-term viability.
The development timeline highlighted the importance of allocating sufficient time for the process to reach fruition.
More details on the learnings of setting up Agriskillup
In sum
We are thrilled by the transformative power of innovation in the learning field for youth in international development cooperation. Through the implementation of AgriSkillup and the Moodle Learning Management System, we are witnessing a paradigm shift in agricultural training, opening doors of opportunity for rural youth. We continue to embrace technological advancements which empower local communities.