ICT Toolbox for Contract Farming Professionals
10 effective information and communication tools to enhance the competitiveness of contract farming
In Mozambique, contract farmers often own less than one hectare of land. These smallholders usually have limited farming skills. They are rarely aware of modern farming techniques and do not know much about how value chains work.
To ensure sufficient quality and quantity of the expected produce, the agribusiness operating as a lead firm is often forced to employ large numbers of extension workers to train and coach smallholder farmers throughout the year. This causes high transaction costs for such contract farming models, impeding their competitiveness.
Modern information and communication technology reduce such transaction costs, making contract farming more competitive. The technology brings higher profitability for both the smallholders and the lead firm and it facilitates the inclusion of more farmers into such schemes. While the advantages are obvious and information and communication technology is booming in agriculture, best practices for ICT in the field of contract farming have yet to be established.
Download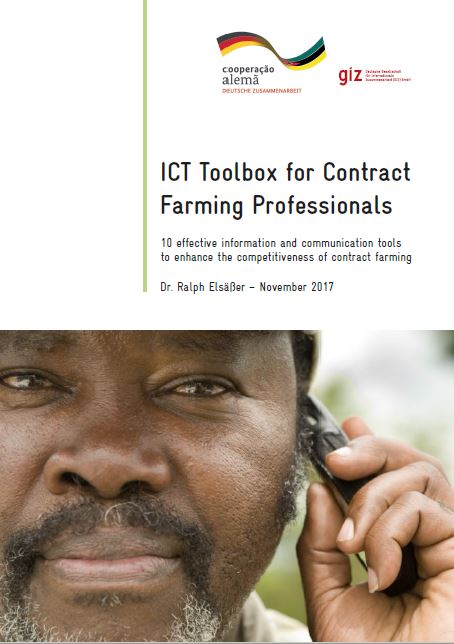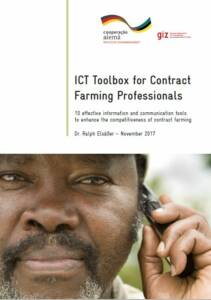 French edition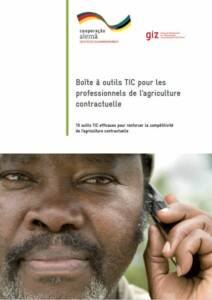 About
The GIZ program Improving the Framework Conditions in the Private and Financial Sector (ProEcon) aims to promote sustainable economic development in Mozambique. One of its projects supports local economic cycles in rural areas.
With contract farming as a powerful instrument, ProEcon assists with including smallholder farmers in commercial supply chains, thus increasing their income opportunities.
The author, Ralph Elsäßer, is specializing in introducing and improving modern and locally adapted information and communication solutions in the area of agriculture, supply chain management and integrated water management.