Green Young Ideas to Change the World
Youth Changemaker Fair with 27 innovations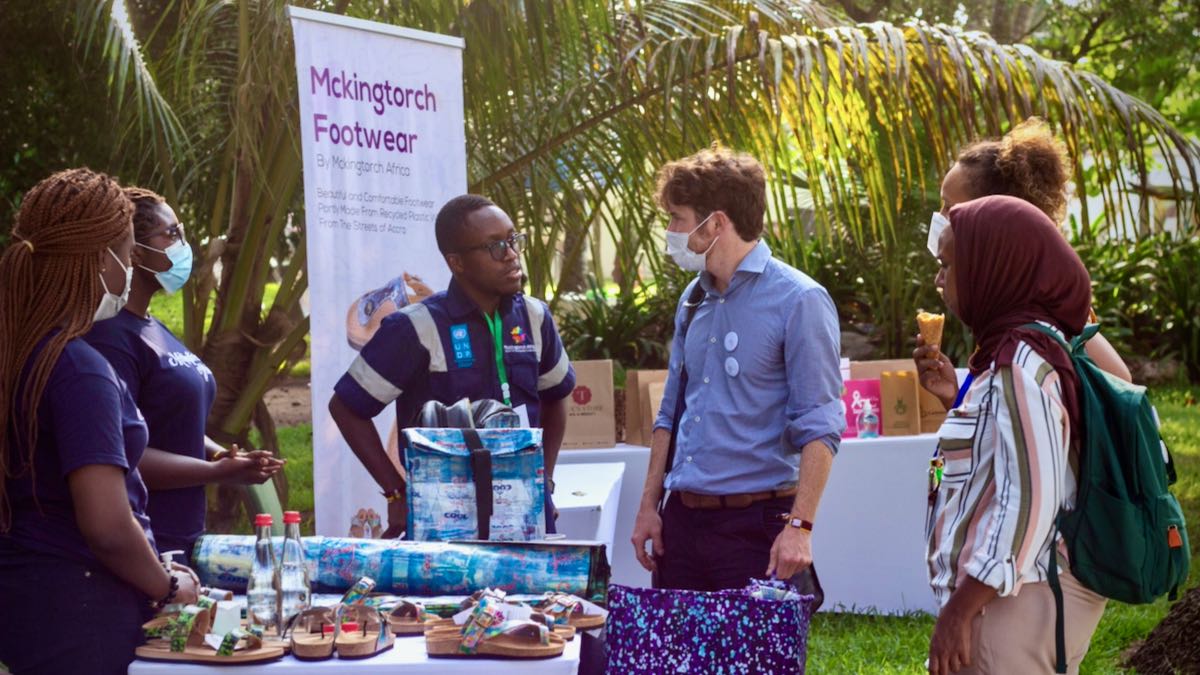 Participant interaction: Upcycled bags and sustainable footwear
– the solutions and products on display were of all different kinds.
Photo © GIZ
At the Youth Changemaker Fair 27 young people presented innovations that make a difference in their communities and beyond.
In a competitive call the young innovators, aged 18 to 35, were carefully selected to present their ideas on two days of the SNRD Africa Conference conference at the end of November 2021 in Ghana.
Different solutions on recycling, green and socially impactful products, rural economic development and services that mitigate climate change or help solve a development-related problem were exhibited.
These products and services on-site in Accra included the work of Sabon Sake, an environmental research and restoration organization that promotes regenerative agriculture principles and together with farmers produces organic soil boosters from abandoned and often burnt agro/biomass waste.
"This helps restore degraded landscapes and enhance soil organic carbon to grow resilient organic crops including sequestering carbon," said entrepreneur Audrey Darko.
Frank Acheampong's Rural Green Recycling company shared how the NGO creates value for waste in low-income communities through awareness creation and recovery of all recyclable waste fractions.
Aimée Wallin and the Youth in Agribusiness program, which she presented for the NGO Ghana Food Movement, wants to create opportunities for youth to be critical actors in Ghana's food system.
"The program connects youth to innovative companies within Ghana's food system and inspires them to become drivers for sustainable change. For the first round, we'll select twenty young people to participate in a one-month training period filled with lectures, workshops and field visits on topics related to sustainable food systems", Aimée said.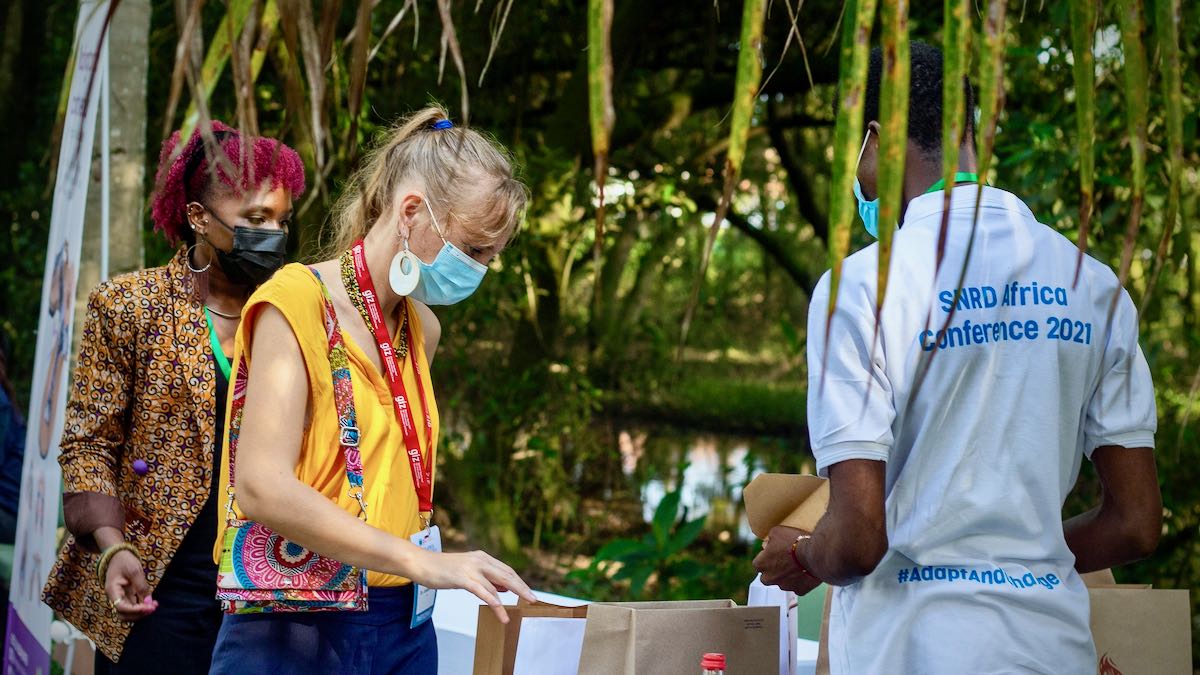 Sustainable paper: two participants exploring the stand of a young changemaker
Photo: © GIZ
The virtual fair showed innovations in digital formats and brought samples of their innovations for the SNRD Conference participants to learn from. On Showcase Messe-Pitch – EXPO-IP platform exhibitors met with experts on rural development and agriculture, expanded their network and presented their innovations to an international audience.
Bringing these actors together online and offline inspired conference participants, sparked many discussions and showcased ideas that are ready to bring change to Ghana and the world.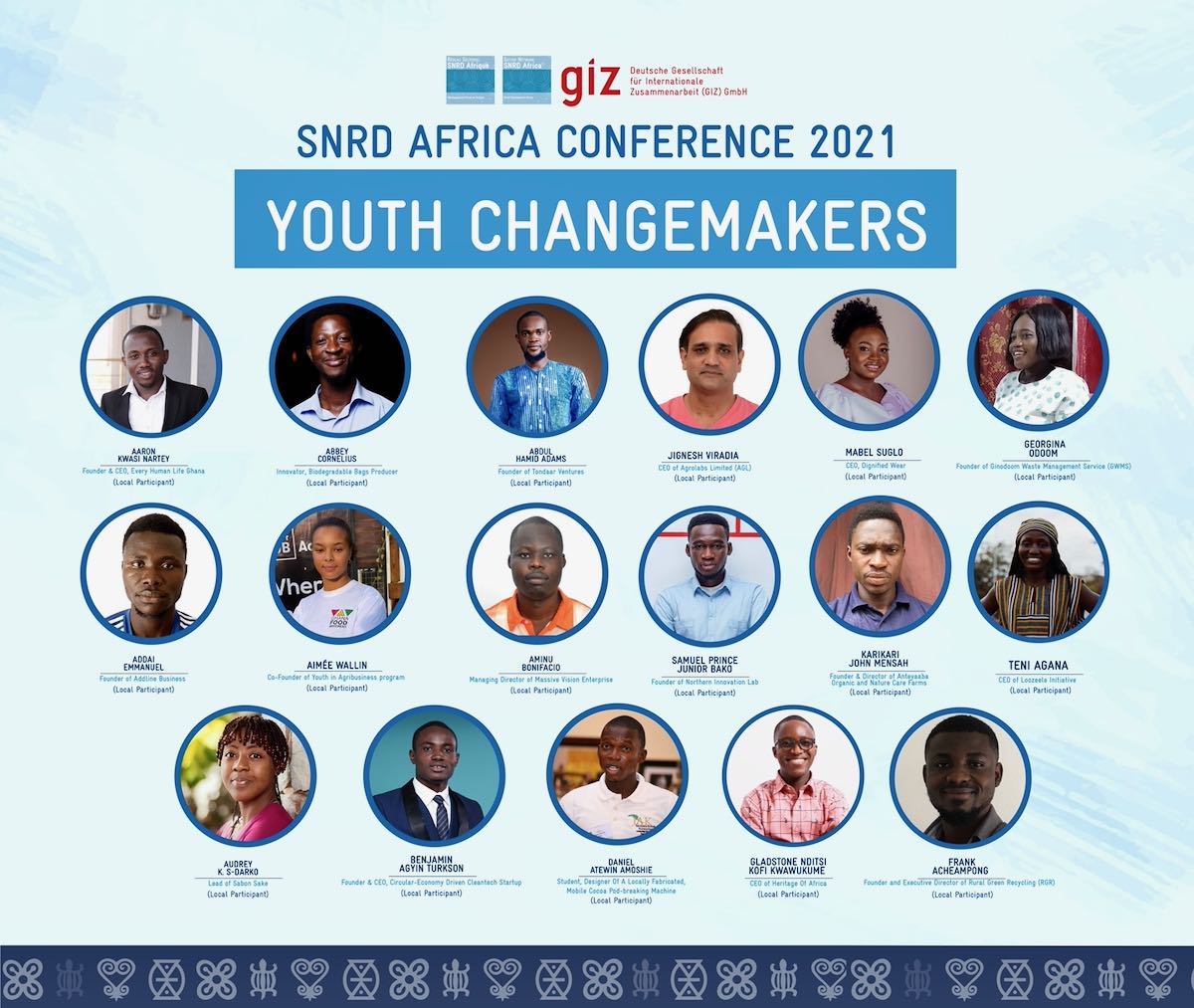 Visual: © GIZ