How To Empower Women To Take up Climate Resilient Solutions
Using an educative gender game accessible via simple mobile phone in Zambia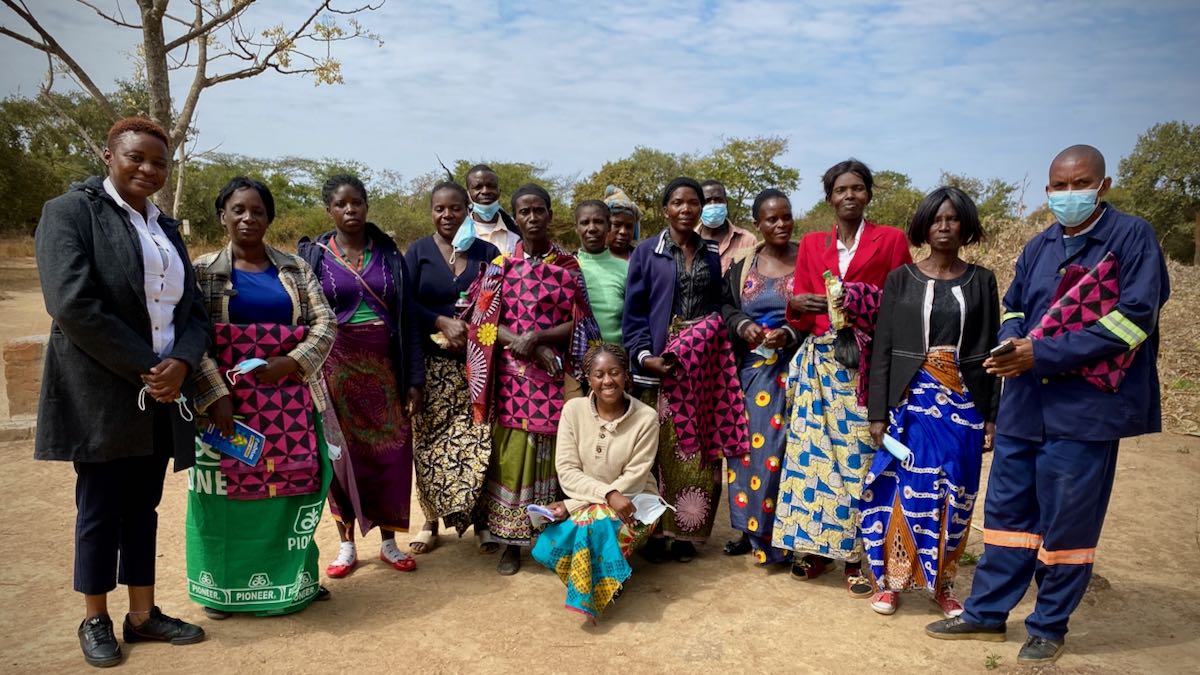 The women who were involved in the pre-testing of the game in Zambia's Central Province pose for a picture with GIZ & VIAMO staff  ⎮ © GIZ
Climate change has led to very uncertain and extreme weather events globally. In Zambia, where most smallholder farmers depend on rainfed agriculture, drastic changes in weather have occurred. Droughts and heavy rainfall resulting in floods threaten the livelihoods of the farmers.
Climate change is also a challenge that has greatly impacted vulnerable and marginalized people as well as women. Though 50-80 percent of food producers globally are women, they own less than 10 percent of the land. Often they are faced with challenges in accessing finance and making decisions that would empower them and their households.
The aim of the Gender Game
Women may be vulnerable and victims of climate change but they can also be empowered with the tools and knowledge that better positions them to mitigate their livelihoods against the negative effects of the changing climate. This is what the mobile phone-accessible Gender Game aims to achieve. With funding from BMZ the Climate Risk Insurance and Information in Zambia Project especially designed the game to primarily target and reach female smallholder farmers. It is a means to sensitize female farmers on the availability of climate risk insurance.
Climate risk insurance allows people to better cope with the impact of extreme weather events. When coupled with other useful solutions such as access to agricultural finance and access to climate information services, climate risk insurance has a higher chance of being taken up by farmers. The game educates about climate risks as well as insurance solutions.
The various means of reaching farmers
The approach the game uses allows users to participate and acquire information on how to actually take up climate risk insurance. The game uses a "choose your own adventure" approach with scenarios to teach farmers as end users of the game.
Farmers in Zambia often do not have access to smartphones. Therefore the Gender Game has been constructed for simple mobile devices making it easy for farmers to access it. The game uses IVR and USSD-based technology — meaning no internet and no smartphones are required. It comes with a dashboard for access to real-time data metrics on who is playing the game etc. Key messages are built into the scenarios of the game, including messaging on climate risk insurance and practically actionable advice on who to call when one wants to take out a climate risk insurance.
The game complements the many activities the project is involved in. It is currently available in four local languages to reach low-literate people like the farmers the project supports.
The development process of the Gender Game
The development process began with a literature review to gain a better understanding of female farmers. Both local and international literature related to gender and climate risk insurance was reviewed to inform themes the game was to cover.
Semi-structured interviews with female and male farmers were also conducted to ensure that future players were involved in the process and certain important areas were addressed. Key messages were then validated with key stakeholders such as the various insurance companies, government partners, aggregators along the value chain and the regulators, Pensions & Insurance Authority.
The involvement led to 10 messages that were fed into the scenarios. The game was built in four local languages and pre-tested with a group of end users before the launch to the public.
How the Gender Game works
Use a phone that is logged into the MTN Mobile network in Zambia
Dial toll-free code *667# for the USSD version or call 667
Pick a language
Select your preferred topic by following the prompts and pressing the number corresponding to your desired topic
Listen to the information messages or go through the scenarios to the end
The Gender Game was launched in August 2022 and has been marketed and promoted via radio, social media and bulk target messaging.
 Marketing materials used to promote the Gender Game on social media
© GIZ
To date 28,708 unique users who provided all their demographic information have accessed the game.  19, 579 of them are female. In other words more than 65 percent. This is what the game was meant to achieve.
This observation is key as it means that more women are being educated on climate risks and climate information services and therefore have a better chance to be better positioned to mitigate and adapt to the shocks that climate variabilities come with.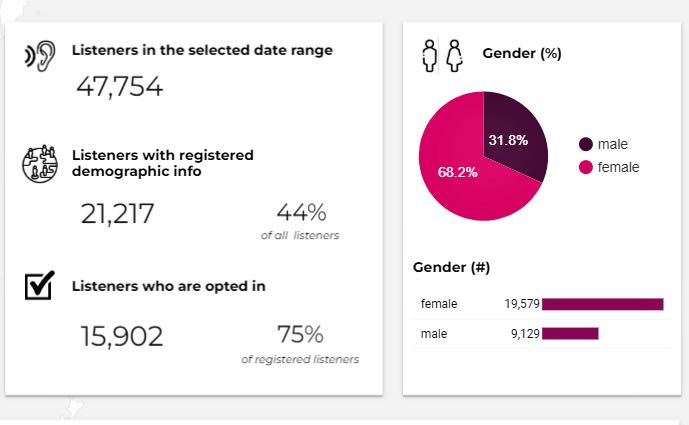 A snapshot of the demographics from the real-time dashboard used to monitor the reach of the Gender Game
© GIZ
Contact the author
Olivia Chimfwembe Ngaba, Junior Advisor, Climate Risk Insurance and Information in Zambia (CRIIZ) Project