The Magical Transformation of Muddy Water
Not having access to clean drinking water is a common but extremely serious problem in the Ethiopian highlands. It forces local residents to take long walks and to consume polluted, unsafe water. A GIZ project demonstrates how innovative water filters contribute to healthier lives for thousands of people.
Ato Yirga Seyoum, small-scale farmer and head of a family of eight, is very aware of the problems of his village – he faces them on a daily basis himself. Especially the scarcity of water constitutes a severe problem in the entire region. In order to get water for daily consumption, village residents have to put up with extensive walks to remote ponds. Even though the muddy water scooped there is mostly laced with bacteria, it is used for all purposes of human consumption such as cooking and washing.
In the past, the poor water quality has oftentimes led to water-borne diseases in the population. Especially small children whose foodstuff is prepared with the contaminated water are prone to bacterial infections, which again bear the threat of seriously affecting their healthy development.
In addition, the daily trips to the water points take up a considerable amount of the locals' time that they cannot dedicate to other chores or more productive activities.
Recognizing the magnitude of the water-related problems, the GIZ-project Nutrition Sensitive Agriculture, which is part of the German special initiative 'OneWorld – No Hunger', sets out to distribute SAWYER water filters in the region. The innovative technology enables users to transform even heavily contaminated water into clean and safe drinking water.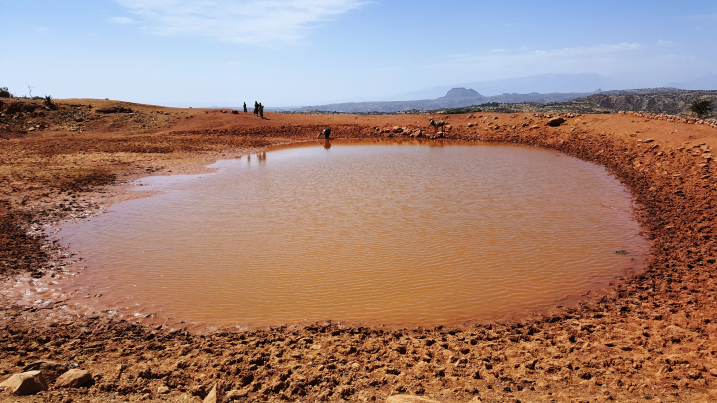 Providing filters has far-reaching impact:
Direct positive effect on local beneficiaries' health can be observed

Apart from the immediate use at home, children can take the filtered drinking water in bottles to school

Toddlers and babies receive safely prepared foodstuff

The filters turn out as real time savers – the opportunity to make even muddy water potable provides the population with the option of getting water from nearby ponds which had previously been considered useless due to a higher share of contaminants and mud.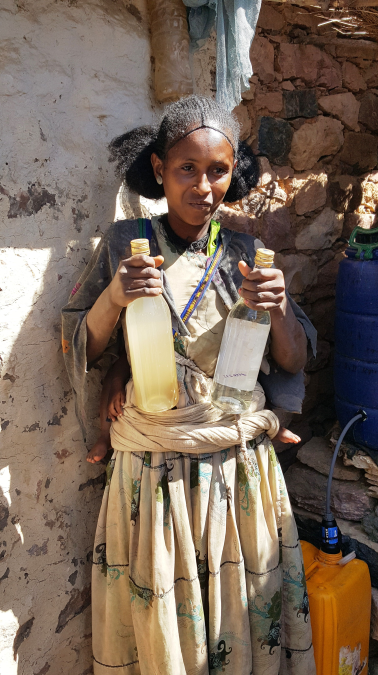 A total of up to seven households shares one water filter, which makes the number of beneficiaries of each filter rise exponentially. In order to ensure the long-term sustainable use of the filters, a member of each group of households is designated to take care of the maintenance of the equipment and teach the other members how to use them properly.
The Regional Water Bureau and the Woreda-Offices for Water Resources are convinced by the successful implementation of the water filters and now plan to scale up and provide further districts with the filters to ensure a broader and improved access to safe drinking water in the regional state of Tigray.
By Susanne Neiro and Viola Kaufmann, GIZ Nutrition Sensitive Agriculture Project, Tigray/Ethiopia.