Financial and Technical Support to Promising Water and Energy Innovations
International initiative Water and Energy for Food WE4F launches four regional innovation hubs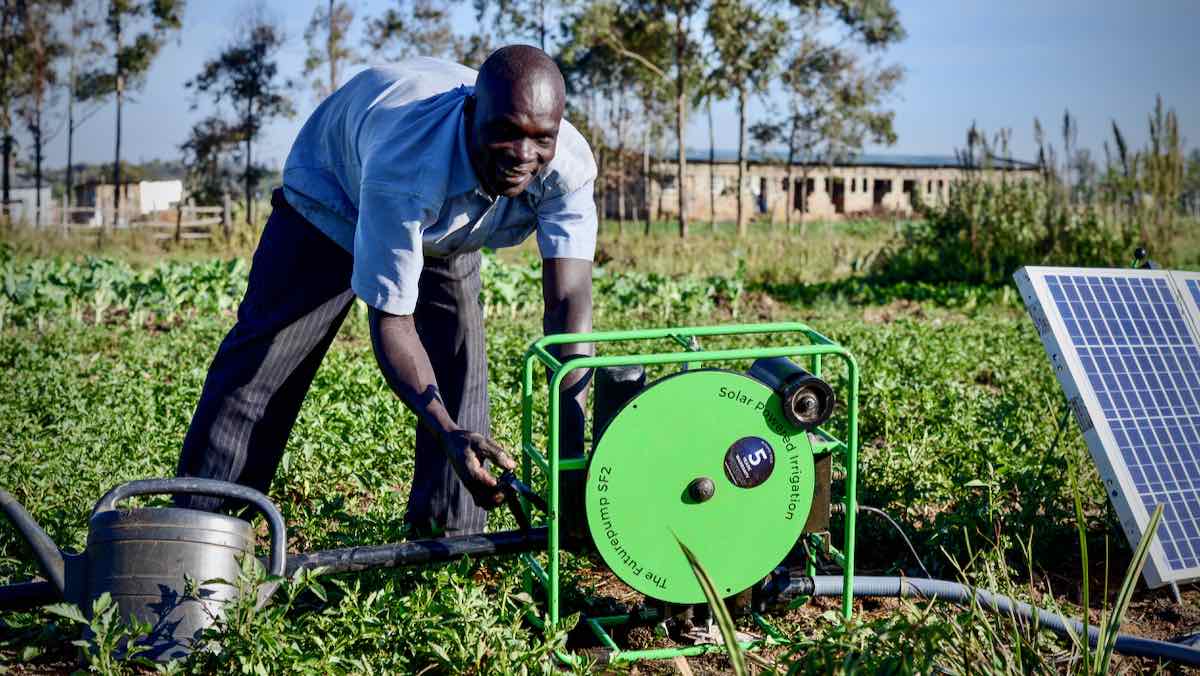 Kenyan farmer D.S. Wangila uses a solar-powered irrigation system ⎮ © GIZ / Böthling
Water and energy must be used more efficiently and sustainably
Agriculture and food production consumes up to 70 per cent of the world's freshwater resources and 30 per cent of the energy generated globally.
To increase productivity and tackle the resulting challenges, agriculture needs innovative solutions.
About the initiative
The international initiative Water and Energy for Food WE4F provides financial and technical support to promising water and energy innovations in the Global South to support a more resilient and productive global food system. The joint initiative between Germany, the Netherlands, Sweden and the USA was officially launched during the Introductory Week in September.
The virtual event brought together more than 175 attendees from around the world to discuss the linkages between water, energy and food. The sessions aimed at WE4F's programme design, mission and way forward as well as the lessons learned and recommendations from the predecessor programmes "Powering Agriculture (PAEGC)" and "Securing Water for Food (SWFF)".
About the WE4F Regional Innovation Hubs
Based in Nairobi (Kenya, East Africa), Abidjan (Cote d'Ivoire, West Africa), Beirut (Lebanon, Middle East) and Bangkok (Thailand, South-East Asia) the hubs presented themselves in virtual kick-offs.
The hubs in East and West Africa are implemented by GIZ on behalf of BMZ as Germany's contribution to the international initiative.
The hubs introduced their team members, shared information on their activities and calls for innovations, and partnership opportunities. Each Hub exhibited a unique perspective on how to positively impact food security, gender equality, environmental sustainability, and the base of the pyramid.
In the kick-off calls, the Hubs were able to connect with their regional communities to discuss how they will tackle the specific challenges faced in each region and to develop strong connections and networks within their regions.
The innovation hubs will support the distribution of innovations (such as solar technologies, apps, e-mobility, etc.) and strengthen the entrepreneurial capacities of the innovators.
Furthermore, they will offer capacity development to end-users and multipliers about climate-friendly agriculture as well as improve the access to financing for both innovative companies as well as end-users.
Finally, the hubs strive to improve the political conditions for innovations and accelerate the exchange of experiences and knowledge on the local, regional and global level.
More information
If you are interested in the programme and are looking for more information, you may find the recordings of the WE4F Introductory Week here and of the virtual kick-offs here.