COVID Is Unleashing a Human Development Crisis
Interview with Angelika Friedrich on what the pandemic entails for GIZ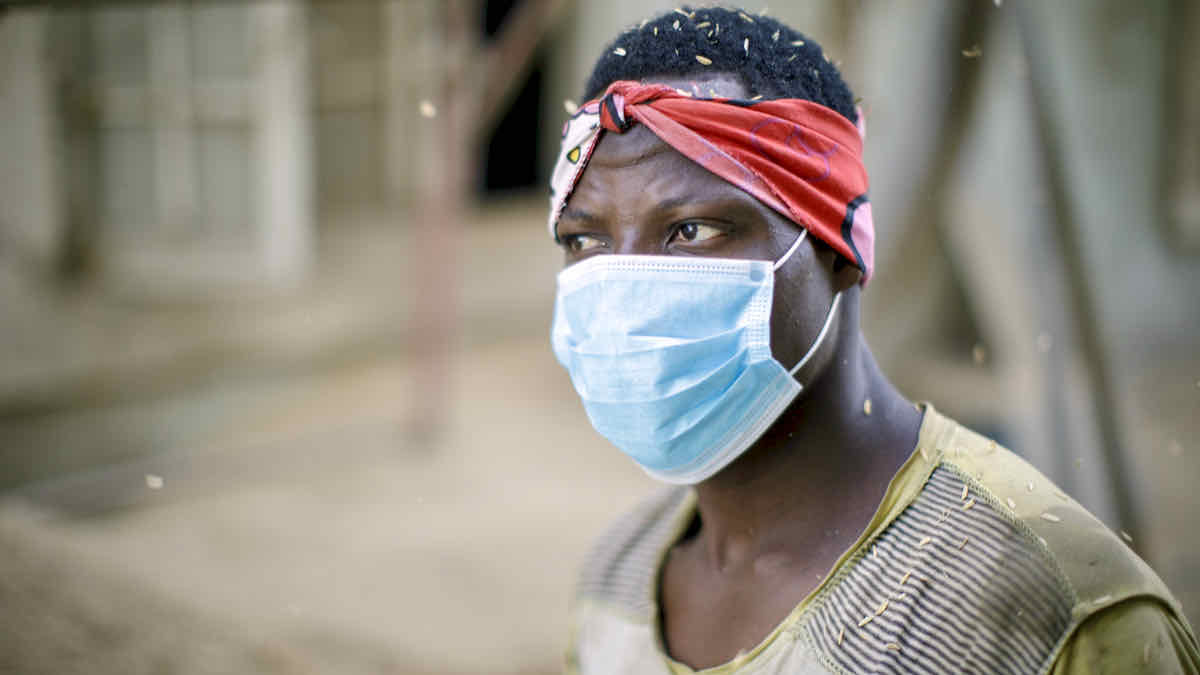 Worker in the rice mill Labana Rice Limited in Birnin Kebbi / Nigeria. © Thomas Imo, GIZ
Due to the Covid pandemic, our partner countries are battling with tremendous impact on their economic development and food security situation. It will put the efforts made towards reaching the SDGs under enormous pressure.
SNRD Africa interviewed Angelika Friedrich, head of GIZ's Central Africa Department, to gain more insight into what has happened these last turbulent months as many processes at GIZ head office and at BMZ have already changed.
Short recap on what has happened in Africa recently
In October the African continent recorded a total number of 1.2 million COVID-19 infections causing more than 24,000 deaths. However, these numbers from Africa account for only 3.4 percent of the confirmed COVID-19 cases and 2.6 percent of COVID-related deaths worldwide.[1]
Africa is therefore not yet an epicenter of the global pandemic but the severity of the crisis has undeniably arrived on the continent as well. In many African countries, the pandemic does pose a critical combination of risks — there are those of related health complications and those that come along with the indirect impacts on the economy, especially in the area of food security.
The International Monetary Fund even describes the impact of the pandemic as the worst economic fallout since the great depression. It predicts a decline of the GDPs of 4.9 percent on average in 2020. In its best possible scenario, Africa will recover to the GDP per capita level of the pre-pandemic time by 2024. The worst-case scenario moves the date even towards 2030.[2]
This crisis exerts a triple burden especially on the poorest in communities everywhere on multiple levels: health, education and income, thus unleashing a human development crisis. The achievement of the 2030 Sustainable Development Goals will be faced with a set of new enormous challenges.
As a result of the pandemic, many lives and livelihoods are at risk, creating a drawback to global efforts reaching the goal of No Hunger and No Poverty. The pandemic brings negative impacts on food security and fuels existing crises such as armed conflicts, climate change, pests and animal diseases.
The combination of rising food prices with reduced incomes affects those already most vulnerable. As a result, the latest UN and World Bank estimates forecast that an additional 83 to 132 million people may go hungry and 100 million people will be pushed into extreme poverty this year due to an economic recession.
Many of the countries FAO identified as hotspots of food insecurity are located in sub-Saharan-Africa.[3]  Movement restrictions during planting season, non-availability of agricultural inputs and increasing incidence of pests such as locusts and plant diseases in many places are likely to cause higher food insecurity in the subsequent harvesting season.[4]
What does COVID mean for GIZ's work? — Interview with Angelika Friedrich
With the negative effects of the crisis in African partner countries, COVID-19 has also had a severe impact on our operations. We asked Angelika Friedrich, head of GIZ's Central Africa Department, how she viewed the possible repercussions of the pandemic on GIZ.
The interview has been edited for length.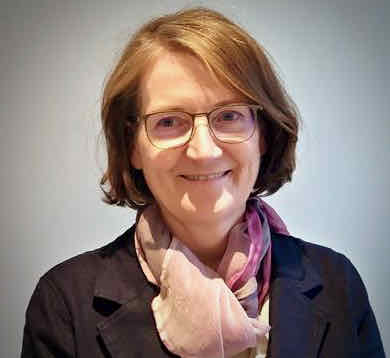 Ms Friedrich, where do you see the major challenges caused by the pandemic?
Indeed, the COVID-19 pandemic has changed our work in many ways. Firstly, the modality of how we work has changed — for example from mobile working arrangements to none or less physical interaction with our direct project partners, or the implementation of digital capacity development measures. Secondly, the demand of our main commissioning ministries to integrate COVID-19 response measures in existing projects is new to us.
All this meant that we had to adjust our project interventions while also safeguarding the positive project outcomes from before. This was and remains a huge effort for GIZ, and thanks to the commitment and flexibility of our staff we are on a good track to overcome those challenges.
What does COVID-19 entail for GIZ's portfolio in the green sector?
Since I hold the position beginning of March, my work has been characterized by new developments caused by the pandemic as well as by the reform plans "BMZ 2030".
Starting with what has happened within the BMZ, we need to talk about the Corona immediate response program towards COVID-19 by BMZ. The package includes seven themes with two of them having a direct connection to the green sector: food security and green recovery.
Please explain what is meant by green recovery?
We need to assist our partner countries not only in coping with the immediate consequences of COVID-19 but also in their response to the medium and long-term consequences. Green recovery clearly deals with the latter.
At the same time, we experience a climate crisis as well as an environmental crisis, such as the severe loss of biodiversity. Green recovery can be seen as measures to act upon those crises in an interconnected manner. The aim is to not only respond to the immediate crisis but to also channel public and private financing towards a transformative change.
We, therefore, want to strengthen communities to become more sustainable, resilient and climate-neutral economies for the time after COVID-19.
What will GIZ do with the additional funds provided by BMZ?
The direct budget increase for development cooperation from Euro 9.7 billion in 2019 to 12.4 billion in 2020, as a response to the pandemic, will be mainly implemented through restocking of ongoing projects. We are realizing that many existing projects are already extended by a COVID-19 response component.
What does COVID-19 mean for "BMZ 2030"? Has the implementation been stopped or delayed?
No, the contrary holds true. BMZ 2030 is also in Corona times still high on the agenda. Previously, in policy discourses, the regional and country focus was the decisive direction of BMZ's programming. Nowadays, due to our current minister Mr Mueller, thematic topics are our focus, and this will surely remain the same in future.
The reform strategy includes five core areas and ten initiative areas. Slight adjustments due to COVID-19 have been made in the priority topics. For instance, health — which originally was not a topic for bilateral cooperation any more — has been selected again.
Our work themes in SNRD Africa are also prominently reflected in the BMZ 2030 thematic agenda. Three out of five core themes are directly connected to our portfolio in SNRD, these are: "A world without hunger", "Protecting our livelihoods – environment and natural resources" and "Responsibility for our planet – energy and climate".
In addition, some of the 10 initiative themes have a direct link to our portfolio. Interesting in the response to the pandemic is the inclusion of the One Health approach in the initiative themes.
One Health seems to be an important emerging topic in the field. Please explain what it means and how it is connected to the green sector?
One Health – The term is based on the approach of taking the health of people, animals and the environment into view simultaneously. Among other things, projects based on this concept aim to ensure that the transmission of infectious diseases can be avoided better in the future.
Zoonoses — diseases that can be transmitted from animals to humans and vice versa — are among those tackled by the One Health approach. Moreover, we can see that there is a direct connection between human health, animal health, preserving natural resources such as forests and even climate change.
I would like to give you an example: Since terrorists are making the forest areas inaccessible to rangers in Burkina Faso, these areas are not well protected anymore. As a result, nowadays we see that more wildlife meat is offered on local markets, which could become a source of future zoonoses.
Bridging the topics of climate change mitigation and adaptation and management of protected areas with an overarching topic like One Health is key to sustain a healthy planet.
Pouring rice in Tanguiéta, Benin. After harvest the rice has to be repeatedly washed, sieved, boiled, dried and finally filled into a rice peeling machine. Then it'll be sold on a local market, here in Malawi  © GIZ/Meisner and Chancy Alfred Nthowela respectively
Here the question arises for us at SNRD Africa, how do we include climate aspects more prominently in our SNRD network? What do you suggest to us?
For people working in the climate field, there are usually two topics to talk about. These are climate adaptation and mitigation.
I see opportunities in our green portfolio in SNRD Africa arising mostly in the field of climate adaptation. We constantly have a lack of projects working in the field of adaptation and the potential for agricultural and rural development projects to fill this gap is great. I would like to motivate SNRD member projects to think more about how to integrate climate adaptation in existing projects or to consider it more prominently in the conception of new projects.
Let´s take a closer look at the impacts of the pandemic on our work on the ground. To ensure we provide sustainable services, which chances and risks do you see especially on the African continent in the light of the current pandemic?
Especially when it comes to our staff, big uncertainties exist. For our international staff foreign assignments are less appealing currently and in the francophone countries we face problems in filling vacant key positions.
We find digitalization, with its development accelerated by the current situation, opening fascinating opportunities for our company — also in the field of remote management. At the same time, we have not yet fully utilized the potentials offered by the rich human resources of our national personnel. In the cooperation countries, we have a strong focus on our partners whereas in our Germany-based operations the focus lies mostly on our clients.
So, to summarize, we need to do better in integrating national personnel into the structure of GIZ including GIZ's head office in Germany. Here the GIZ initiative "Cooperation and Leadership" (KuF) offers a new frame to explore possible means of working together.
For the international staff, do you have an overview on how the return of staff to their countries of deployment has progressed?
In Africa, with few exceptions, most of our international employees have already returned. With regard to our development workers, we must say that several left us during the past months. New ones have already been hired. When it comes to our colleagues based in Germany, we are planning to increasingly allow traveling for instance to perform appraisal missions again. Despite fulfilling their purpose at the moment, virtual appraisal missions are not going to be the only preferred method. Especially in rural development, we need to go back to analog missions as well, but for sure the virtual ones will be used more compared to the "pre-COVID-19" time.
Do you want to add a final word to our SNRD community?
The last months have been extremely challenging times for all our staff on the job as well as in their private lives. The spread of the virus has hit us as an international company in all dimensions of our work and we are tremendously happy about the fast adaption of all our colleagues towards the changing modes of cooperation.
In view of the acute global challenges, GIZ's implementation competence, innovative strength and partner proximity are needed more than ever. We have achieved outstanding results, which have been widely recognized in the partner countries and by our clients. The BMZ has emphasized their trust in our work as well as the high motivation they perceive of each employee especially in our partner countries in fragile contexts.
I want to thank at this point as well the SNRD Network and wish you all the best to maintain your efforts in enabling professional exchange within your group and thereby motivate your members to keep their heads up in light of the increasing burdens of administration as well as the ongoing crisis.
Authors
PPARD Working Group
Footnotes
[1] WHO (2020) COVID-19 Situation update for the WHO African Region, 7 October 2020
[2] Institute for Security Studies (2020); Impact of COVID-19 in Africa: A scenario analysis towards 2030
[3] FAO-WFP (2020) FAO-WFP early warning analysis of acute food insecurity hotspots
[4] Ayalande & Radeny (2020) COVID-19 and food security in Sub-Saharan Africa: implications of lockdown during agricultural planting season. npj Sci Food 4, 13 (2020). https://doi.org/10.1038/s41538-020-00073-0