Chipatala Cha pa Foni: Scaling Up Rural Health Services in Malawi
A collaboration to establish a health hotline now integrated into the Ministry of Health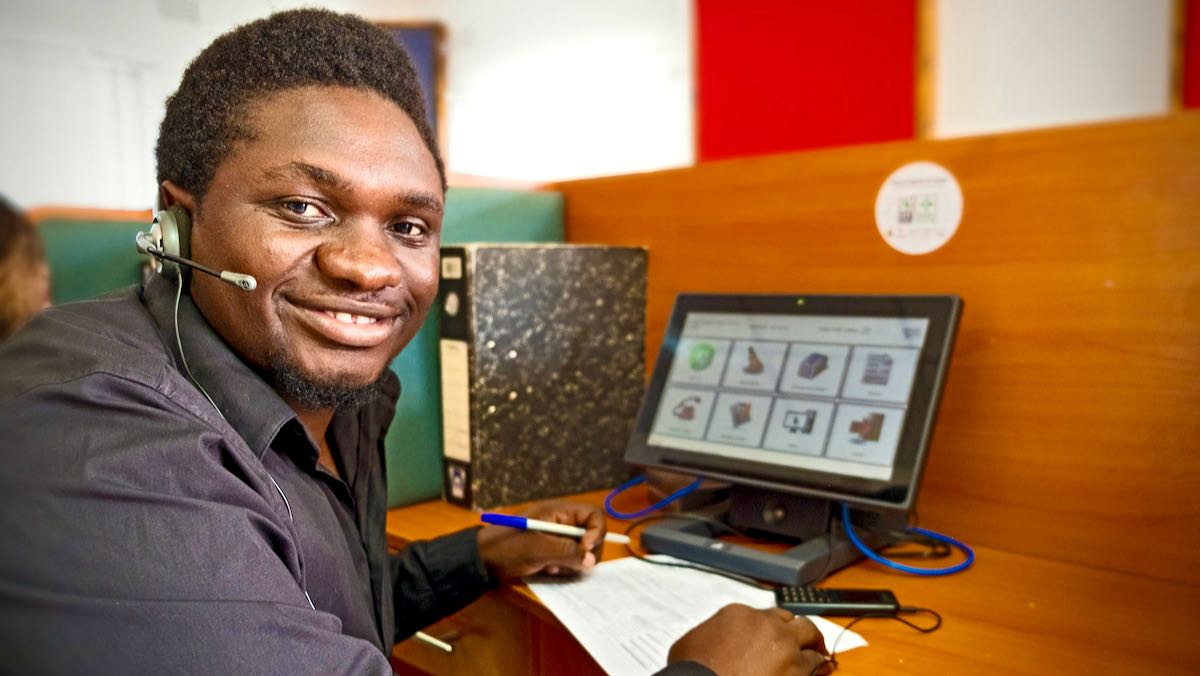 Health hotline worker ⎮ Photo: © VillageReach
The GIZ Food and Nutrition Security Programme and the non-profit organisation VillageReach partnered to provide rural communities in Malawi with access to health advice through a hotline.
Known as Chipatala Cha pa Foni, meaning Health Centre by Phone in Chichewa, this initiative initially focused on nutrition-related guidance. Starting in a few districts, the health hotline rapidly expanded to a national level and eventually transitioned to Malawi's Ministry of Health, offering toll-free 24/7 services across the country.
Benefits of a health hotline
Overwhelmed hospitals and time constraints faced by doctors and health workers often hinder patient interactions. Many patients struggle to articulate their health concerns, preventing them from seeking medical attention. Moreover, remote locations pose challenges in accessing healthcare services. To alleviate these issues, the hotline was developed to reduce pressure on health facilities and enhance nutrition and health knowledge among the remote population.
Expansion and promotion of Chipatala Cha pa Foni
Initially, the health hotline focused on providing nutrition-related information and advice in two districts, Dedza and Salima. However, it expanded its coverage to all 28 districts in Malawi, operating round-the-clock. To raise awareness in rural communities, radio programs and information, education, and communication materials were used for dissemination. Partnerships with religious and community leaders, as well as community-based organizations, were also established to spread the message about the hotline.
Services offered by the hotline
The health centre offers toll-free access to health and nutrition advice by calling 54747 from any Airtel number. Trained clinical professionals, including nurses, nutritionists, medical assistants, and clinical officers, provide guidance on various health topics such as maternal, neonatal, and child health, nutrition, reproductive health, HIV/AIDS, and tuberculosis.
The hotline also features an interactive voice message platform, which 49% of callers accessed in December 2019, with the remaining 51% choosing to speak directly to a hotline worker. The hotline supports multiple languages (Chichewa, English, Yao, Tumbuka) and voice messaging options to overcome language and literacy barriers.
Impact and sustainability
The average call duration of 15 minutes allows for personalized engagement and informed decision-making by clients. Consequently, patients can better express their needs during in-person consultations, reducing pressure on health workers and consultation time.
VillageReach emphasizes sustainability and developed the Journey to Scale with Government framework to integrate interventions into existing government systems.
In 2020, the Health Centre by Phone was fully integrated into the Ministry of Health, and hotline workers became government employees. This integration ensures the continuity of the service and establishes it as a vital component of the health sector response.
The health hotline's achievements and future outlook
Chipatala Cha pa Foni currently operates under the health ministry's Clinical Services Directorate and adheres to its protocols and standards. The health hotline plays a crucial role in disseminating messages during health emergencies like the COVID-19 and cholera outbreaks. What began as a small intervention has evolved into a national tool for improving public health service delivery.
Key lessons learned
Co-creation with political partners from the outset is crucial to establish sustainable links when designing digital solutions.
Scalability should be considered, allowing for potential additions or enhancements to the solution. Chipatala Cha pa Foni exemplifies this approach with the incorporation of multiple layers since its inception.
Authors
Ezekiel Luhanga, Chisomo Dambula, Martina Kress, Vitowe Batch, Anja Schmidt
Contact
Ezekiel Luhanga, M&E Officer, Digitalisation Focal Point, ezekiel.luhanga@giz.de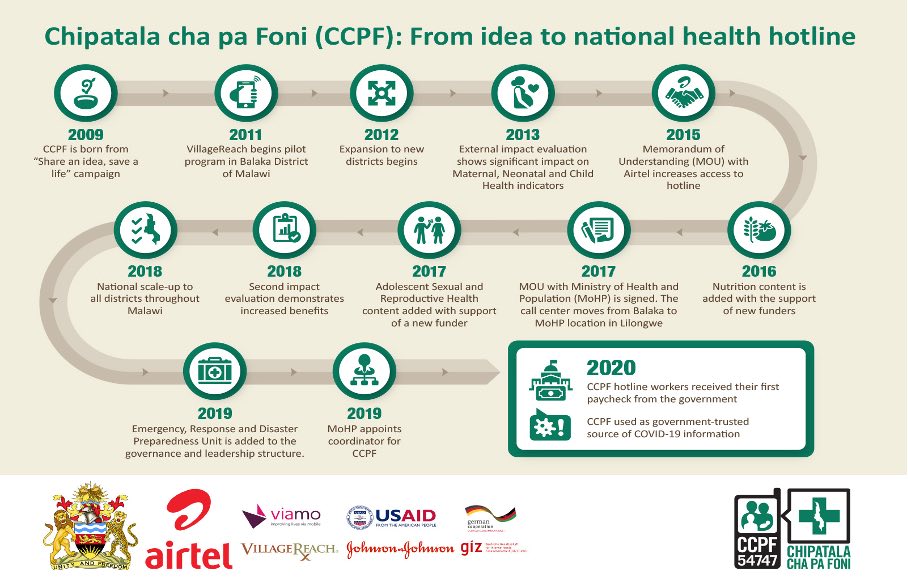 Development process of Chipatala Cha pa Foni, 2009-2020