Bringing Hybrid Formats to Life
The SNRD Hub in Bonn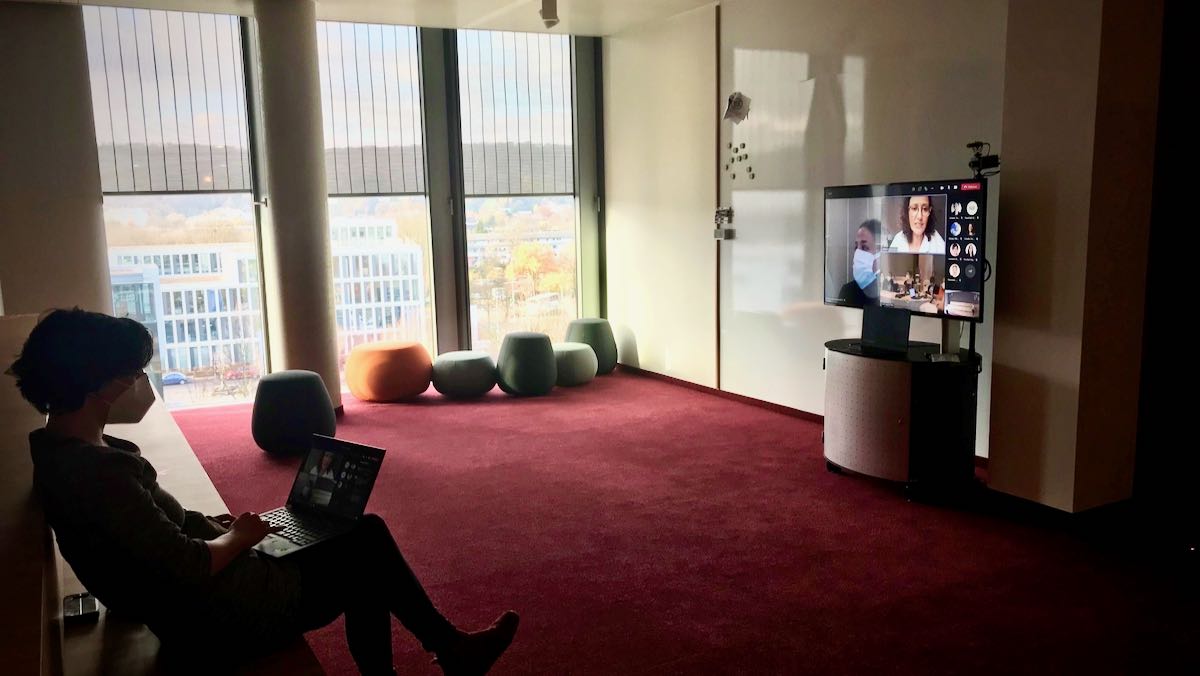 What's the SNRD hub?
For colleagues who couldn't or didn't want to travel to the SNRD conference in Accra, there was a special opportunity at Campus Bonn from 22–26 November, the SNRD hub.
The SNRD hub was established to create an open, accessible and inclusive offer to participate in conference sessions from Bonn.
In the collaboration area next to the kitchen, the "arena", a new kind of conference experience was offered with professional technical equipment — a "screen on wheels" that has been used for video conferences, a wide-angle camera and a terrific sound system.
In small groups, with cinema seating, minimum distance and masks, and the best view over the surrounding area of Bonn, the hybrid event in Accra could be followed. With the wireless mouse, it was easy to mute and unmute from anywhere and thus to participate virtually.
Only pity — due to the worsening Corona situation the planned big announcement couldn't be made — so that mainly walk-ins from the office floor were attracted.
"Instead of following a session virtually only with the company of your computer – we could share the conference experience together here," says Julia Goette, advisor in the sector project Agricultural Policy and Food and Nutrition Security about her positive experience.
With hybrid formats becoming the norm (see COP26 or UN Food Systems Summit) the idea of joining together in hubs has great potential for adding value to this format.
Many thanks to the head of department Christel Weller-Molongua and the office management Milena Crngarova from G500 for their support to the initiative as well as to Mathias Bonn of Bonn Property Service for the equipment.