Aquaculture Round Table Existential During COVID-19
How enhanced coordination and collaboration become critical in challenging times in Malawi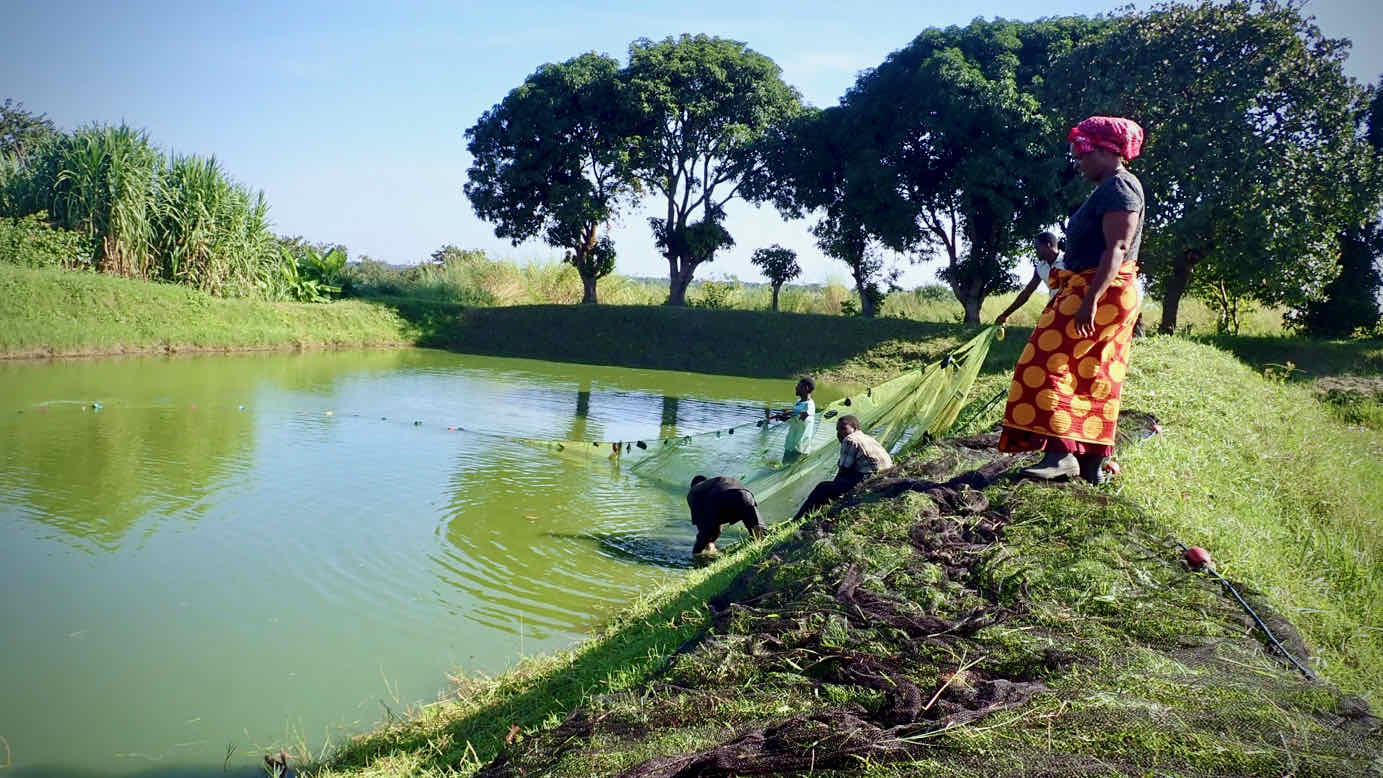 On a market day, a female fish farmer employs labourers to harvest fish from her pond to sell at the nearby market in her village. © GIZ-AVCP
The dilemma in Malawi's aquaculture subsector
Fish continues to be the main source of animal protein in the country, making up 70 percent of the dietary animal protein intake of the population. Due to overfishing fish stocks in Lake Malawi are dwindling, therefore the interest in aquaculture is on the rise. The sector has the potential to fill the widening gap of low fish landings and high fish demand, contributing to making fish more affordable for the food insecure population in Malawi.
Since its inception, the aquaculture sector in Malawi has been growing slowly due to low monetary and non-monetary investments. Collaboration and coordination among the different actors are essential. Without it, achieving the common goal of increasing sustainable fish production and improving availability of and access to fish for the food insecure population is impossible. Particularly during COVID-19, individual efforts of each stakeholder are less effective than joint action.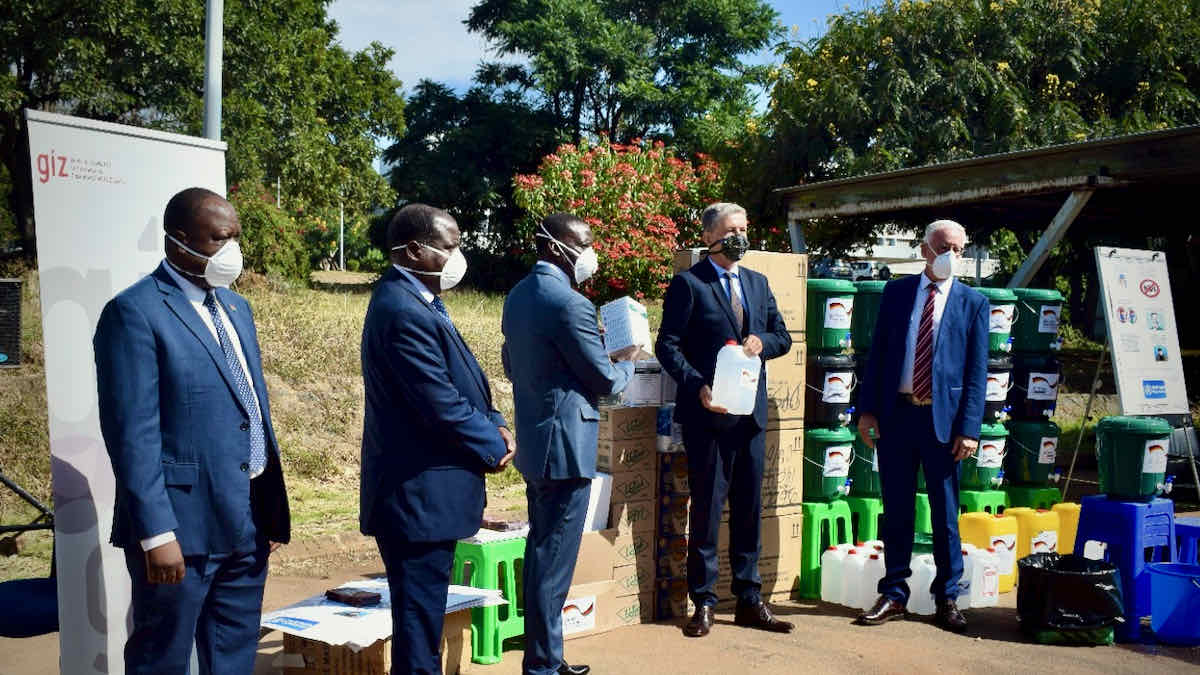 Official handing over of COVID-19 prevention materials, observed by German Amb. to Malawi, HE. Jürgen Borsch. (flr Dr F. Njaya Director of Fisheries; Mr G. Nyandule – Phiri, Principle Secretary, Ministry of Agriculture and Food Security; Hon. F. Kasaila, MP, Minister of Agriculture and Food Security; HE. J. Borsch, German Ambassador to Malawi; Mr A. Walsch, GIZ Malawi Country Director)
© GIZ-AVCP
More collaboration and coordination, better results
To address this issue, a nationally recognized multi-stakeholder platform, the AquaRT, was officially launched in December 2019 with support from the Aquaculture Value Chain Programme in Malawi, implemented by GIZ. The Aquaculture Value Chain Programme is part of BMZ's special initiative One World – No Hunger, which aims at reducing extreme hunger and poverty in selected countries.
Since its launch, the AquaRT has made tremendous progress by devising solutions to key issues affecting the sector. Five working groups — research, outreach, fingerlings, feed and donors/implementing agencies — lobby the government on various policy issues, open up dialogue and collaborate in gaining financial support from donors and implementing agencies to support sector growth.
COVID-19 and the threat of a fish disease – A coincidence?
Since March, the state of emergency in Malawi restricts public life and businesses in order to contain the spread of COVID-19. Basic hygiene measures and health education are among the most effective means to combat infectious diseases. However, only 42 percent of rural households in Malawi have access to basic sanitation, and the circulation of untruths about COVID-19, such as the intake of ginger as a preventative measure, contributes to uncertainty among the population.
Supported by the Aquaculture Value Chain Programme, the AquaRT coordinated the procurement and distribution of sanitary products and information material to stakeholders in May 2020. In 13 districts, more than 2,000 fish farmers and their communities, fishery offices and institutes received bars of soap, hand sanitizer, surface disinfectant, face masks, water buckets and educational material.
But COVID-19 is not the only threat the sector faces. Recently, an outbreak of the fish disease Epizootic Ulcerative Syndrome has occurred in parts of the central region of Malawi. It is another challenge for the aquaculture sector that calls for a quick response from all actors.
COVID-19 has not stopped stakeholders from working together but rather gave them an opportunity to be more creative in it. The Aquaculture Value Chain Programme supported their efforts by providing tablets and credit or mobile data to AquaRT-members.
During the spread of Epizootic Ulcerative Syndrome, the AquaRT coordinated efforts between private and public sector actors using different virtual platforms. Various stakeholders, implementing agencies and the Government of Malawi developed and validated a draft strategy to prevent a future outbreak.
About the AquaRT
The AquaRT comprises various stakeholders active in the aquaculture sector in Malawi. It has been established through the SEWOH Aquaculture Value Chain Programme, Malawi (AVCP) to enhance networking, discuss key aquaculture challenges and devise solutions. In addition, the platform promotes the constructive dialogue of public authorities, the private sector, civil society organizations and academia – particularly important tasks during COVID-19 and other challenges of the sector.
Author
Madalitso Catherine Msyalie, Communication, M&E Officer GIZ Malawi AVCP- Madalitso.msyalie@giz.de
Contact
Ladislao Di Domenica., Team Leader GIZ Malawi AVCP- Ladislao.di@giz.de