Agriculture and Nutrition in Times of Climate Change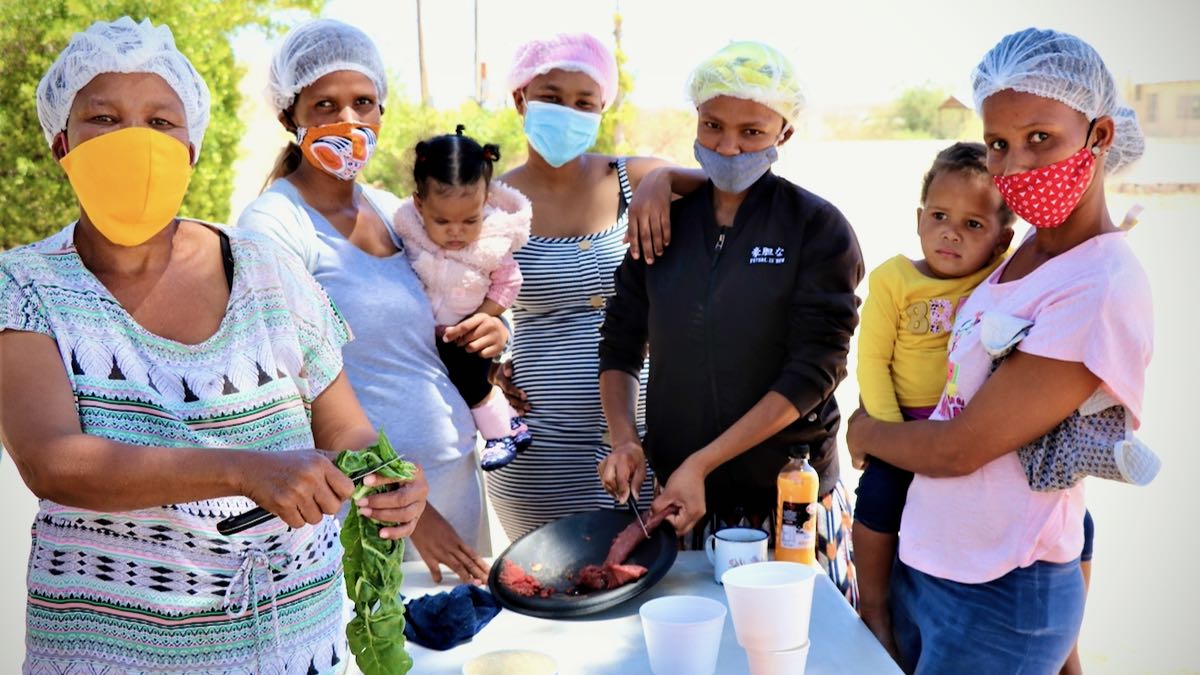 Hands-on training to mothers, grandmothers and caregivers on how to prepare nutritious complementary feeds for their children. ⎮ 

Photo:

© F4R, GIZ
Join the colleagues in the new workstream
Beginning of last year, SNRD's new workstream Agriculture and Nutrition in Times of Climate Change in the Food and Nutrition Security and Resilience working group initiated a series of events on the nexus of food and nutrition security, agriculture and climate change.
The workstream was born out of an increased need to discuss the interconnection of these topics and applicable solutions for climate change mitigation and adaptation in our programmes.
Short summary of the first two events
Two GIZ programmes described their activities and challenges. They are only examples of the vast array of agricultural and/or food and nutrition security programmes working hands-on with climate change issues within GIZ.
We hope to accommodate many more exchanges between programmes and projects already actively working on climate change mitigation and adaptation.
To do so, we will organize regular events on the topics that relate to implementation with follow-up and in-depth discussion opportunities. It will be organized and announced on our MS-Teams channel.
Feel free to contact us through or directly join the channel here. (GIZ internal link)
The Food and Nutrition Security Programme Malawi
12 Oct 2021 (via MSTeams) by Susanne Schwan
The Food and Nutrition Security Programme in Malawi seeks to improve the nutrition situation and resilience towards the hunger crisis of women of reproductive age (15-49) and children under two (6-23 months).
To achieve this goal, the Food and Nutrition Security Programme:
improves knowledge, attitudes and practices in relation to diets and hygiene
strengthens​ resilience towards food insecurity
supports the planning and coordination of nutrition-sensitive activities at the district and local level
feeds experiences and scalable approaches into national policies, strategies and the SUN framework
In order to increase (climate) resilience, the programme engages in nutrition-sensitive social protection activities such as nutrition-sensitive cash transfers or the development of policy frameworks.
The objective is to transform "hand to mouth" consumption into more sustainable and strong livelihoods.
Healthy consumption is strongly interlinked with the year-round availability of nutrient-dense products and diversification activities in production.
To support these, the Food and Nutrition Security Programme invests with households in backyard gardens and investigates new and safe storage opportunities for products.
In a third approach, the programme is supporting Community Savings and Investment Promotion Groups (COMSIP) in the production, processing or preservation of food to financially integrate women, generate income in households and bridge periods of food shortage.
With an estimation of up to 25% of post-harvest losses, 37% of children under 5 stunted and recurring droughts, the Food and Nutrition Security Programme aims to strengthen the resilience of households facing effects of climate change.
The presentation of the meeting can be found here (GIZ internal link).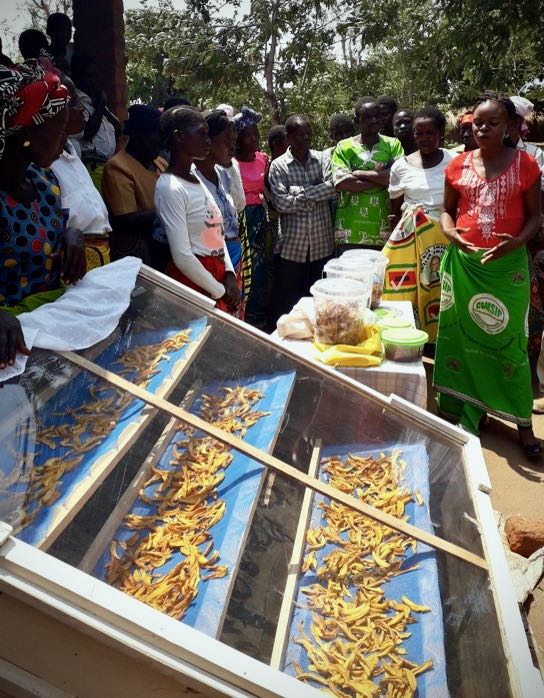 Tagwilizana COMSIP group proudly presents their business case, Salima, Malawi.
Photo:
© FSNP, GIZ
Farming for Resilience
2 Nov 2021 (via MSTeams) by Beverly Handuukeme
The GIZ Farming for Resilience Project supports Namibia's Ministry of Agriculture, Water and Land Reform as well as other stakeholders in increasing the resilience of the food and agriculture sector towards climate change.
It takes a holistic approach and refined understanding of resilience in a climatic, economic and physical manner. To do so, the Farming for Resilience Project works in the areas of:
seed production and multiplication
climate-adapted agricultural production
agri-business and marketing
food and nutrition security
In the latter, the Farming for Resilience Project aims to enhance the knowledge of rural communities on balanced nutrition and enable them to sustainably improve their diets.
Having conducted a national survey among women of reproductive age in 12 regions throughout Namibia, it was determined that only around 25% of participants reached the minimum dietary diversity score for women (MDD-W), which equals to the consumption of at least 5 pre-defined food groups on the day before the survey.
These findings suggest that substantial nutritional inadequacies and unhealthy food practices still persist, especially among rural women and communities. The project therefore deploys a whole range of interventions on nutritional education including the development of a recipe book suited for rural kitchens, TV and radio shows as well as training outreaches throughout the intervention areas of the Farming for Resilience Project.
To tackle the alarming stunting rates of about 23%, the Farming for Resilience Project developed a comprehensive training format on complementary feeding practices which is being rolled out with the help of local women groups.
Lastly, through its network of advisors and mentors, the Farming for Resilience Project promotes the diversification and commercialization of value chains such as horticulture, poultry and small stock. They do not only increase the resilience of agricultural production systems but also present a strong employment and income generation opportunity, particularly for women and the youth.
The presentation of the meeting can be found here. (GIZ internal link)