Update from the ABIVCD Working Group
At the SNRD Africa Conference 48 of the 140 members of the Agribusiness and Inclusive Value Chain Development working group came together in a full-day workshop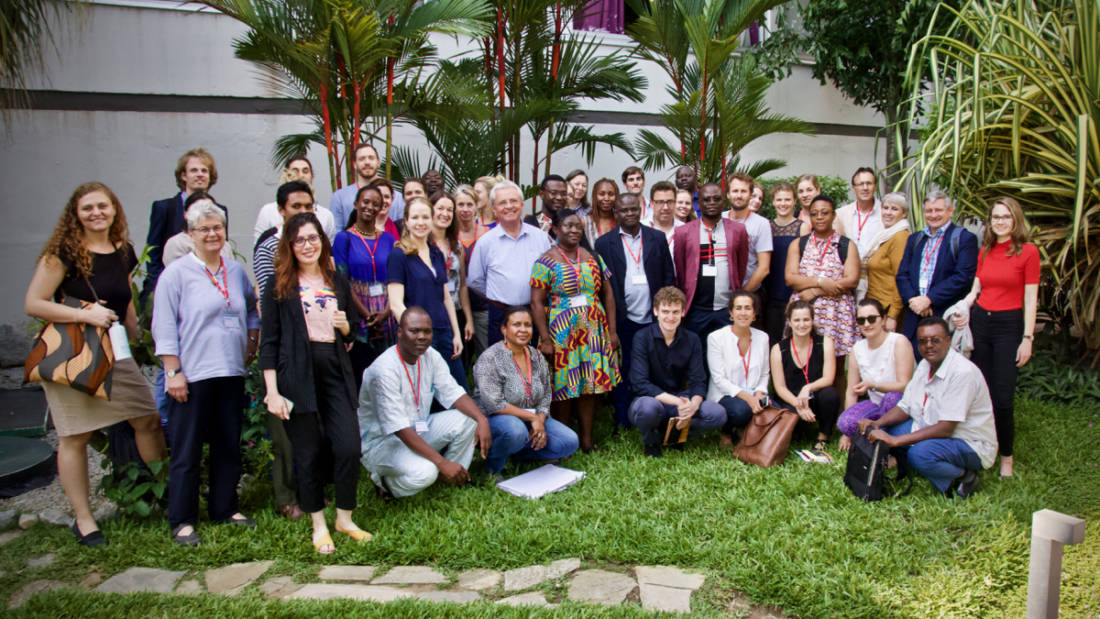 Photo: © Corbecoms
Aims of the get-together
Defining the new workstreams
Constitute a new ABIVCD coordinating team and more importantly
Exchange and discuss in person
The feedback received illustrates the still growing importance of programmes and projects promoting agribusiness and inclusive value chain development in the German development cooperation environment.
The main objective of the working group is to promote inclusive and sustainable value chains for increased productivity, income generation and employment creation, as well as improved livelihoods. Capitalising on the synergies of the ABIVCD network, the members thrive to facilitate structural transformation of rural economies in the GIZ partner countries "towards a decent standard of living for the current and the next generations", which was the slogan of this year's meeting.
What did we do?
To achieve our common goals for 2018-2019, the working group has been active in three main thematic subgroups:
Viable Business Models
Agricultural Finance
ICT, Training and Farmer Based Organisations (FBO)
The aspects of Agriculture Technical Vocational Education and Training (ATVET), gender and youth employment are equally important for all themes and hence were selected as crosscutting topics of the working group.
To give an insight into the diversity of themes covered by member projects, a market place was organised. Seven subjects were displayed (see on the right). Participants and especially the new members of the working group had the opportunity to get an initial idea of the different approaches or products that GIZ use. There was ample exchange, questions asked and possible opportunities for collaboration with fellow members identified.
What is new?
With a view to streamlining the management of the working group to create better results and improve the communication on our achieved results and impacts, members proposed the following new thematic clusters for 2019/2020 — taking into account the interests expressed during the meeting and the feedback from an online questionnaire sent prior:
Farmer organisations
Employment (youth/self-employment)
Advisory services
Cooperation with the private sector — inclusive business models, contract farming, multistakeholder partnerships, etc.
Agricultural finance & insurance
Monitoring & evaluation
—> ICT as well as gender in the agriculture and food sector are conceived as cross-cutting topics and incorporated in all thematic clusters.
Who is new?
Before we introduce the new ABICVD coordinating team, we would like to give our heartfelt thanks to the groups previous speaker Florian Winckler and tandem partner: Eberhard Krain.
A big thanks to Florian Winckler, who was speaker of ABIVCD for the last two years, for the time and dedication that he invested in the organisation and coordination of the WG. Another big thanks to Eberhard Krain, who was our tandem partner from the GIZ Sectoral Department (FMB) and who will also be leaving us after nine years. During this tenure, Eberhard has put his wealth of institutional knowledge and experience at our disposal, in this position and for some of the time as speaker. He has made many invaluable contributions, which have seen the working group grow to the dynamic state it is in today.
We are very grateful for Eberhard's continued support in a guiding capacity, as he hands over his duties to our new tandem partner. We wish both Florian and Eberhard all the best in their future endeavours.
The new team
We would also like to present the new coordinating team, with a few old team members of the ABIVCD, who will be staying on to support the ABIVCD:
Speaker: Laura de Guevara, currently working at the "Green Innovation Centres" (GIC) – Ethiopia
Co-Speaker: Thuweba N. A. Diwani, currently working in the Bilateral Programme "Promotion of Productive Agriculture" (PromAP) – Niger
Tandem Partner (from 2020): Johannes Peters, currently working in the Sectoral Department, "Rural Development and Food Security" (FMB 4D30) – Eschborn, Germany
IDA Community Manager: Carolin Voigt, currently working in the Sector Project "Agricultural Trade, Agribusiness, Agricultural Finance" (SP AAA) – Bonn, Germany
We are committed to facilitating cooperation and continuous open exchange amongst ABIVCD members using various platforms and tools such as Webinars, IDA Communities, our ABIVCD subpage on this website and our annual meetings, just to mention a few.
We will start into the new year with a webinar on Living income and living wages — so keep your eyes open for upcoming information.
We are more than happy in communicating and exchanging with you! Therefore, do not hesitate to contact us anytime.