Targeting Rice Yields in Nigeria
The Competitive African Rice Initiative of Nigeria welcomed visitors from GIZ's head offices who learned how CARI aims to increase the rice yield from two tonnes per hectare to five or even six tonnes
Training courses organised by non-governmental organisations who are local partners in Nigeria teach growers about rice processing, in particular, the parboiling method.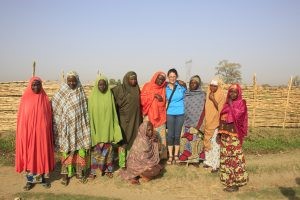 « This involves soaking the rice several times, then steaming it, drying it and finally milling it. The process drives the vitamins and nutrients in the bran into the rice kernel, and this makes the rice more nutritious than the conventionally processed white varieties that the area has traditionally produced, » explains an article in the Akzente magazine who sent a team to CARI's project area in Kano State, where they were able to get insights into the work and meet with the partners WOFAN and Popular Farm.
More information
Golden Rice – Farming in Nigeria,  article in Akzente magazine 2/2017.
For privacy reasons YouTube needs your permission to be loaded. For more details, please see our
Privacy FR
.
I Accept
Mutual learning across continents
Mutual learning is not limited to a knowledge exchange between countries on one continent. Asian expertise in producing, trading and setting policies can be valuable for fighting deficiencies in the African rice sector. Known as the world's top rice exporter, Thailand serves as a role model. Therefore, an annual cross-continental learning exchange was established in 2016, a collaboration between CARI and the Better Rice Initiative Asia (BRIA).
About CARI
The Competitive African Rice Initiative currently cooperates with 90,000 rice growers and processors in Burkina Faso, Ghana, Nigeria and Tanzania. It aims to increase that number to around 150,000 by mid-2018.  CARI is financed by the Bill & Melinda Gates Foundation, the Walmart Foundation and Germany's Federal Ministry for Economic Cooperation and Development.
CARI's main objective is to increase the competitiveness of small-scale rice producers, millers and other actors in the value chain and achieve a lasting reduction of poverty in Nigeria, Ghana, Burkina Faso and Tanzania. But what does the work in these countries entail? How does our work look like?
A small film crew visited farmers, partners and other stakeholders of the rice value chain in Kebbi State, Nigeria to be able to answer these questions. The movie Rice is our Business is now available online showcasing CARI's work using the example of Nigeria.
For privacy reasons YouTube needs your permission to be loaded. For more details, please see our
Privacy FR
.
I Accept