How Menstrual Cups Promote Women's Employment
Small cups are making a difference in rural Malawi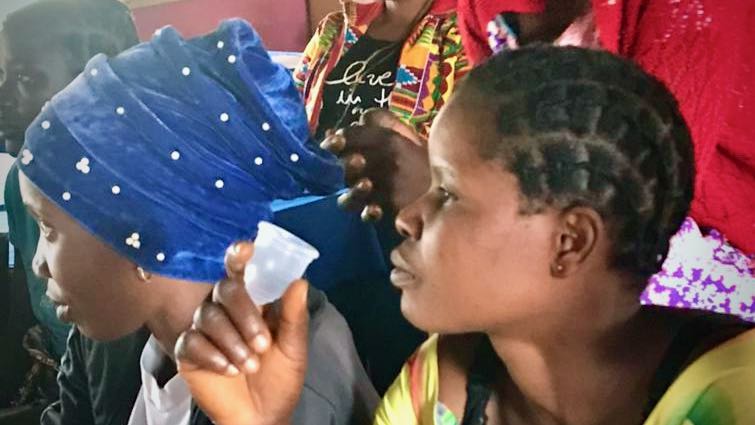 Malawian women at a menstrual cup training session ⎮ © GIZ
In Malawi, more than 70% of the girls miss one week of school each month. And women from other age groups are faced with restrictions at work or during training. Often they're even completely excluded for an entire week every month.
The reason?
Menstruation — A biological process that concerns girls and women for about one of every four weeks, which adds up to a total of about seven years of their lifetime.
Girls and women encounter a lack of culturally accepted, affordable and available menstrual hygiene products that allow them to continue their education or go to work. They also experience stigmatization, shame, or social contempt during that time which keeps them from participating in daily activities and social life.
The solution?
Menstrual cups — A menstrual cup is a feminine hygiene product looking like a small plastic cup. It is inserted into the body like a tampon and offers safe protection for up to 12 hours. It can be cleaned easily with water and reused directly. The product can be used over and over for five to ten years.
The Malawian NGO Ufulu and the Global Project Employment in Rural Areas with a focus on Youth distribute the menstrual cups at brief training sessions with girls and women participating in their project activities.
What specifically will improve?
Girls and women can continue their education, training and work uninterruptedly, reducing dropout rates and loss of income.
They can focus on the training content and their agribusinesses without having to worry about their period, and they are able to maintain well-managed menstrual hygiene. Cups are culturally accepted, and social stigmatisation is reduced.
Women and girls in rural Malawi take an important step towards more empowerment!
Want to find out more about menstrual cups?
Please visit Small cup, big impact – 2030 | ONEWORLD No Hunger (weltohnehunger.org)
Contact
Daria Hasse, Advisor Steering Unit, Global Project Employment in Rural Areas with focus on Youth, daria.hasse@giz.de