Measuring Empowerment Correctly
Research team at icipe offers insight into new approach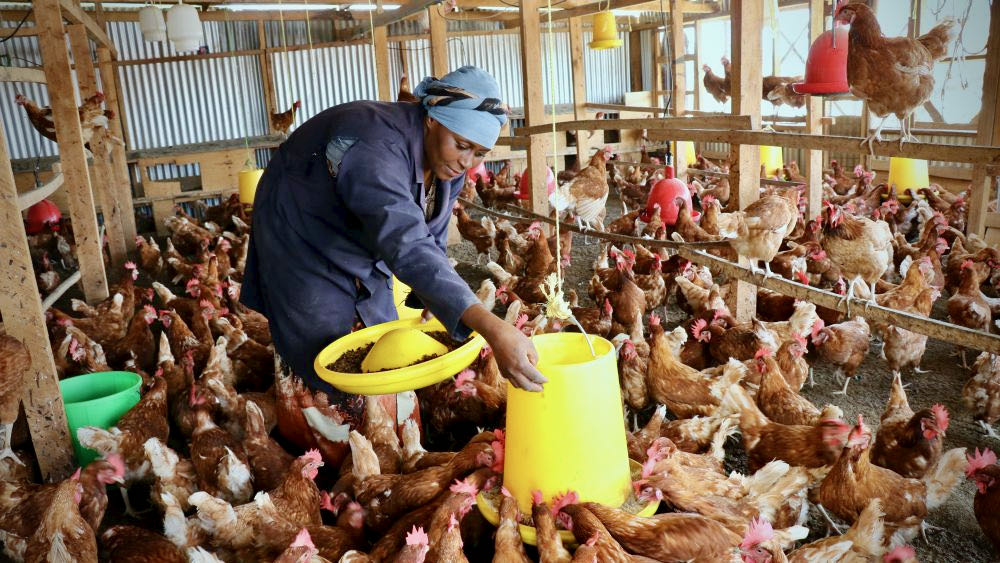 Woman farmer in Nairobi ⎮ Photo: © ICIPE
How can one gauge the progress in women's empowerment in a meaningful way? This was a task a team at icipe — short for International Centre for Insect Physiology and Ecology — had a closer look at in Nairobi.
The Project Women Empowerment Index developed for this purpose allows for the first time the possibility to measure women's empowerment in project-specific contexts and to track changes in empowerment within the typical lifespan of a project. With the example of a project that focuses on insects as livestock feed, the researchers arrived at results that make assessing impacts of projects on gender factors more tangible and comparable.
The Project Women Empowerment Index was developed by the International Food and Agricultural Policy Research Institute (IFPRI) on the basis of the Women Empowerment in Agriculture Index, which can be used to gauge gender equality and the empowerment of women and girls in relation to SDG5. The enhanced approach to measuring women's empowerment offers for the first time the possibility to measure empowerment progress in project-specific contexts and to track changes in empowerment within the typical lifetime of a project.
« Since 2019 a gender team at icipe has been looking at how this works in practice with the project Insect for Feed, or INSFEED. We chose the district for our study because its proximity to the city offers a good market for poultry and eggs, which are often produced by women. It's therefore mainly women who benefit from breeding the black soldier fly when they either feed the larvae directly or sell them, » said Holger Kirscht, said Holger Kirscht who is coordinating the four-member team. Placed by the Fund for Human Capacity Cooperation with Partners of International Agricultural Research, Kirscht has been working as an Integrated Expert at icipe since 2018.
« For us, it was important to find out more precisely where any barriers to entry into production lie and to show that we can achieve an impact on gender equality, » said Kirscht.
Poultry is mainly produced by women
In the project region, women make up more than 60 percent of poultry, fish and pig producers, and larval farming is expected to pay off especially for them. The protein-rich larvae of the black soldier fly are to replace conventional protein sources such as fishmeal and soy. The conditions are favourable. Since the initial investment is affordable and not much space is required for insect breeding, it's an interesting business opportunity for women and young people, most of whom have limited financial means and no other resources available to them.
During a two-month baseline survey, the team interviewed 272 women and 192 men from 370 households. It calculated the gender parity index and the Project Women Empowerment Index using the project's tool. Eight focus group discussions with a total of 55 women were conducted for comparison.
The result was surprising. After evaluating the sample, the empowerment gap turned out to be much smaller than expected. According to the results, 56 percent of women had low empowerment compared to 44 percent of men, which corresponds to a gender parity index of 0.91. If the index value were 1, it would be 1. If the index value were 1, it would mean that women and men were equal in their empowerment.
For the indicator « control over income », both gender groups showed almost the same response; it's perceived by both as a particularly limiting factor for empowerment. However, there are also gender-specific differences. For example, lack of self-confidence is more often an indicator of weak empowerment in women than in men.