Interactive Tool for Climate Risk Planning & Management in Agri-Food Systems
We're counting on you, let's develop CRISP!

The climate risk planning & managing tool for development programs in agri-food systems (CRISP) will be a freely available, quick and simple to use, interactive web-based tool for agricultural and rural development project planners and managers. It will help strengthen the mainstreaming of climate adaptation into project design, planning and implementation.
Moreover, the tool will assist in aligning projects with national development priorities determined in Nationally Determined Contributions (NDCs) and National Adaptation Plans (NAPs).
CRISP will support the systematic analysis of climate hazards, the exposure of people and agricultural systems to climate risks, their vulnerabilities and adaptive capacities.
The tool will highlight entry points for climate risk management for different types of projects, propose adaptation hypotheses and point to additional knowledge sources.
The motivator
Mainstreaming climate action into development projects in the agri-food space is not an easy task – especially if there are only few resources to conduct a comprehensive climate risk analysis and to navigate the rapidly expanding knowledge base on climate change.
Existing tools are often not sector-specific, too complex, time-consuming or depend on extensive stakeholder engagement.
In collaboration with GIZ, our partners Eurac Research and The Alliance of Bioversity International and CIAT (International Centre for Tropical Agriculture) will lead the development of CRISP.
The co-design process
The CRISP tool will be developed in a co-design process with the active participation of interested project staff from GIZ and beyond, ensuring input and validation from target users.
To jumpstart this process, a session on climate risk analysis for agricultural project development at the 2021 SNRD conference brought together experts from GIZ, The Alliance of Bioversity International and CIAT (International Centre for Tropical Agriculture) and Eurac Research, and included an interactive rapid situational analysis with session participants to capture their experiences with climate risk analysis and mainstreaming as well as the needs such tool should address.
We would like to invite you to be part of the CRISP design process!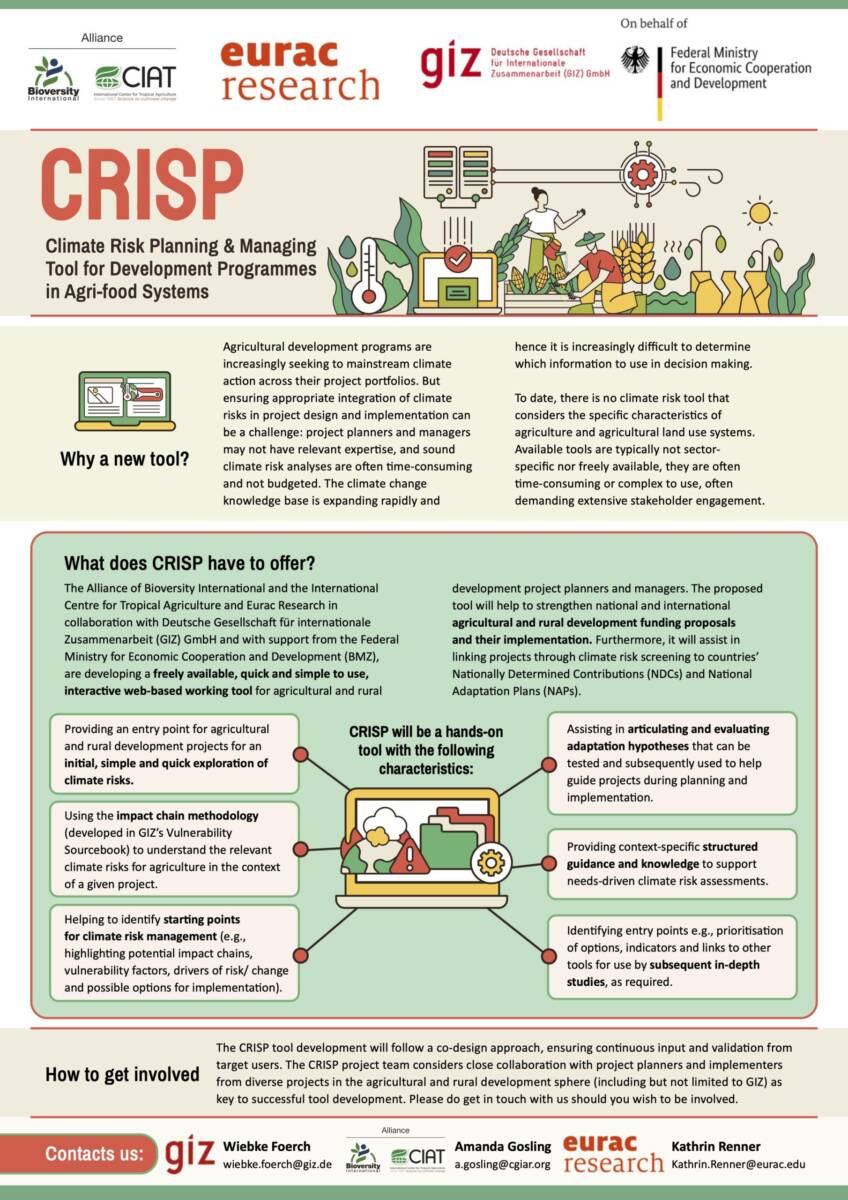 Contact
The CRISP project team views close collaboration with a wide range of actors in the agricultural and rural development sphere as key to the successful development of the tool – especially to make the tool useful in the context of your own work.
To get involved in the development of the tool or testing it, please contact Wiebke Foerch at wiebke.foerch@giz.de.