Integrating Digital Solutions Is Not Optional Anymore, It's a Standard
Learn how to do digital right, join the pilot training and coaching programme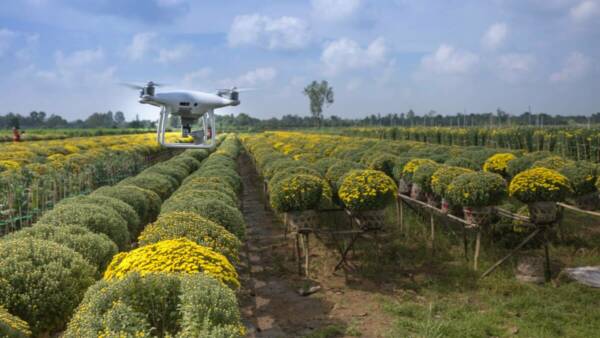 The Added Value of This Article
Hover over to have a look!
Value add for readers
Awareness of the width of digital solutions available in agriculture and development cooperation and their value beyond « making things easier »
Realizing that integrating digital solutions has become a standard that projects should not opt out of but harness the opportunities
Opportunity for GIZ practitioners to participate in training to enhance skills in implementing and managing digital solutions
Drone agriculture ⎮ © Photo by Quang Nguyen Vinh on Pexels
Did you know that GIZ has been implementing an impressive number of 400 Digital for Agriculture (D4Ag) interventions over the last two years?
The rise of digital technology has undoubtedly changed the way we work, communicate and deliver services to our partners and target groups.
Digital solutions are not just a nice-to-have anymore. They have evolved from the convenience of computerizing time-consuming tasks to an indispensable catalyst for modern agricultural development. Today, digital solutions encompass a diverse range of applications and services that go beyond mere technology, playing a crucial role in streamlining processes and addressing complex challenges that generate substantial economic value-add on their own.
Digital solutions have become a modern standard that more and more partner countries demand. Accordingly, digital transformation plays a key role in achieving the Sustainable Development Goals and BMZ is promoting its Digital by Default approach since 2018.
What is the Digital by Default approach?
With Digital by Default BMZ refers to the principle that digital components should be incorporated into every project. It shifts the burden of proof to demonstrate the non-viability of digital tools or methods when they are not employed.
For us this means we need to think and go digital to harness the opportunities digital solutions provide to common challenges in rural development.
Digital by default – but how?
Digital components can support the implementation of our projects by creating efficiencies, strengthening program delivery and enhancing impacts. But there're also bottlenecks in digital transformation that slow us down when unlocking the full potential of innovative solutions.
Questions we frequently ask ourselves include:
How do we implement digital solutions in a sustainable manner?
How do we match the right digital solutions with the capacities of our partners and target groups?
How do we identify and contract the right service providers and steer digital experts without being an expert in the field ourselves?
How do we avoid doing any harm — for example by adhering to the requirements of the General Data Protection Regulation?
The Digital Transformation working group is therefore developing a pilot training and coaching program for GIZ practitioners that aims to provide participants with the skills and knowledge required to implement and manage digital solutions.
What to expect from the digital training and coaching program?
The training will help you as GIZ development practitioners to shift your mindset from "digital by default" to "digital by choice". You'll learn when digital tools should be picked over established tools, where digital tools can create efficiencies, how to strengthen programme delivery and who can ultimately benefit from digital programming.
By the end of the course participants will:
Understand the diverse range of project capabilities that can be delivered through digital tools
Identify the roles of GIZ in delivering digital solutions and develop realistic sustainable outcomes
Become more familiar with the process of developing a digital solution and steering its processes, contracting, implementation
Be aware of common stumbling blocks faced with digital solutions and be better equipped to anticipate their impact and mitigate risks
Stay tuned for this joint learning opportunity coming up in the third quarter of 2023. Digital transformation starts with us!
If you are interested in collaborating with SNRD Africa on the design and implementation of this course, please get in touch.
Contact
Prisca Larissa Watko (prisca.watko@giz.de), Co-Speaker, and Anke Schnicke (anke.schnicke@giz.de), FMB Tandem, SNRD Digital Transformation Working Group