Supporting international donors to direct investments in the food system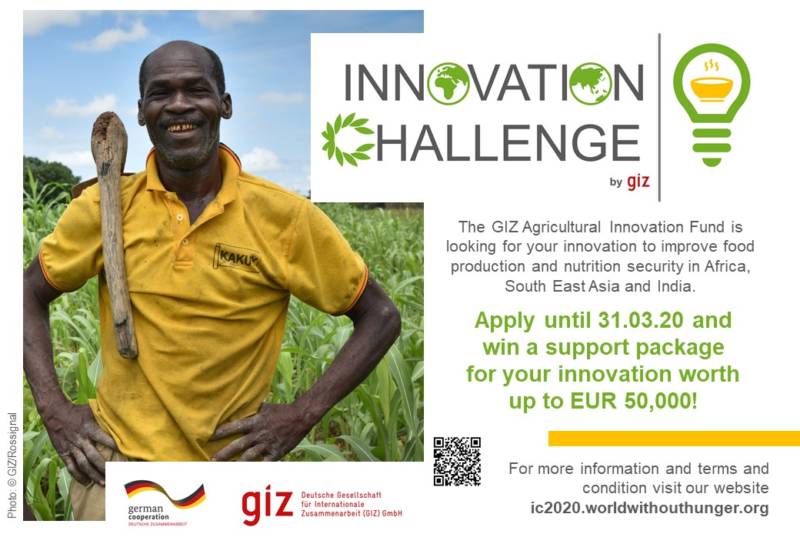 The GIZ Agricultural Innovation Fund is currently looking for innovative ideas of entrepreneurs, start-ups and small enterprises to improve food production and nutrition security along the value chains in our GIZ partner countries in Africa, South East Asia and India. There are three categories: mechanization, digitalization and renewable energies.
The Innovation Challenge will take place on 5 June 2020 in Berlin as part of the SDG2-Momentum. The Call for Ideas starts right now. Application deadline is the 31 March 2020.
We will select 15 participants and prepare them professionally for their pitch at the Innovation Challenge so that they have the best chances. Participants of our Innovation Challenge 2020 can win support packages in each category worth up to EUR 50,000 (EUR 20,000 for second prize winners; EUR 10,000 for third prize winners).
The application portal as well as more information and terms and condition are available in English, French and German at ic2020.worldwithouthunger.org
Travel, accommodation, intensive workshop and Berlin cultural program on the weekend of the participants between 04.- and 09.06.20 will be covered by the GIZ Agricultural Innovation Fund.
About the The Global Project "Fund for Agricultural Policy Advice and Innovation" (GV FABI)
The project provides
Technical and policy advice to support African partner countries and regional blocs in developing and implementing evidence-based and coherent agricultural and trade strategies.
On the other hand, the project promotes innovations for the agri-food sector, especially in the field of mechanization, digitalization, and renewable energies.
The project also cooperates with research institutions and the private sector for the development and dissemination of innovations.