How to Create Value Added Sustainably
Consider climate-friendly investment options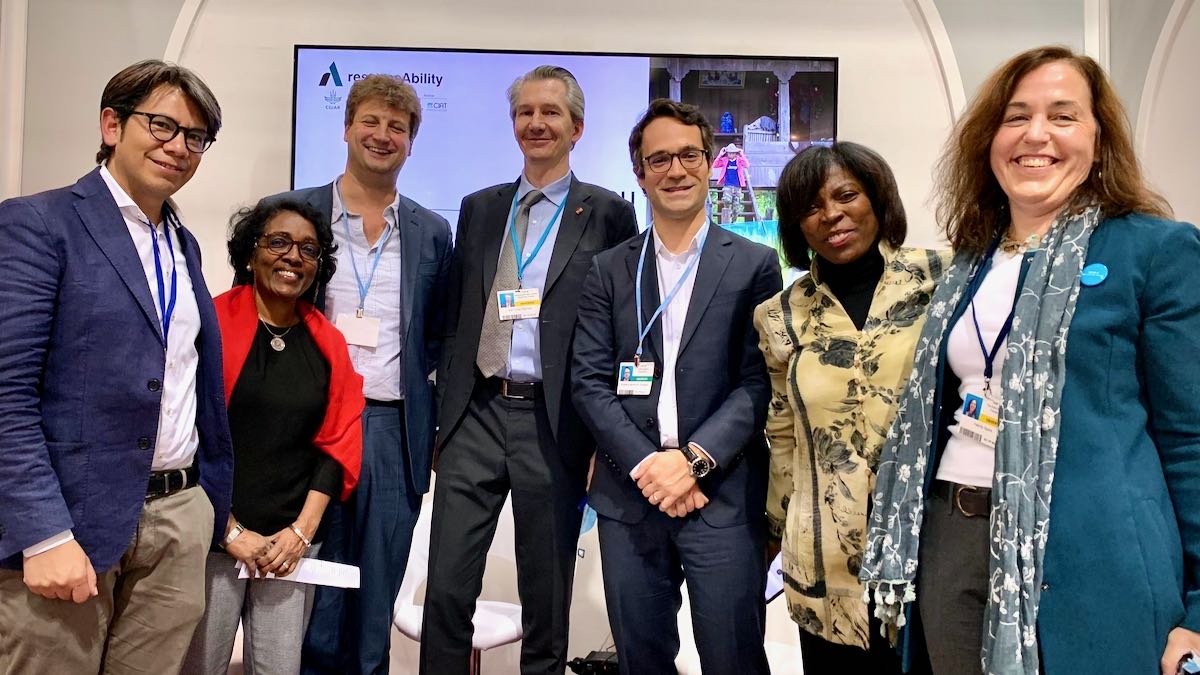 The team behind the fund concept (from left to right): Mauricio Benitez (responsibility), Kundhavi Kadiresan (CGIAR), Edward Davey (World Resources Institute), Juan Lucas Restrepo (Alliance Bioversity CIAT/CGIAR), Godefroy Grosjean (Integrated Expert with Alliance Bioversity CIAT/CGIAR), Ambassador Ertharin Cousin (Food Systems for the Future), Felicity Spors (Gold Standard)
© Chiara Villani/Alliance Bioversity International – CIAT
Without a sustainable transformation of the global food systems neither the growing world population can be fed, nor will there be anything effective to counter climate change.
Consequently, interest in investments in sustainability and the associated sustainable financing systems is growing rapidly right now –  including also the global agricultural and food industry.
An example of this is the fund for Climate-Smart Food Systems. The fund, which was first announced at COP26 and launched in February, is meant to pave the way for a climate-friendly agricultural economy and enable the financing of the conversion. It was conceived with German support with the participation of KfW and GIZ as part of a partnership between the CGIAR Research Program on Climate Change, Agriculture and Food Security and responsibility Investments AG, based in Switzerland. It specializes in sustainable development finance.
On behalf of BMZ, GIZ helped shape the design of the fund. One of the creative minds behind the fund concept is Godefroy Grosjean, Global Leader Advisory Services for Climate Action and Integrated Professional at alliance Bioversity-CIAT. He designed the concept together with his colleague Richard Newman of the International Water Management Institute.
The special feature of the fund is its consistently science-based approach.
For the first time, systematic market analyses, as well as the estimation of the ecological and social impacts of the investments and their development relevance, are incorporated into a fund valuation. The fund is set up to mobilize 200 million US dollars.
The aim is to provide long-term loans to small and medium-sized enterprises in Africa, Asia and Latin America, which will enable them to invest in agricultural production, logistics, processing and marketing. Jana Körner (CGIAR Research) is responsible for her participation in the CGIAR programme on sustainable financing systems.
Compiled by the Program on Climate Change, Agriculture and Food Security (CCAFS) as well as Hauke Dahl from the International Water Management Institute and indirectly by two other integrated specialists.
More information
Internationale Agrarforschung durch Fachkräftevermittlung voranbringen
Contact
Fund for Human Capacity Cooperation with Partners of International Agricultural Research (CGIAR)
Ulrich Lepel (ulrich.lepel@giz.de), Head of Project
Oliver Hanschke (oliver.hanschke@giz.de), Communication & Digitalisation