Building an Avocado and Sesame Value Chain in Ethiopia
Training in safe tree climbing technique to reduce harvest loss and much more
Ethiopia is the sixth biggest avocado producer and fourth biggest sesame producer in sub-Saharan Africa. However, about 95% of the avocado and sesame production remain unprocessed, as FAOSTAT reported in 2018, which translates into an enormous potential for the sectors to build up their value-adding activities.
Hence, the Strategic Alliance (develoPPP.de) "Building an Avocado and Sesame Value Chain in Ethiopia" of GIZ and Tradin Organic B.V. (Tradin), a Dutch company and pioneer of the organic food trade in the emerging European market, supports sesame and avocado value chain development, such as:
Training stakeholder groups in sustainable collecting and processing methods for avocado and sesame

Improving educational services

Supporting infrastructure for avocado and sesame oil production

Setting up the value chain for waste use

Promoting sector-wide learning
In the Ethiopian avocado sector, 20% of the avocados are lost due to poor harvesting technique damaging the fruits. Another issue is poor storage causing the loss of an additional fifth of the harvest.
To enhance avocado quality, one needs to reduce harvest and post-harvest losses and improve the income and safety of avocado farmers.
Together with Tradin GIZ trains climbers in safe tree climbing technique, how to establish collection points, provide food grade crates and trains in Farmer Business School, good agricultural practices and beekeeping.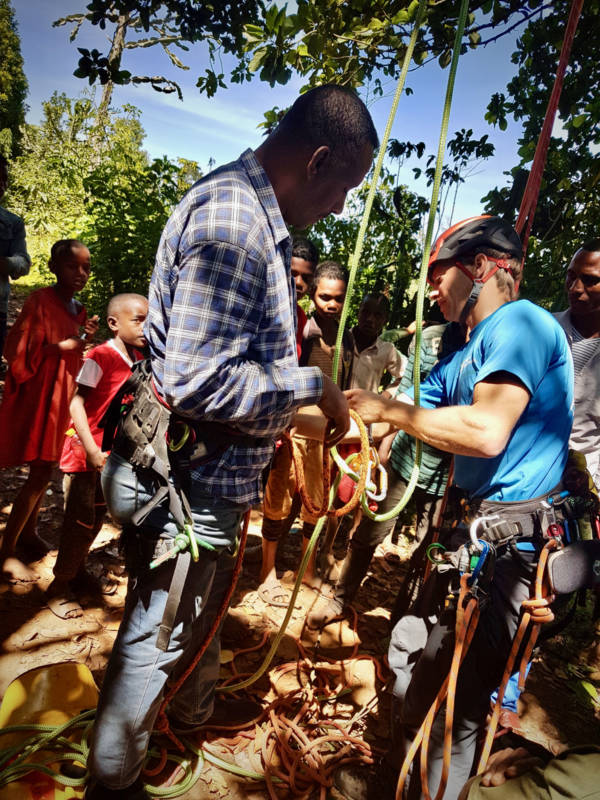 Safe tree climbing technique ⎟  Photo:
Solomon Mengesha
Avocados are often damaged by improper collection methods. When trees are shaken, for example, the fallen fruits will be of lesser quality. To improve the avocado harvesting skills and safety of avocado tree climbers, GIZ trains them in safe tree climbing techniques.
Instruct the safety procedure of avocado tree climbing

Reduce post-harvest lost, reduce avocado damages and enhance the avocado quality

Improve safety for tree climbers
Collection points
Other fruit damages occur in poor storage facilities. GIZ supports the setting up of 78 collection points to reduce post-harvest losses and support farmers with getting a better income:
Direct purchase of avocado and sesame with higher premium through a purchase agreement with cooperatives and increase farmers profit

Reduce damage and transport losses
Providing food grade crates
Traditionally, farmers use gunny sacks for collecting and transporting avocado which causes fruit damages. GIZ hands out farmers food grade crates to farmers for improving storage facilities:
Improve the quality of avocados

Ensure organic certification 

Reduce damage and transport losses
Educational services
GIZ train in Farmer Business School, Good Agricultural Practices and beekeeping.
Farmer Business School was developed by "The Sustainable Cocoa Business Project" with partners in 2010. It trains farmers on better planning, economic analysis and decision-making for farmers. The Strategic Alliance "Building an Avocado and Sesame Value Chain in Ethiopia" has trained 19 extension workers of Tradin Organic B.V. and four external consultants in FBS and aims to train 10,000 smallholder farmers in Ethiopia.
Together with Farmer Business School, GIZ also trained 24 extension workers on Good Agricultural Practices (GAP) to enhance organic farming practices and to instruct farmers on soil protection method, organic fertilizer usage, on avocado tree management and to promote sustainable agriculture.
Beekeeping training is another highlight of value addition to the avocado value chain. Since bees contribute to the pollination of avocado, they increase the avocado yield; they have a great benefit for the environment and the ecosystem. In addition, honey production diversifies household incomes and bee wax can be used for cosmetics and medical purposes. With many benefits of beekeeping, GIZ trains smallholder farmers (32% female) on beekeeping techniques, distributes modern beehives and beekeeping equipment to enhance beekeeping facilities and increase household incomes.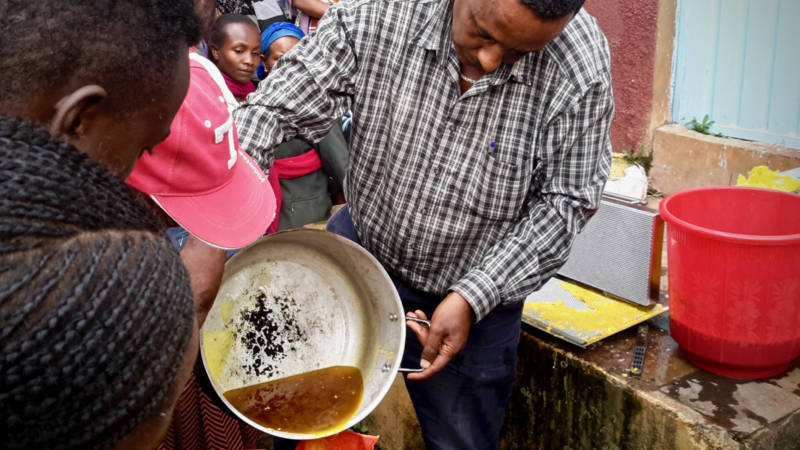 Waste reuse in the value chain
Avocado is processed into oil before exporting to other countries. During the avocado oil processing, a substantial amount of organic waste such as avocado skin, core and pulp are produced. These wastes contain the most nutritious content of avocado and thus have enormous potential to be reused within the value chain. GIZ supports the set-up of a waste management system to reuse them for example as organic compost, as well as to investigate other potentials such as transforming into food products etc.
Diversification study
The diversification study is carried out to identify, evaluate and quantify additional opportunities and to formulate a diversification strategy of rural livelihood in the Southern Nations, Nationalities, and Peoples' Region (SNNPR) to produce and process organic goods for export. The result of diversification study is used for future development of the Strategic Alliance.
Nursery set-up and research
To improve the quality of avocado, the improvement of existing varieties and the seedling techniques is crucial. GIZ supports the set-up of two avocado nurseries, to improve the research on productive avocado varieties and the compatibility of avocado rootstock and to train local women groups in avocado grafting.
Sector-wide learning
To set up a rounded value chain, it is necessary to involve different actors and promote sector-wide learning. GIZ collaborates with national TVET institutes to fill the gap between the processing industry and the college and to create sustainable impacts for technical learning. Moreover, the collaboration with Hawassa University in rootstock research, identification of soil-borne diseases, research on the compatibility of existing scion and bee pollination effects on yield are highlights of the sector-wide learning.
Public-Private Partnerships 
Nowadays, Sustainable Development Goals are envisioned by both public institutes and private enterprises. Our partner Tradin Organic has played a key role in avocado and sesame value chain upgrading, including:
Providing organic certification training to smallholder farmers

Reaching purchasing agreements with cooperatives

Procuring and installing machinery for oil production

Employing 19 extension workers and factory staff

Access to premium prices and marketing of products
The cooperation benefits both GIZ and Tradin Organic — in terms of technology transfer, value chain upgrading, business intelligence and risk mitigation.
Contact
tsung.lee@giz.de
References
FAOSTAT. (2018). Retrieved from http://www.fao.org/faostat/en/