20 European-African Partnerships for Biodiversity-Based Innovations and Products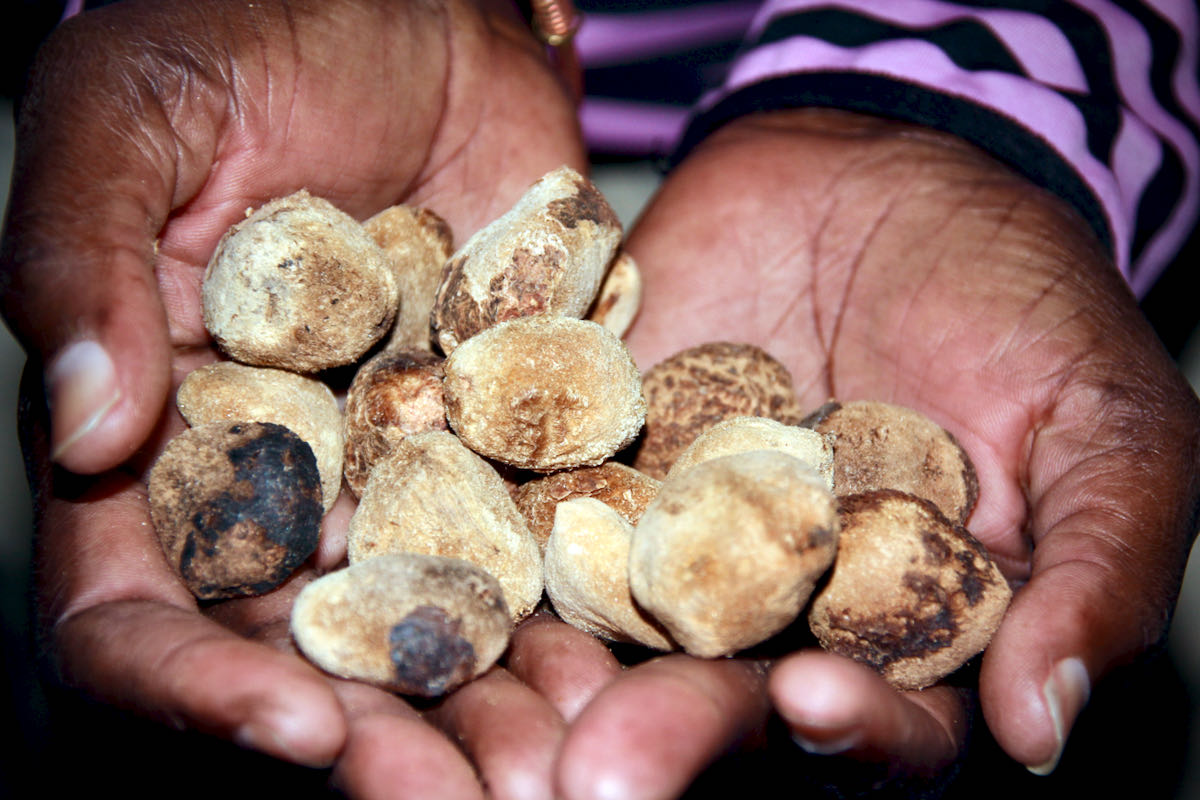 A handful of Marula fruit, Eudafano Women's Co-operative, Namibia 2011
Photo: © Suhel al-Janabi/GeoMedia
Africa is a global biodiversity hotspot, home to unique ecosystems, numerous iconic animals and over 60,000 different plants. Its ecological resources are in high demand all around the globe — and often they're used as ingredients in food supplements, cosmetics and medicine.
Through access and benefit-sharing, the indigenous peoples and local communities who live at the locations of origin of the raw substances, get the opportunity to receive adequate and rightful compensation from business partners utilising these unique resources.
Benefit-sharing — no matter whether it is recognised by national rules or regulations or simply agreed upon by local stakeholders — creates incentives for the sustainable use of environmental assets, ensuring their prolonged availability for future generations.
Unfortunately, in Africa biodiversity-based products are not valued as much as they could be yet. Only a few long-term business relations exist – and even where they exist, they often don't meet higher ethical, social and environmental standards.
This is where access and benefit-sharing comes in
Commissioned by BMZ and implemented by GIZ in Cameroon, Madagascar, Namibia and South Africa, the BioInnovation Africa project supports African and European business partnerships based on exactly these high standards with a special focus on access and benefit-sharing and the UNCTAD BioTrade Principles and Criteria.
In the beginning of 2021 the BioInnovation Africa project has achieved a key milestone. After an international call for expression of interest and an explorative process of project formulation and formalisation, 20 European-African business partnerships in the four project countries have been established, and another three are in preparation.
The project has thus entered an operational phase of implementing joint activities with the private sector supporting R&D on new ingredients, regularization, including access and benefit-sharing compliance, as well as upgrading and upscaling of existing value chains.
These partnerships cover a wide array of genetic resources as well as consumer markets, ranging from flavour and fragrances to cosmetics, pharmaceuticals and nutraceuticals.
Sample of existing partnerships
In South Africa
As part of supporting sectoral approaches and fostering access and benefit-sharing compliance, the BioInnovation Africa project cooperates with international and national associations — namely the International Fragrance Association, the International Organization of the Flavor Industry and the South African Association of the Flavour & Fragrance Industry — to promote the commercial use of an endemic Fynbos plant commonly known as Buchu while strengthening conservation efforts.
Benefit-sharing with providers of resources and holders of associated traditional knowledge is an important aspect of fair partnerships. Setting up access and benefit-sharing agreements can often be unclear and rather time-consuming especially for companies that are based outside of the country of origin. The BioInnovation Africa project aims at facilitating the process by developing fair and industry-wide procedures through standardized access and benefit-sharing authorization processes for all actors in the sector.
In Namibia and South Africa
The BioInnovation Africa project supports several partnerships relating to Marula, a multi-facetted savannah tree resource that is often used in cosmetic products but might be best known as the main ingredient of the well-known liquor brand Amarula. These European-African cooperations have very different intervention areas: The partnership with Kambaku Energy GmbH (Austria), SEED Namibia and the South African Greater Sekhukhune Region Secondary Co-operative is strengthening the local supply chain by making local producers market-ready; for instance through training on phytosanitary standards and sustainable practices.
The partnership with Symrise (Germany) focuses on R&D to diversify the use of Marula through the development of innovative flavor and fragrance ingredients made of Marula by-products. The role of the BioInnovation Africa project is to ensure access and benefit-sharing compliance and to build capacities in sustainable harvesting and quality improvement. As a partner of The Body Shop (UK), Aldiva (France) and The Gustav Hees Group (Germany), the Namibian women's cooperative Eudafano is supported in improving quality and (organic) certification of their Marula oil production for cosmetic purposes, and thereby strengthening their international clientele network.
In Cameroon
In partnership with Firmenich (Switzerland) and Mane (France), the BioInnovation Africa project supports the private sector partner as well as Cameroonian communities — as providers of several aromatic plants – in the negotiation of an access and benefit sharing agreement for the development of new flavor and fragrance compounds.
In Madagascar
L'Oréal (France) and the BioInnovation Africa project are partnering to increase ethical sourcing practices and local development of communities engaged in the wild collection of Centella asiatica. Active ingredients of the plant are used in a variety of cosmetic products.
The pickers get trained on sustainable practices and biodiversity conservation. Biodiversity action plans are jointly developed and communities have a chance to diversify their sources of income.