Monitoring of Participation and Resultsof (Rural) Job and Opportunity Fairs
A practical how-to-guide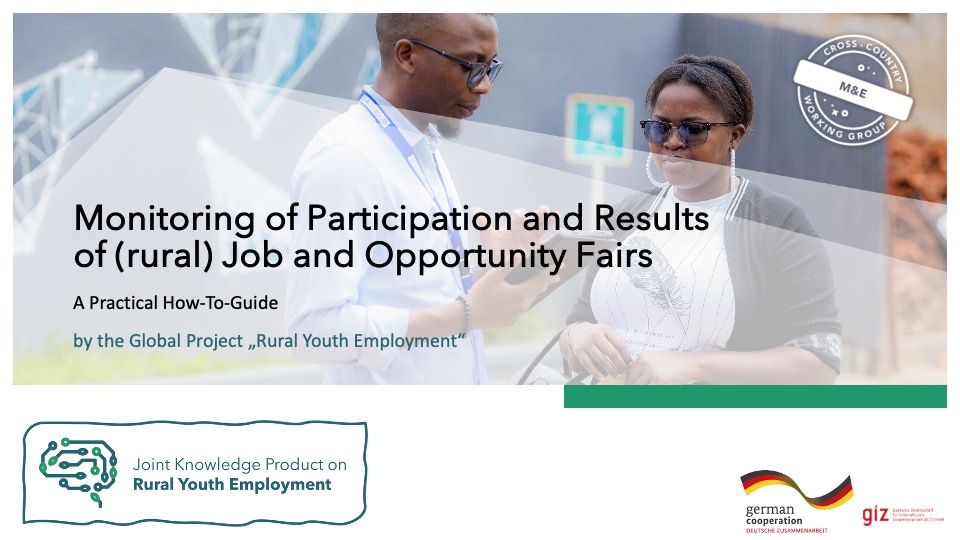 The Added Value of This Article
Hover over to have a look!
Value add for readers
Hands-on guidelines for monitoring a mass event (such as rural opportunity fairs)
Tried and tested tools for monitoring a fair in three languages (EN, FR, LU)
Experiences and lessons learned of the monitoring of rural opportunity fairs in Burkina Faso, Kenya, Malawi and Mozambique
Aimed at organizations involved in the implementation of mass events, especially their monitoring staff, this How-to-Guide serves as a practical tool to facilitate the successful monitoring, evaluation and learning of events based on the concrete example of rural opportunity fairs.
The guide is a knowledge product developed by GIZ's Global Project Employment in Rural Areas with a Focus on Youth. It represents a collaborative effort involving representatives from Burkina Faso, Kenya, Malawi and Mozambique.
Also check out the How-To Guide on the organization of such fairs: Matched – Connecting Youth to Rural Employment Opportunities (snrd-africa.net)