On the Benefit of Digital Advisory Services
Read what rural advisory service networks discovered about the effectiveness of digital helpers in rural extension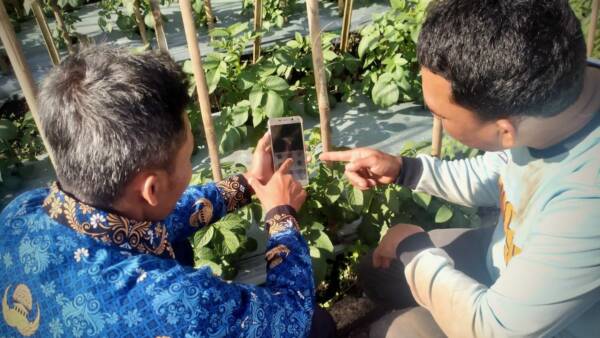 The Added Value of This Article
Hover over to have a look!
Value add for readers
Learn from four different regions about the current situation of digital advisory services and their contribution to strengthening agri-food systems and their transformation
Discover what agricultural extension networks themselves see as potentials and challenges in digital extension services and their contribution to improving services for rural populations
Farmer and extension officer using a digital advisory tool for crop management
© Photo by GFRAS and RAS-SEA
Since May 2022 the Global Forum for Rural Advisory Services, GFRAS, is running a participatory research process supported on Digital Rural Advisory Services by GIZ's Sector Project Agriculture. The aim of the research is to better understand how digital rural advisory services can support the promotion of climate-resilient agricultural production, improve farmers' livelihood, and promote more agroecological-sound food production.
Under the guidance of GFRAS Regional Networks, four regions participate in the process: Anglophone Africa, Francophone Africa, Latin America, and Southeast Asia.
Areas to be discussed
Through this collaboration the following areas will be discussed and shared with relevant actors in this field:
The current potentials and challenges regarding digital rural advisory services and how these processes are contributing to strengthening agri-food systems
Evidence-based approaches to provide digitally-supported and climate-relevant services — that also work at scale — are economically viable and offer the potential to enhance the livelihood and resilience of smallholders
The operational and institutional implications of using such digital advisory services for so-called extension agents and their organizations, for reach, and quality of their services
The regions were tasked with identifying existing digital rural advisory services solutions servicing smallholder farmers and operating at scale (minimum of 20.000 users), meaning digital rural advisory services solutions that are already beyond the start-up phase.
This process further helped identify success and constraint factors in the respective regions; how problems, for example in the development or implementation phases, were or could be overcome and what the actual reality of using digital agriculture services in their regions looked like. More information can be found in this video.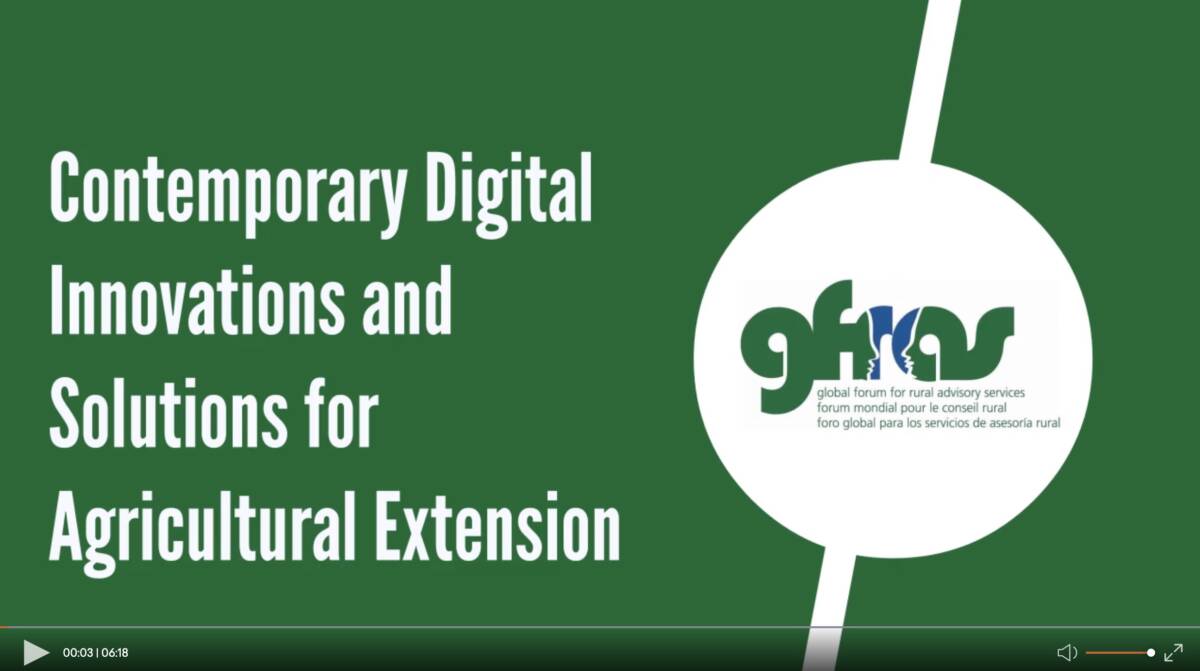 https://app.vyond.com/videos/6423f8df-efef-42f3-a18c-5f464facc1cc
Key findings from each of the participating regions
Latin America
Through the regional network it was found that one of the priorities established by governments in the region includes the use of hybrid models for outreach by public institutions, which include face-to-face assistance and the use of digital tools, to achieve greater coverage of care (e.g., in El Salvador and INIA-Chile in the areas of agroecology and adaptation to climate change through virtual extension services).
Key success factors for the development of digital interventions include, for example, a business model, a focus on user problems and value chains, as well as the support of the public sector and freely available specialized information.
Still, there is a need from both sides to support a full paradigm shift and greater acceptability for the use and massification of digital innovations. To adequately develop such digital extension services, a regulatory framework, incentives, digital education, development of public-private partnerships, investment to improve connectivity and robust systems for monitoring and evaluation of digital extension models must all be established and managed. These requirements need to be addressed by both the public and private sectors working in the field of digital extension services.
Anglophone Africa
Here it was found that private service providers are generally recording higher success rates than public solutions due to their business models, which are primarily contingent on profit maximization.
Government providers focus on providing extension and advisory services as a public good but in most cases with less (financial) means and higher reliance on donor partners and failure rates.
In the case of Anglophone Africa, it is recommended that governments allocate an explicit budget to fund and sustain digital advisory services for farmers, to reduce the total reliance on partner funding and incentivize digital advisory services providers with reduced tax exemptions for encouraged inclusion among farmers, i.e. exemptions or rebates for telecommunication companies that provide access in remote areas of the sub-continent.
Francophone Africa
Funding is also an issue here where little is done to support local innovation — even when providers are struggling to find a business model that works.
After six years in the field, with the largest public database on agribusiness in Cameroon, Digital Solution Jangolo, for instance, is still struggling to get local financial support. The same goes for AGRICEF in Benin.
The ecosystem in the region is seen as inefficient: government initiatives in Cameroon and Madagascar seem to be in competition with the private sector. Despite these barriers and constraints, the region concludes that each country has at least one application that is heavily used and increasingly sought after by the majority of stakeholders.
Southeast Asia
What is most needed here is continuous government support in the development of digital advisory services, which works best when mainstreamed into national strategies and policy formulation. Awareness raising to digital advisory services needs to be done continuously to attract more attention from stakeholders (public, private, and community organizations including farmers organization) to engage in the process of enhancing rural advisory services.
Global webinar coming up
Findings, methods, and details from each region are currently being revised in the form of regional reports that will be available to the general public in July 2023.
A global webinar discussing the main findings of four regions as well as global observations is scheduled for August 29, 2023, between 13:00-15:00 CEST.
About GFRAS
The Global Forum for Rural Advisory Services is a Switzerland-registered association established in 2010. It comprises a system of platforms at national, regional and global levels bringing together key actors involved in the delivery of rural advisory services to farming communities.
GFRAS aims to enhance the performance of advisory and extension services providers in better-serving farming families and rural producers, thus contributing to improved livelihoods in rural areas and the sustainable reduction of hunger and poverty.
The national platforms contribute to the development and implementation of strategies and programs tackling national-level issues in agricultural development and link these to policies and efforts at the regional and global levels through the GFRAS networks.